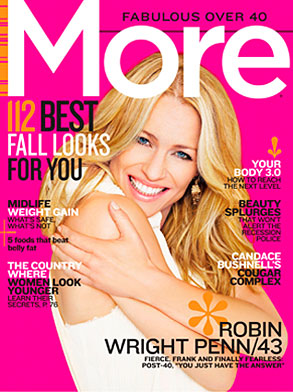 More
The duo may be lacking the official paperwork, but Sean Penn and Robin Wright Penn's marriage remains unofficially broken.
Wright Penn says in the September issue of More that, despite reports that their relationship is on the mend following yet another aborted attempt at separation, she and her husband of nearly 13 years are still estranged.
"I hit that crossroad a while ago—for Robin, the 'I know what I don't want' [sign] was flashing neon lights," she says. "I have no regrets. I, we, have two amazing children we raised together."
In May, Penn withdrew the couple's second petition in as many years to split up, calling it an "arrogant mistake" on his part, and in June he dropped out of two films to focus on family matters.
Wright Penn talked to More a few months ago, but the mag maintains the Princess Bride star's position has not changed.