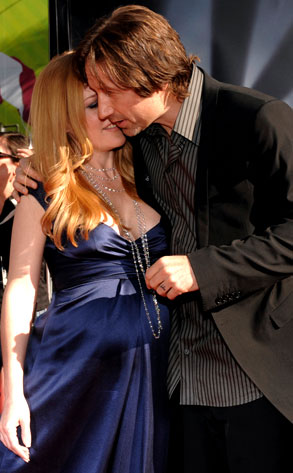 AP Photo/Chris Pizzello
Dear Ted:
I used to like Jen Garner, but I've been bothered with how much she exposed Violet to photographs. And I'm pretty surprised that she's not acting the same with the new one. What gives? Another point: Is there any truth to the Duchovny-Anderson romance? Back in the day, they probably weren't followed everywhere like Rob and Kristen, so there's probably no evidence of any relaysh. What do you say about it? A last point: Thank you for all your posts about animal shelters. I'm a fervent defender of the animal cause. I own a cat; I used to have a dog. It's a responsibility. People aren't always aware of that.
—Confused Europa
Dear Garnightmare:
We're dying to get Gillovny back into the pages of the A.T., you interested? I know they are.
Dear Ted:
In a recent interview, Brad Pitt reports that he and Angie "very, very rarely fight." I'm not sure I buy that because their relationship seems so hot and cold to me when they're out in public. What do you think about his comment? Is it true? Is he in denial, or just covering up the truth for the media?
—KMThoreson
Dear Peach Pitt:
Good eye. And totally not true, or else they wouldn't have such good sex. There's far much more to Brangelina than what gets snapped or is reported in the rags.
Dear Ted:
Does Kristen Stewart smoke?
—Singstar
Dear Bad, Bad Bella:
Does it matter?
Dear Ted:
I don't get why people are getting so upset over Robsten's place in your column. How I see it, if you don't like it, then either go to another (less-reliable and hilarious) site or just follow (insertnameofyourfavoritecelebtritycouplehere) until Robsten is confirmed, either by way of public face suckage or a sex tape. I, on the other hand, don't need the previously mentioned because I've listened from the beginning. Also, thanks to you and your story, I started to volunteer at a local animal shelter. Thanks from all the kitties and puppies!
—WILinnix
Dear Volunteering Virgin:
Bravo on your volunteer work, dollface. As for Robsten, you're saying what we're all thinking.
Dear Ted:
What's up with this whole Nick and Miley on-again, off-again relationship? Are they together or not? Did Miley really kiss Nick on the cheek at the TCA like some people who were there are saying?
—Stef