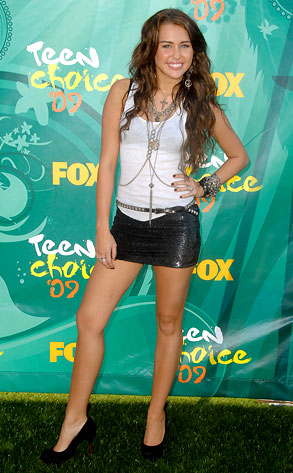 Steve Granitz/Getty Images
Choosing to follow someone on Twitter is probably the least-difficult way to keep in touch in a crazy-ass digital age. Unfortunately, it's also one of the most damn annoying ones, too. And this morning, nothing is more annoying than having to read another celebrity's emotional, pseudo-poignant, gimmicky tweets.
Can you guess who we're talking about?
It's pole-humper Miley Cyrus, that's who! Every day we're forced (by the laws of Tweethood, of course) to read about the ups and downs of Miley's dazzlingly uninteresting personal life. And the worst part is, she's actually annoyed at us for reading about it!
One day she's writing an overly emotional tweet like, "Why do I continue to torture myself?" 'Natch, we get concerned. Then it's, "I do not have a new boyfriend in GA! I'd HATE for me to happy and make new friends! Stop accusing me of stuff! Its getting old people!"
Get a grip, MiCy!
Few celebrities are as infuriating with their tweets as I-don't-want-attention-but-check-out-this-stripper-pole-move Miley.
If Miley wasn't allowed near the computer, we wouldn't think she's nearly as ditzy or oozing with adolescence as her Twitter makes her sound.
And fun fact about Princess Cyrus' page: Among the 55 folks she follows are Dolly Parton, David Blaine, and They-Who-Shall-Not-Be-Named (think overly blond coifs, both of 'em). Um, WTF, Miley?! Oh, and when a celeb starts tweeting about tweeting, then you know something's totally wrong.
Shame on you, Ashton—look what you've wrought upon us.