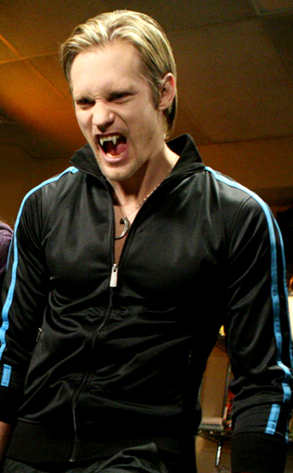 HBO/Jaimie Trueblood
Dear Ted:
A couple of weeks ago you were talking about how "professional" Stephen Moyer and Anna Paquin are on the set. Now you're feeding into the Eric/Alexander Skarsgård fan frenzy of how their relationship will affect the direction of the show? What's up with that? I love Bill and Sookie together, but I will take Bill and a different woman as long as I get my Bill fix. Stephen is hotness.
—Bobbi
Dear True Lies:
For your True Blood fix, I suggest you head over to Watch With Kristen—they can tell you more about the actual show than I can. Surely the question of how the engagement will affect T.B. has crossed your mind? What if Stephen starts to get uncomfortable should Anna be sticking her tongue down hotass Alexander's throat? No one wants to watch their wife do that!
Dear Ted:
These Robsten fans have to stop hating on Megan Fox. The girl was totally cute giving her speech at the Teen Choice Awards, and if she didn't have fans, how the hell did she win Teen Choice Hottie and Actress? I'm all up for Robsten, but Megan and Robert Pattinson looked sexy together. Can we get them into a movie together?
—Jillian
Dear Protect the Fox:
Agreed there, sweetheart. You know we have a soft spot for that wily temptress. When Robsten isn't involved, that is. But no worries. Since Rob has already dissed her, Meg isn't Kristen's competition.
Dear Ted:
Check out the photos on Popsugar of the Twilight gang. Nikki Reed is staring at Rob in every photo. Poor Paris Latsis. Doesn't he know he's just another tool in her belt? Good thing Rob's doesn't return her looks. I'd be seriously ill. Noticed you never answered my question about Deep Twi. Hmmmm...that says a lot, babe.
—H