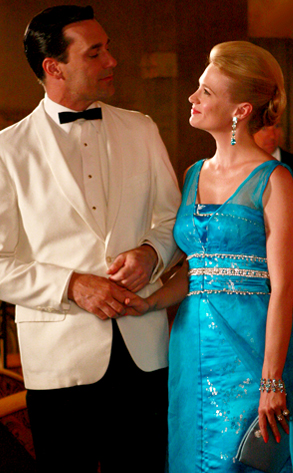 AMC
• Mad Men: In honor of Mad Men's third season premiere, Vanity Fair has seven gorgeous Annie Leibovitz photographs of Jon Hamm and January Jones taken on location in the Bahamas.
• Gossip Girl: Fashion designers Tory Burch and Georgina Chapman are set to appear as themselves in episode four of Gossip Girl this season, and music group Sonic Youth are set to perform in episode five.
• Community: If you're on that new-fangled Facebook thingamabobber, you can watch the pilot of NBC's Community, starring Joel McHale, online before the series premiere on Sept. 17.
• Saving Grace: Say goodnight, Gracie. Saving Grace, TNT's quasi-religious police procedural starring Oscar winner Holly Hunter, comes to an end next summer with nine final episodes.
• Reno 911! Comedy Central is also sending a series to the great rerun channel in the sky. Star Thomas Lennon tweeted yesterday, "Reno 911! was cancelled at 1:30 pm today. Won't be wearing the shorts again."