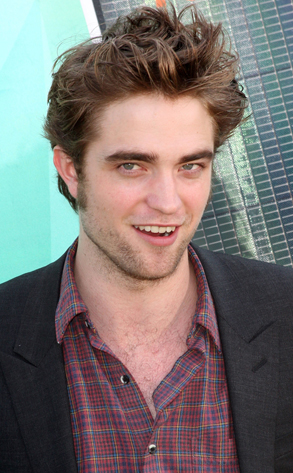 Jason Merritt/Getty Images
Robert Pattinson may not need a lesson in how to be a taste-a-licious heartthrob. But we do think he could pick up a few tips from charmer, and all around polite guy, Taylor Lautner in the manners department (and manners dept. only, mind you).
Looking back at the first of several nights out together last week, we can't help but notice Rob didn't seem, well, all that gentleman-y when he was around his main babe, Kristen Stewart. For starters, he should def be holding the cab door open for K.Stew and letting her get in first. Not to mention plain' ol' doors, period. Uh, right?
Sure, sure they probably wanted to book it outta that club as fast as they could without being detected, but we'd like to think they're relatively young romance isn't completely pat yet. Or at least completely neglected in exchange for flying under the radar. Even when pretending to just be the closest friends ever, guys still can still chivalrous.
Sources just filled us in that while Robsten hit up the Bobby Long Show two nights in a row, R.Pattz's behavior wasn't very "ladies first" like then, either.
We know Rob has it in him. He just needs to not be so scared of showing affection out in the open to his numero-uno hon.
It has become public knowledge that the two are together now. So we hope to see a few more boyfriend-like gestures here and there, that's all we're saying. Not exactly asking a lot. We know Kristen likes her men semi-old fashioned in that department, so we're really looking out for Robsten's best interest here.