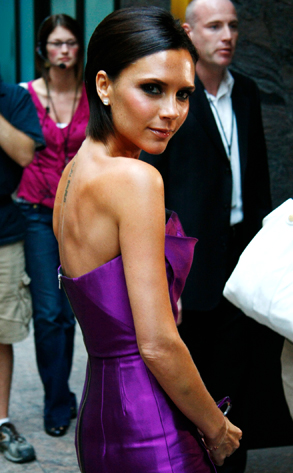 AP Photo/Charles Pulliam
Paula Abdul fans needn't worry…much. Turns out Victoria Beckham isn't gunning for a full-time job on American Idol.
"She is not in talks to join the show permanently," the Posh One's rep, Cheryl Maisel, tells E! News.
Eyebrows raised in unison this week when word broke that Beckham would be joining Simon Cowell, Kara DioGuardi and Randy Jackson at a second audition city—today in Boston—despite earlier assurances from the Idol braintrust that her critical cameo last Friday would be a one-time thing.
But it appears Beckham is more interested in style over any kind of substantive TV career. Her rep said earlier today that instead of further Idol commitments, the DVB founder will be focusing her efforts on the forthcoming Fashion Week. A diva's work is never done.
As for Paula, rumors are swirling that she may be returning to the Idol table after all, albeit not the one people are hoping for…