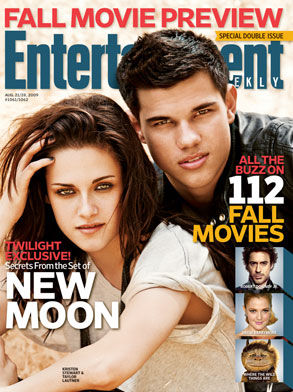 Entertainment Weekly
Entertainment Weekly's fall movie preview features New Moon on its cover. Ahhh! Oh, but wait, no Robert Pattinson. Just Kristen Stewart and Taylor Lautner hanging out, getting close. In fact, the only time everyone's favorite sparkle vampire pops up is to talk about Taylor.
"It was a stress-free job for three months," says the Pattz. "All the pressure was on Taylor."
So yes, this is a Team Jacob article. Kristen, who is actually looking more pretty than grumpy for this shoot, does her part and talks up her chemistry with Taylor.
"Just because of how I felt around him. I literally saw Jacob in him. We have that relationship. It's lamely cute. I love that kid. I would do anything for him. I would kill for him, literally."
As for her chemistry with Rob, she just says she's not pregnant...