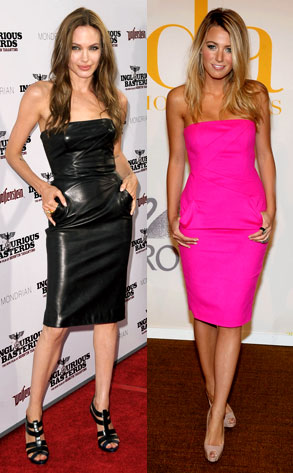 John Shearer/Getty Images, Jaime Mcarthy/Getty Images
Today's Fashion Face-Off is actually kinda hard. We have one Michael Kors dress worn two different ways, on a superstar and a Gossip Girl.
First, there's Angelina Jolie in a black leather version of the strapless dress at last night's Inglourious Basterds premiere. Yes, she does this sort of thing a lot, but that's because she always looks awesome in it. She doesn't even need to do anything with her hair or makeup to look so awesome.
And then there's Blake Lively, who blew us away with the same dress in neon pink at the CFDAs...