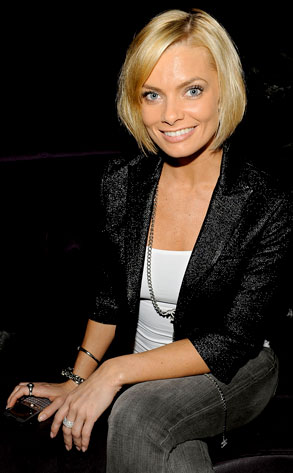 Frank Micelotta/BS/Getty Images for Zomba Label Group
Jaime Pressly isn't trailer trash, she just plays played one on TV. And she's also not a public urinator. She just played one on a dare.
In the wake of a certain blogger's breathless, exclamation point-heavy claim that the former My Name Is Earl star popped a squat and publicly relieved herself outside a West Hollywood bar Sunday, Pressly has taken to Twitter, offering an innocent explanation for the admittedly suspicious-looking photo.
"Yes…that is me doing dare #8 at my bridal shower..Things are not always what they seem.. Notice my hand in the back," she wrote. "Its pouring a bottle of water!!! C'mon guys! Do you think i would really pee in the entry way to the Abbey in broad DAYLIGHT!!!"
Well, when you put it that way...
"Way to spin a story!! Breaking news huh? wow!!!!"
So the joke's on us? Jaime must be pissing herself. For real this time.