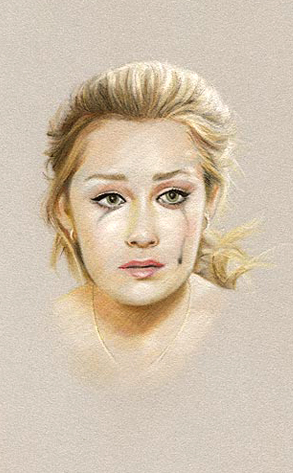 Karin Bubas/ Charles H. Scott Gallery
We might be idiotic enough to let The Hills into our home when we're flipping through the boob tube, but we know its trash. Who knew there were people out there who consider it…art?
Artist Karin Bubaš currently has an exhibition in Vancouver displaying several pastel portraits of the MTV faux-reality show stars making their signature expression—whether its crying, sneering, or talking on a cell phone, 'natch.
The title of the exhibition? "With Friends Like These…" Too perf, don'tcha think?
Our fave is def a mascara-sobbing Lauren Conrad, 'tho we're not sure why she's so upset, since her replacement Kristin Cavallari didn't make the creative cut.
We totally dig these drawings, but as far as hanging them in our house or waxing poetic about meaning and art while gaping at 'em in a gallery? We're not so sure we could do that without cracking up.
How about you? Is this totally awful or really awesome? Regardless, at least they can't talk, that's one better than the reality show right there.