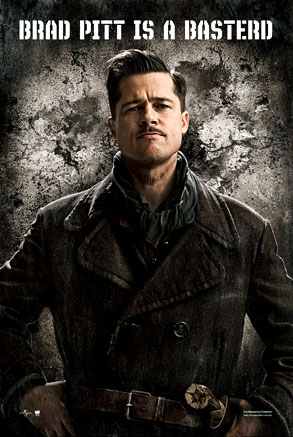 Francois Duhamel/ TWC 2009
If you Brad Pitt lovers are looking for some ripped and sweaty man candy, like out of Troy or Fight Club, sorry, folks, Inglourious Basterds isn't gonna satisfy that appetite one bit. An early peek at the Quentin Tarantino war flick (think Kill Bill Vol. World War II) reveals—horrors!—a near ancient Pittster!
In this bloody pic, Brad basically plays an over-the-top, Popeye-esque Nazi-basher sporting a Southern accent straight outta True Blood. Fun stuff. Ridiculous, eccentric, and, weirdest of all, Brad looks totally old. Like, Benjamin Button as a baby old, but no CGI this time.
Are you ready for it?