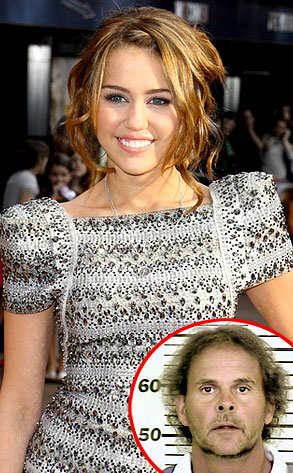 Mike Marsland/Getty Images; Chatham County Sheriff's Office
Your name doesn't have to be Nick or Justin to get close to Miley Cyrus. It just can't be Mark McLeod.
The Disney diva has been granted a temporary restraining order against her alleged stalker and self-appointed fiancé after the 53-year-old was caught a second time sneaking around the Georgia set—and creeping everyone out in the process—of her new movie, The Last Song.
"McLeod shall not harass, threaten, molest, contact or attempt to contact" either Cyrus, her friends, family or coworkers, the order, filed yesterday, read.
McLeod was arrested on charges of attempted stalking this week, marking his second bust in as many months. On June 22, he was picked up on charges of disorderly conduct and obstructing arrest after trespassing on the film set and claiming, among other disturbing theories, that he and Cyrus were engaged and that she was sending him secret messages through her TV show.
As for the restraining order, in addition to the usual modes of communication, McLeod has been specifically barred from accessing Miley's Twitter page.
Though that's one follower she probably won't miss.
—Additional reporting by Lindsay Miller