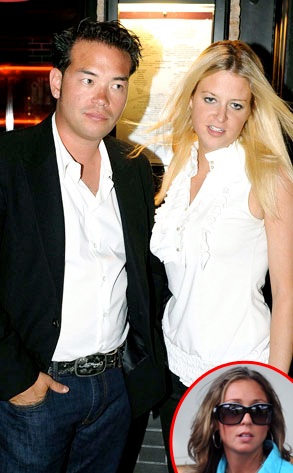 INFPhoto.com
Saving us the trouble, Kate Major had already asked herself what she was thinking when she hooked up with Jon Gosselin.
"It's been a complete whirlwind, these past two weeks now," the former Star reporter, who met the married-but-separated man at his Pennsylvania home while on assignment, told E! News in an exclusive interview. "I wake up some days and I think, What was I thinking?"
Remembering how she felt when Star put her on Gosselin duty, she said: "I had even joked with people at the office and said, 'Oh God, what am I, the next Kate?'"
Kate 2.0, to be exact. And sure enough, Gosselin invited her out to a group dinner a few hours after they met.
"He's a great, great guy," Major told E! "I wish I could think of something wrong with the guy but there really isn't." Although, she added, "It's kinda hard to be romantic when you're being followed constantly."
And yet it still hasn't been that easy to get a handle on what Gosselin is really up to with his coterie of lady friends.