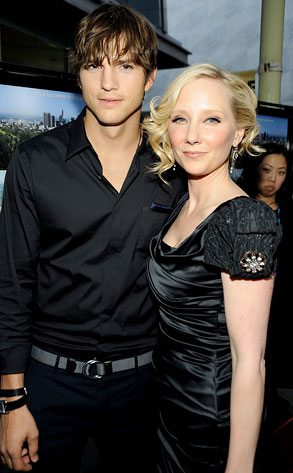 Frazer Harrison/Getty Images for Anchor Bay
Ashton Kutcher is probably on top of the world right now. The model-turned-actor-turned-producer is making a big splash with his newest acting gig (the movie Spread), his newest producing gig (the Mischa Barton vehicle The Beautiful Life on the CW), and his personal life (the latest rumor is that wife Demi Moore changed her name to Demi Kutcher).
It's like everywhere you go in H-wood these days, you're bound to hear or read about something Ashton-related. That's gotta be doing some huge things for his big…ego, right?
Meanwhile, co-starring with Kutcher in Spread is that dizzy diva Anne Heche. She's got that HBO show Hung, which is performing well albeit a little lukewarm. And prior to that, she was in the spotlight for her cancelled ABC comedy Men in Trees. And before that for being sexually confused and enmeshed in inter-planetary pickles.
So whose ego is getting too big for their britches, and whose is turning heads for being so gosh darn level-headed?