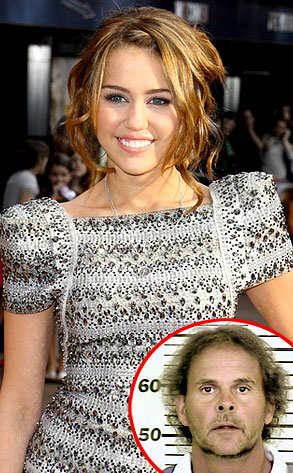 Mike Marsland/Getty Images; Chatham County Sheriff's Office
The would-be Mr. Miley Cyrus is spending some quality time in the clink.
An obsessed fan who claimed to be secretly betrothed to Disney's tween queen has been taken into custody on charges of attempted stalking after trying to crash the Georgia set of her latest movie.
Mark McLeod, 53, was picked up at his home in Appling, Ga., last night—a few days after he showed up unannounced yet again as Cyrus was shooting The Last Song.
"We had an incident Sunday afternoon. He was down in the area where they were doing the filming and had staging equipment asking asking people around the neighborhood where Miley lives," Tybee Island Police Chief Jim Price tells E! News.
"We felt there was probably cause at that point to obtain an arrest warant."