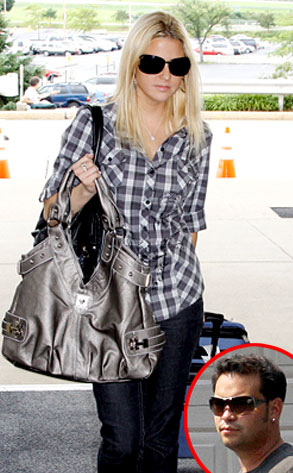 Swarbrick/Adao/INFphoto.com; INFphoto.com
Jon Gosselin should be commended.
His show's ratings take a nosedive and the reality man-whore takes it upon himself to personally enlist more viewers, one cocktail waitress at a time.
At least, we can only assume that's what the father of eight was doing when he supposedly held a sleepover with his new 23-year-old babysitter Stephanie Santoro (who, in addition to drink-serving duties is also a clothes-eschewing aspiring model and a mother of her own 2-year-old)...watching his show, right, Jon?
And what does suspect Kate "2.0" Major have to say about all this?
"We remain close and we will both always know the truth," she exclusively tells E! News of her relationship.
Her statement comes at the same time as Gosselin's latest tabloid proclamation that he's "always been true to Hailey [Glassman]."
Still, Major seems to be standing by her man...for now.
"I was really, really impressed and I still am with the person that he is," she says.
That makes one of us.