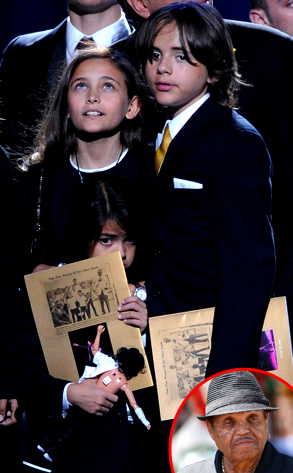 AP Photo/Mark J. Terrill, Pool, Michael Buckner/Getty Images
No word yet on what he'll do if Prince, Paris and Blanket end up being able to sing and dance like his late son, but for now, Joe Jackson doesn't plan on being too involved in their formative years.
But the Jackson family patriarch lent his full support to estranged wife Katherine, who has been awarded permanent custody of Michael Jackson's brood, in a two-page declaration filed Monday in Los Angeles Superior Court.
Calling Katherine Jackson "a wonderful caretaker and guardian" who has done "an excellent job raising our children and other grandchildren," Joe, who makes his permanent home in Las Vegas, admitted that he only occasionally visits the family's Encino, Calif., compound.
"I have had a close family relationship with these grandchildren since their birth," he stated. "I do visit the family residence from time to time and will continue to do so, however I will not be involved in raising the children."
So, sad news? Or the best thing to ever happen to those kids?