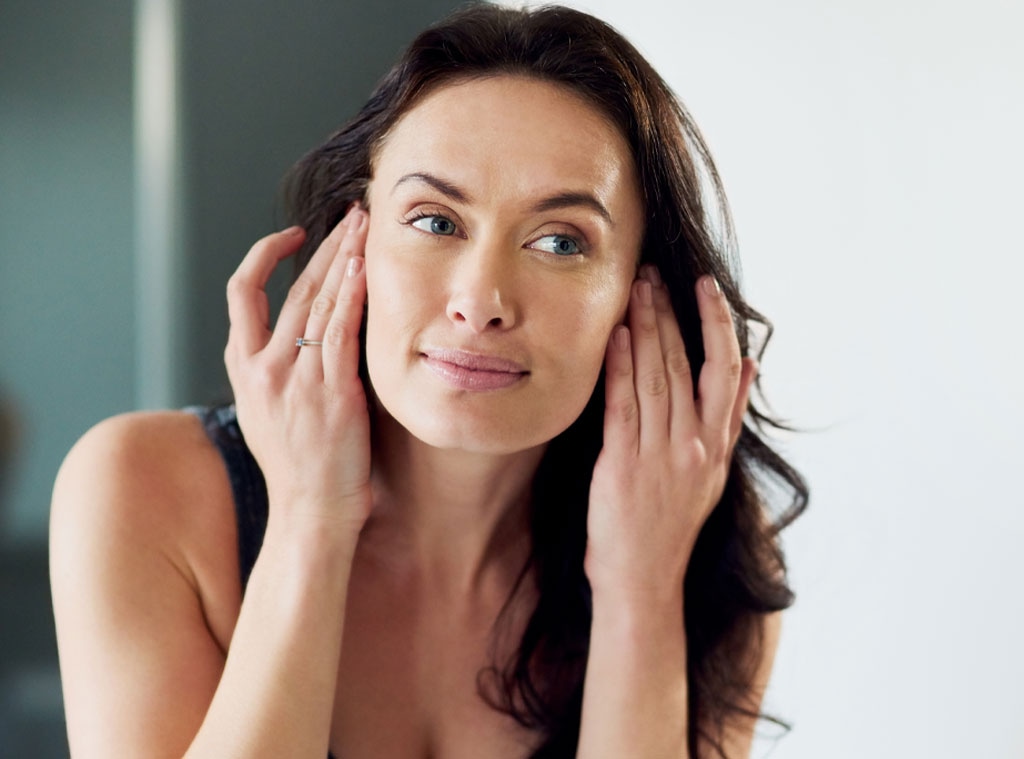 Adene Sanchez/ Getty Images
We independently selected these products because we love them, and we think you might like them at these prices. E! has affiliate relationships, so we may get a commission if you purchase something through our links. Items are sold by the retailer, not E!. Prices are accurate as of publish time.
The key to an effective skincare routine is consistency. Find the plan that works for your lifestyle and make sure you stick to it. Another important aspect of keeping up with your routine is making sure always have your products. Running out of a skincare product and then finding time to go to the store or counting down the days until a package arrives in the mail can really mess up your routine and hinder your progress.
The solution? Buy more than one product at once so you never run out and you can really stick to your regimen. If you're shaking your head with the assumption this may not work for your budget, you're in luck because there's a QVC deal you'll love. You can get $260 worth of Peter Thomas Roth Retinol Fusion PM Serum for just $89. This product addresses wrinkles, fine lines, and uneven texture, according to the brand. Just put it on before bed, apply your favorite moisturizer, get your beauty sleep, and start tracking the results.
We all want youthful skin, right? Shop while you can! This deal won't be here forever.
Peter Thomas Roth Super-Size Retinol Fusion PM Serum, 2-oz Duo
After washing your face at night, shake up this bottle. Apply the serum, then go to bed, and check out the results in the morning. It's a smart call to use SPF in the morning to prevent irritation. 
If you have sensitive skin or if it takes a while for you to acclimate to new products, gradually build up your routine with this serum and use it every other night until you adjust. Then, build up to using it nightly when it suits your skin.
This serum has such devoted following. Check out these rave reviews from shoppers who can't get over these results.
Peter Thomas Roth Retinol Fusion PM Serum Reviews
A shopper raved, "Absolutely nothing compares to the Peter Thomas Roth Retinol Fusion PM Serum. I look 10 years younger in 3 weeks. I'm addicted to this amazing product. Also, I have extremely sensitive skin, but I have no sensitivity issues with Peter's Retinol Fusion PM Serum. You've got to give this product a try. My oh my, I'm in love!"
Another explained, "I have sensitive skin and never thought I could use a retinol. This product is actually comforting to sensitive skin and does the job. Every morning when I wake up, my skin is like glass. It's not cheap, but buy it when it is on sale in the giant size. You won't regret it!!!!!!!!"
Someone reviewed, "I've tried numerous products to help forehead wrinkles. I use this twice daily and you can hardly see my lines now. I've been using about 8 weeks and I am over 60. Love this. It has also helped my hands."
A customer gushed, "This serum is absolutely amazing! I've tried so many products and none work as good as this. I'm 65, and have never had good skin: I have large pores, age spots, adult acne, uneven texture, etc. I've been using this for a couple months now and my skin has dramatically improved! My pores, fine lines and wrinkles are not as noticeable, and my age spots are lighter. My skin is so soft and bright when I wake up. Incidentally, this is the ONLY product I use at night after washing my face. I've put all my other 'nighttime' creams and serums on hold and don't think I'll be going back to them."
A reviewer said, "So far I have enjoyed this my face is smoother and my wrinkles on my neck are almost gone after a week I have this on auto ship and I am glad that I do I will keep using his pm retinol I really see the benefits of this serum."
A shopper explained, "My sister gave me a bottle of this for Christmas. I have very sensitive skin . My eyelids have been red and tender for so long. I included my eyelids when I used this and the lids are transformed. They no longer burn or itch, and the texture is so smooth and cool. I am so grateful for these results. I'm buying the duo!"
Someone wrote, "I had extensive foot surgery 10 months ago and I am using this serum on my scars. They have diminished SO much and the color of them is getting more even! I also take the serum up my legs. I will be ready for summer in no time!!"
More Peter Thomas Roth Deals
Peter Thomas Roth 24K Gold, Rose & Pumpkin Mask Trio
This Peter Thomas Roth trio has a $141 value, but you can score the bundle for only $48. The set includes three of my favorite masks:
Pumpkin Enzyme Mask Enzymatic Dermal Resurfacer- This mask evens out your skin tone and reduces the appearance of fine lines, per Peter Thomas Roth.
Rose Gel Mask- This mask helps soothe and calm irritated skin, promote skin suppleness, and reduce the appearance of the signs of aging, according to the brand.
24K Gold Mask Pure Luxury Lift & Firm- Deliver intense moisture an opulent glow, and reduce the appearance of fine lines and wrinkles with this mask, according to the brand. 
Peter Thomas Roth Irish Moor Mud Mask and Washcloth
If you're frustrated by congested pores, you should consider adding a mud mask to your routine. My personal favorite is the Peter Thomas Roth Irish Moor Mud Mask. My skin is extremely sensitive and it gets oily very easily. It has been tough to find products that don't make my skin worse, let alone something that actually works. This one is gentle on my skin, but it really seems to make a difference to minimize the appearance of my pores. It even leaves my skin feeling fresh and hydrated, instead of a tight, stripped feeling. It also helps with fine lines and wrinkles, according to the brand.
For a limited time, you can get the Peter Thomas Roth Irish Moor Mud Mask for 50% off. It even comes with a free washcloth.
Peter Thomas Roth Full-Size Water Drench Hydra-Pair
Give your skin the ultimate dose of hydration with these two bestsellers from Peter Thomas Roth. Apply the under eye gel patches on clean, dry skin. Leave them on for 10-15 minutes. When you're done, gently pat in the remaining serum (never tug or rub). 
You can use the moisturizer in the morning and at night. For optimal application, use this after cleansing and toning your skin.