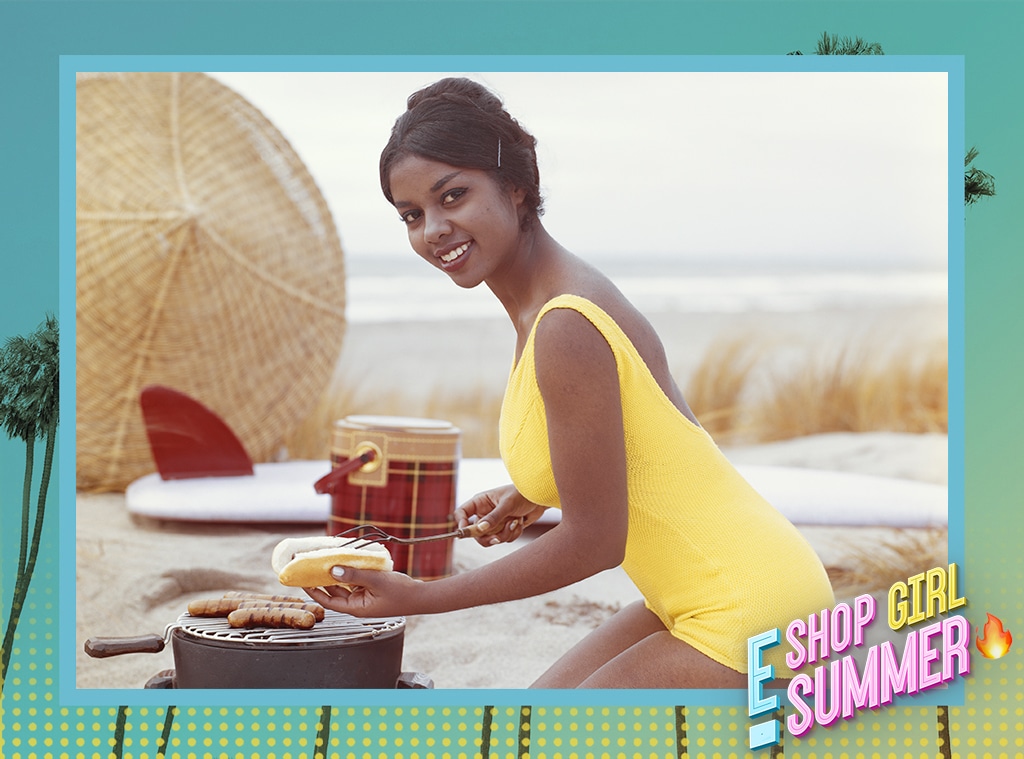 E! Illustration/Getty Images
We independently selected these products because we love them, and we think you might like them at these prices. E! has affiliate relationships, so we may get a commission if you purchase something through our links. Items are sold by the retailer, not E!. Prices are accurate as of publish time.
You don't have to spend a ton of money to get a high-quality grill. You don't need a huge backyard to have room for a grill. There are some can't-miss deals on portable grills that you can rely on to cook your food evenly without taking up a ton of space. You don't need to stay at home to enjoy your grill. With a great portable grill, you can eat delicious burgers, hotdogs, and more at a campsite, beach, park, tailgate, and even your own yard or balcony. A portable grill gives you lots of options.
This $28 Cuisinart charcoal grill has 8,400+ five-star Amazon reviews. This tabletop gas grill can cook up to 17 burgers at once and it's 30% off right now. This Coleman Grill has legs that fold with wheels for incredibly easy transport. 
Those are just some of the best portable grill deals. Keep on reading for more mind-blowing deals on customer-loved grills.
The Best Portable Grill Deals: Coleman, Cuisinart, Ninja, Pit Boss, Ozark Trail
Cuisinart Portable Charcoal Grill
Cuisinart is just one of those brands you can always rely on. This grill is compact to take anywhere. It's ideal for camping, balconies, tailgating, and more. The dual venting system allows for temperature control and charcoal management. The grill comes in black too.
The Cuisinart Portable Charcoal Grill has 8,400+ 5-star Amazon reviews, with one shopper sharing, "Perfect for camping. My wife and I wanted a small portable grill for car camping. This little fella is perfect. We can cook two larger steaks, or 4 burgers, or a combination of things on this little powerhouse. Highly recommend this item if you're looking for a compact charcoal grill."
Chef Robert Irvine Portable Charcoal Grill with Cover & Warming Rack
Bring this to the park, campsite, or even your own backyard. Cook delicious burgers, hotdogs, and more on this portable charcoal grill. It comes with a cover and a warming rack. 
A fan of this grill reviewed, "I bought this grill last year when it was offered. My intention was to use it at our cabin since it was small and compact and easy to transport but I find myself using it at home also. So easy to use and clean up. Since it's just the two of us now we don't have to drag out our big grill. This is a real little gem for grilling. Love it!"
Another said, "I'm 74 and put the grill together in about 20 minutes. So easy and love the color and quality. Worth every penny."
Ozark Trail 10-Inch Portable Camping Charcoal Grill with Cooler Bag
Bring the Ozark Trail 10" Portable Camping Grill on your next outdoor adventure. It's lightweight and collapsible for easy transport and storage. It comes with a cooler bag too.
A shopper raved, "This is the perfect grill to take on a hiking trip or even if you are just hanging out at the beach or lake. It is so lightweight and the size makes it so portable to carry almost anywhere. I really love that the carrying case has a strap that can be easily adjusted... The grill is very easy to set up and use. It comes with two different size grates, a handle and two supporting frames. The high sides and deepness of the grill makes it perfect so the wind does not blow out the flame while you are cooking. You can definitely tell that this entire product from the cooler bag to the grill is made of high quality material. Everything is so durable and very sturdy."
Megamaster 820-0065C 1 Burner Portable Gas Grill
Travel anywhere with this portable tabletop propane grill. It's compact, yet powerful with the ability to cook up to 17 burgers at once. Its smooth surfaces make this grill incredibly easy to clean too.
This grill has 1,200+ 5-star Amazon reviews with one shopper sharing, "Purchased this gem and I must say I was skeptical. No more! Awesome little grill that works perfectly and so far cooks to perfection! Beauty of it is that it's so light and portable that if the wife wants to have a quick bbq wherever she chooses I can easily pack and go. I can easily cook for six and it's a perfect fit! You can bet that the next time we're traveling and camping that it will be coming with us! Great purchase!!!"
Coleman RoadTrip X-Cursion 2 Burner Propane Gas Portable Grill
The Coleman RoadTrip X-Cursion 2 Burner Propane Gas Portable Grill was designed with travel in mind. It folds up easily and it has wheels for simple transport. It's compact with interchangeable cooktops for many meal options. The grill has Even-Temp burners that heat equally across the grill. Use the Instastart ignition for matchless lighting. Walmart has this grill in three colors.
A shopper said, "Perfect Camping Grill. This Coleman RoadTrip portable grill is perfect for RV use or tailgating. You can use either the little propane bottle or the bigger tank with an adapter. It has cooked everything my husband put in it to perfection. When you are ready to move on down the road just fold it up, stow it away and continue your trip."
Royal Gourmet PD1301R Portable 24-Inch 3-Burner Table Top Gas Grill
This tabletop grill is portable and convenient for at-home use, camping, and tailgating. It heats up quickly and it's easy to clean up. There are two colors to choose from. This grill has 1,700+ 5-star Amazon reviews.
A shopper said, "This griddle rocks! 3 heating areas so you could have different temperature zones. It did cook hot and fast even on the lowest temp. Large cook surface, easy clean up, no messy, nasty charcoal and its portable... I'm glad I made the purchase."
Pit Boss 260 Portable Electric Wood Pellet Smoker Grill & Cover
Step up your grilling game with the Pit Boss Sportsman 260 Portable Wood Pellet Grill, which comes with a meat probe and cover. The foldable legs and wheels make this easy to transport.  There's lot of space, so you can cook up lots of delicious food for your family and friends. 
Ninja OG701 Woodfire Outdoor Grill & Smoker, 7-in-1 Master Grill
Use this tabletop grill to bake, roast, dehydrate, air fry, broil, and smoke food. It is powered by electricity and flavored by wood pellets. The grill comes with two blends of 100% real hardwood Ninja Woodfire Pellets.
An Amazon shopper said, "Fantastic! Kept seeing the infomercial for this and finally pulled the trigger. Having had numerous Ninja products in the past I was positive it would be well made but will it really work like the TV ads? I'm happy to say YES! My first time using I smoked/grilled a london broil with the robust pellets. It came out perfect. My son said it was the best he ever had and that is saying something because my wife is an awesome cook. Next we tried wings with some smoke....PERFECT!...Benn using it at least a few times a week now for about a month and have yet to be disappointed. I recommend it to any one who loves to grill and wants to get that smokey flavor without having to wait hours on end. Well worth the money."
Cuisinart CGG-180TS Petit Gourmet Portable Tabletop Gas Grill
This compact grill is easy to transport. Use this at a tailgate, campsite, park, or beach. It has an electric ignition and precise temperature control. It's also easy to fold and it weighs just 17 pounds. The grill cooks evenly just like a larger grill.
A shopper raved, "Amazing gas grill. This gas grill fits anywhere and is easy to take along to a party, the beach, or to the park. It sits on a table on my big screened porch ready to grill . It's attractive, Easy to clean and holds the flame even in heavy winds. I love this well made sturdy grill!"
Cuisinart CGG-750 Portable, Venture Gas Grill
This is the ultimate portable grill thanks to the large carrying handle and the lid that double as a chopping board. It has a spacious cooking surface that distributes heat evenly and efficiently with easy temperature control. It only weighs 20 pounds, which makes it easy to carry.
A shopper said, "AWESOME!!!!!!!!!!!! I purchased this grill on Amazon Prime Day....and gave it to my husband as a gift for our rental home vacation trips to the beach and the rivers! He grilled chicken on it last night...and it cooked perfectly! No weird propane flavor....just delicious grilled chicken. This little grill is compact...like the size of a picnic basket and it stores the propane tank inside the plastic container holding the grill!"