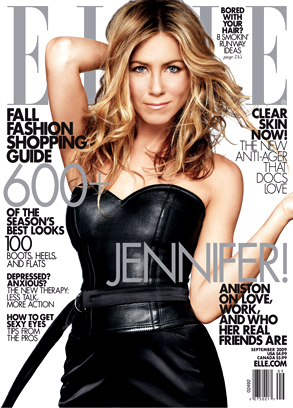 Elle Magazine
Elle landed Jennifer Aniston for their big September issue, but don't worry, you needn't pity the poor, single actress.
"I'm not going to ignore the pink elephant in the living room. It's fine. I can take it," she says of how it's hard to find a decent man in this town—and once you do, they just leave you for some way hot, tattooed, child-collecting superstar.
"If I'm the emblem for 'this is what it looks like to be the lonely girl getting getting on with her life,' so be it."
Nevertheless, she's taking her lonely-lady role-model status very seriously: "I support women, men, anybody who is in a place that's not their strongest and who is ready to push forward."
She's there for all of us suffering a broken heart, a real survivor. You can believe in life after love, Jessica Simpson.
Now, let's see Jen model fall's biggest trend and why you don't have to pity her for not being the prettiest...