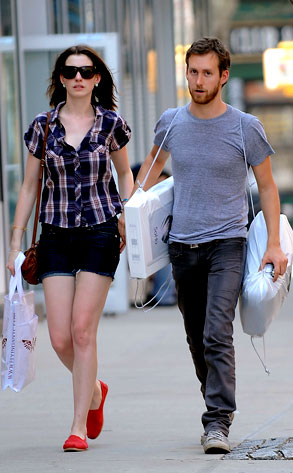 Humberto Carreno/startraksphoto.com
Anne Hathaway and boyf Adam Shulman in Greenwhich Village in New York shopping at D'Agostino. Anne went anti-incognito and didn't don a hat or sunglasses to conceal her identity.
Sans makeup, Hath-hon still looked totally fab in a pair of boyfriend jeans, which looked better on her than her bitchy bf. A Hathaway-lovin' shopper snuck a photo of the upcoming White Queen in Alice in Wonderland, only to get screamed at by Shulman!
Who does he think he is, Lindsay effin' Lohan? AH kept quiet the whole time while Ad bitched out his gf's (perhaps now former) fan. Wow, Anne sure knows how to pick the douche guys, eh? At least he's slightly less greasy than the last amour.
Another famous girl who seemed happy to be free from her last morally suspect fella was…