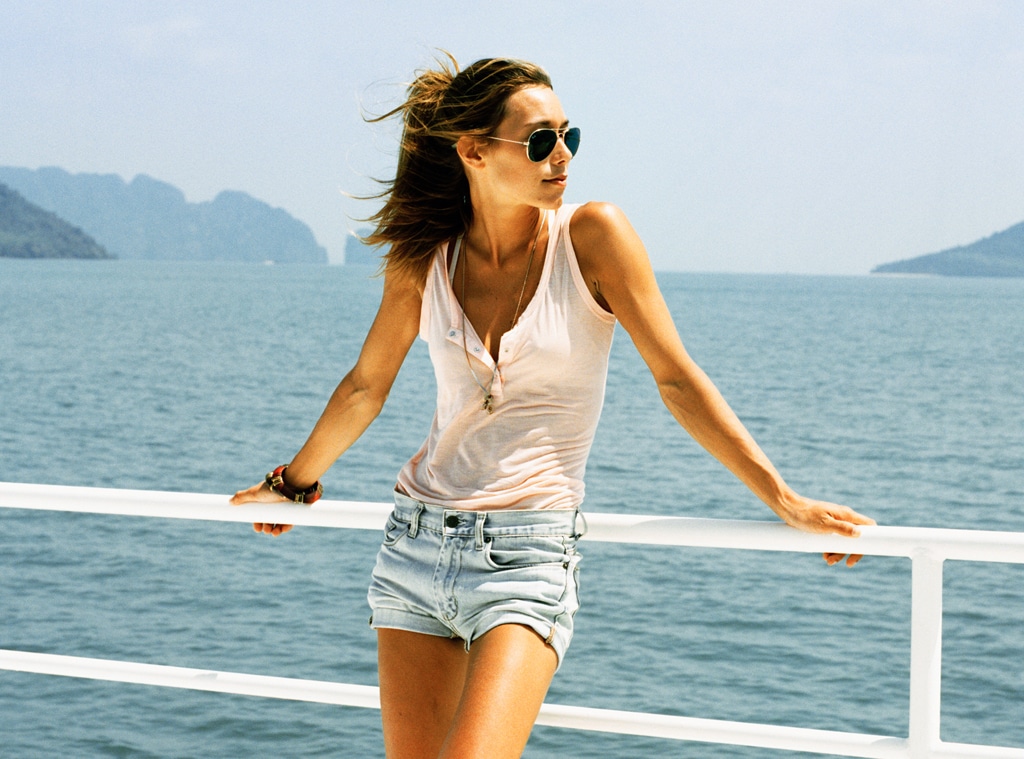 Getty Images
We independently selected these deals and products because we love them, and we think you might like them at these prices. E! has affiliate relationships, so we may get a commission if you purchase something through our links. Items are sold by the retailer, not E!. Prices are accurate as of publish time.
If you look forward to warm weather and the outfits that go with it, it's inevitable that you will encounter chafing. Chafing is one of those things that happens to everyone, but most people don't talk about. Unfortunately, it's a lingering problem. One afternoon of walking around can result in days of discomfort. Thankfully, there are some ways to avoid this issue.
There are so many useful products to prevent chafing from balms to biker shorts. And, of course, when chafing does happen, there are some useful hacks to make it disappear faster. Make the most of the warm weather and avoid worries with these must-have items.
Body Glide Original Anti-Chafe Balm
Put this balm where you normally chafe to prevent discomfort and skin reactions. Apply it on your inner thighs, under arms, your chest, or any other area where you skin typically chafes. This top-seller has 3,700+ 5-star Amazon reviews.
Body Glide for Her Anti Chafe Balm
If you want that same chafe prevention with an extra bit of hydration, this version has additional moisturizing ingredients. You need this balm in your life. Before you get dressed, apply it anywhere your skin is sensitive to rubbing, like the inner thighs, around your chest, your underarms. This product has more than 5,900 5-star reviews on Amazon and it's just $9. 
BodyGlide Foot Glide Anti Blister Balm
If you have cute shoes just sitting in your closet that you're afraid to wear, you're not the only one, but that needs to stop. Don't let your fear of hurting your feet prevent you from wearing adorable footwear. Apply this balm before putting on shoes to help prevent blisters and raw skin that's caused by your shoes rubbing against your feet. You can put this balm on the back of your ankle, the heel, the ball of your foot, sole, instep, and toes. It also softens skin and minimizes inflammation.
This anti-blister balm is great to prevent chafing and it has 8,400+ 5-star Amazon reviews.
Monistat Care Chafing Relief Powder Gel, Anti Protection
If you forget to apply Anti Chafe Balm, you could end up with chafed and incredibly irritated skin, but don't worry because there's a solution for that too. The Monistat Care Chafing Relief Powder Gel works wonders. It has the relief of a powder with the mess-free ease of a gel; i.e. it's the perfect hybrid product. Just ask the 20,200+ people who left 5-star reviews on Amazon.
Bandelettes Original Patented Elastic Anti-Chafing Thigh Bands
Bandelettes' anti-chafing bands come in many colors and sizes. There are even some lacy options. Enjoy a grease-free, chemical-free solution to protect yourself from chafing thighs. These have 10,300+ 5-star Amazon reviews.
Carpe No-Sweat Breast Lotion
Chafing isn't just a thigh problem. This cream lotions absorbs sweat before your bra or clothes do, keeping you feeling dry and preventing chafing in the process.
This product has 2,200+ 5-star Amazon reviews, with one shopper sharing, "I have never gone a FULL day without some form of sweatiness , stickiness, chafing, or irritation until now! I am absolutely happy with this product and will definitely continue using it!"
KT Tape KT Performance+ Blister Prevention Tape, Designed for Athletes, Breathable, Durable, Conforming, Precut 3.5 Inch Strips
Technically, this is blister prevention tape, but it's also a great way to prevent chafing. Whether you're breaking in new shoes or walking around for hours, this is a helpful product you need to have. It comes in two colors.
A shopper explained, "I was fed up with getting blisters and chafing from new shoes and this product saved my life. It's really affordable compared to anything else found on the market specifically designed for women's shoes. Another great tip: tape third and fourth toe on each foot with pointy shoes."
Bestena Slip Shorts
Chafing is a possibility when you wear dresses and skirts. Prevent that from happening with these biker shorts, which come in 11 colors with sizes ranging from small to 5X. 
These have 14,100+ 5-star reviews with one shopper raving, "I wore these shorts under a dress at Disney World. We walked 8.3 miles and 21K steps and these shorts did not move, pinch, roll, etc. They were perfect! No chafing, no weird lumps, and breathed great in the 85 degrees! I highly recommend!"
—Originally published March 14, 2023 at 2:16 PM PT.