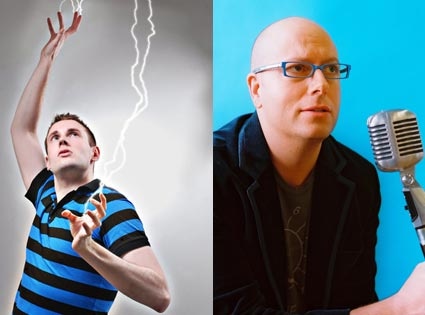 Shawn McPherson / Ian Brown
If laughter is the best medicine, then Josh Holliday and Andrew Johnston are neurosurgeons. Basically.
Both are Toronto-based comics in the running for the Canadian Comedy Awards. And although you may have not have heard of either of them, you will soon. Other nominees in the running for a CCA include such comedy hotshots as Rick Mercer, Russell Peters, Jeremy Hotz, Debra DiGiovanni, Brett Butt and Seth Rogen.
Holliday has been nominated twice in the public radio category. "As we all know, Canadian Comedy is the best, so frankly, (the Canadian Comedy Awards) recognize the best comedy in the world," he says.  "I'm not going to say universe, because that would be presumptuous. Maybe the 'greys' are hilarious."
Andrew Johnston, nominated in the Best Stand-up Newcomer category, thinks the CCAs are important and also rad. "Any kudos-fest in Canada is important in helping with the uphill climb towards creating a star system in this country," he says. "And maybe even more than that, it's just nice to have this little party to look forward to each year for the comedy community. It certainly results in a lot of scathing gossip, which is always fun." 
The best thing about the Canadian Comedy Awards? The public can vote! Pick your favourites in the Best Web Clip, Best Radio Clip and Canadian Comedy Person of the Year categories. The voting deadline is Friday, July 31st.