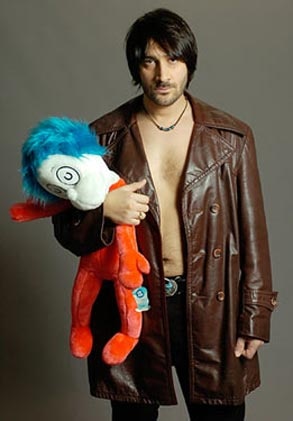 The Vancouver Courier
Patrick Maliha has been in comedy since 1995 and he's been a key player in keeping Vancouver comedy community alive and kicking.
A few years ago he created the People's Champ of Comedy competition which takes place every summer at Darby's Pub in Vancouver's Kitsilano neighbourhood. "I put up $1,000 of my own cash in Grand Prize money and hope that someone who truly deserves it, wins. It's a great competition because both judges and the audience judge the stand-up comics." He added that it began simply as a way to keep the public excited about comedy in the slow summer months but has since grown into a 9-week event in which amateurs and pros compete.
According to Maliha, a large part of the community's success in town is the availability of performance venues. "There are rooms that are great for pros to try out new stuff and rooms for first timers to get their feet wet. It gives people who normally wouldn't be able to get stage time, more of an opportunity to improve their craft."
These venues include Yuk Yuk's downtown, which is a part of a national Yuk Yuk's Comedy Club chain where Brent Butt (Corner Gas) grew his career, and Lafflines in New Westminster. "As far as one nighters, there are a few great rooms around town. Darby's in Kits every Tuesday and Zawa on Commercial Drive every Thursday are two of my favourite small rooms," noted Maliha.
Thanks to events like the People's Champ of Comedy and his use of social media, Patrick can allow the rest of the world to see the talent that Vancouver has to offer. "Facebook and before that MySpace were and are incredibly helpful. I think we live in an amazing time," said Maliha who also posts videos to YouTube and is active on Twitter.
Next year he hoping to increase the prize money for the People's Champ of Comedy and as for his own career Maliha said, "I'd love to be hosting a late night variety type talk show on television. I absolutely love hosting and interviewing people."