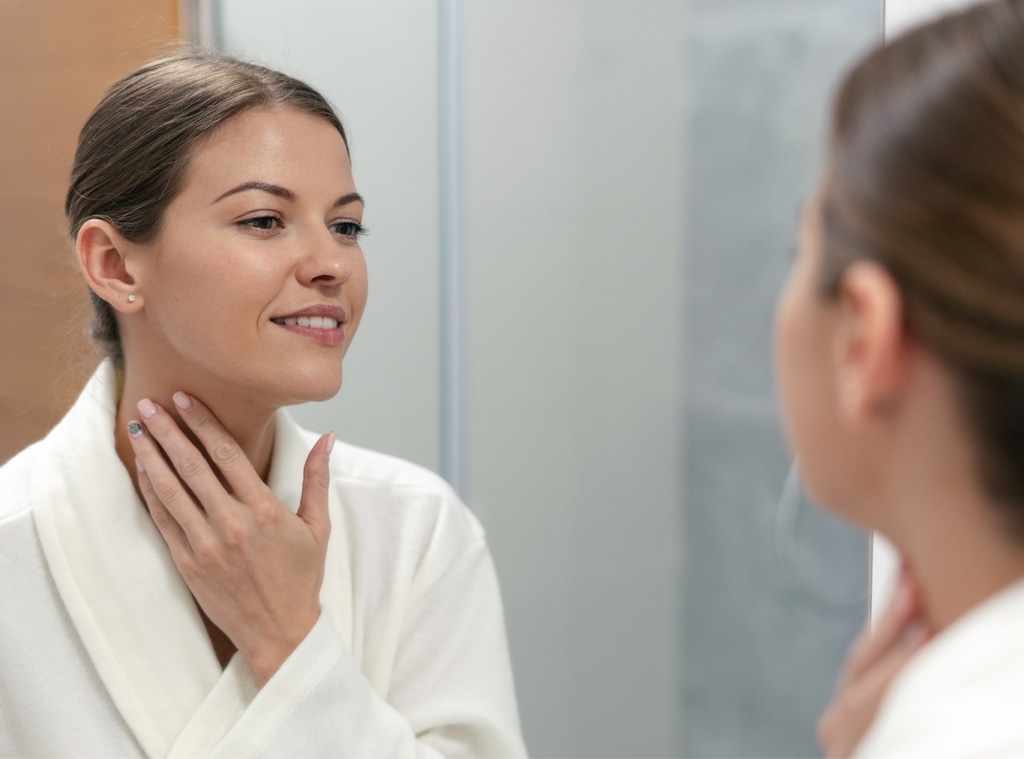 Getty Images
We independently selected these deals and products because we love them, and we think you might like them at these prices. E! has affiliate relationships, so we may get a commission if you purchase something through our links. Items are sold by the retailer, not E!. Prices are accurate as of publish time.
If you wake up in the morning feeling like your face looks puffy, it happens— especially after a long night. Whether you were out with the girls or working late, it can be easy to miss out on your nightly skincare regimen. That's why it's always good to have a backup plan in the AM. If I'm not looking my best, I put on the Clarins V-Facial Instant Depuffing Face Mask for just ten minutes and that's all I need.
Once I rinse it off, that bloat seems to disappear, my cheeks look slim, my skin looks bright, and my jaw looks contoured. I look like I did a full skincare routine and got ten hours of sleep the night before even when that's far from the truth. This is just what I need before a special occasion to look like my most snatched self, and, of course, for the next day if my skin is need of some recovery.
It has 25.4K+ Loves at Sephora (where it's sold out) and it's all over my TikTok For You Page. It doesn't get any easier than using this mask. Once you start using it, you'll never go back.
Clarins V-Facial Instant Depuffing Face Mask
I put a thick layer of this mask all over my face, under my jaw, and down to my neck and I'm very happy with the results. I leave it on for just 10 minutes and that's enough for me to see a big difference.
The brand recommends applying this to the lower half of your face and optimizing the results with the Clarins Manual Auto-Lifting Method. I have followed these instructions, but, usually I just do my own thing and leave it on my face while I do something else to kill time for ten minutes and I'm just as happy with the results. That's your call. I vote for the lazy, yet effective, option.
In case you're curious, here's what the brand advises:
-Place your left elbow in palm of your right hand, and rest your chin in the left palm.
-Gently move your head to the left.
-Completely relax the weight of your head in your palm for a few seconds.
-Repeat four times.
-Perform the same movements for the right side of your face.
-Rinse with cool water.
I'm not the only one who is amazed by these results. If you need additional info before you shop, check out these rave reviews. 
Clarins V-Facial Instant Depuffing Face Mask Reviews
A shopper declared, "I absolutely love this product!! It does exactly what it says it does.. it depuffs and makes your face look more slimming and more awake! I use it after a night of consuming adult beverages or before a fun event! It truly makes a difference in how my face looks and I am so glad I found this product!!"
Another shared, "The minute this jar is empty, I buy a new one. It does a better job than any other mask I have tried at depuffing my overall face. I also put it on my eyelids and neck and it helps in those areas too. This is the best mask out there for depuffing!"
Someone gushed, "Amazing! Honestly- one of the best products I've ever used- my skin really looks tight and radiant after using it- I love this mask!!!"
 
A Clarins shopper raved, "8AM never looked so good! Thank you for making a product that makes me look wide eyed and ready to go after a quick 10 minutes!"
A shopper reviewed, "Most Amazing Product I Have Used in Years! While I expected some results (Clarins products always impress me), I have been blown away with how unbelievably wonderful and effective this mask is! I don't think there will ever be a time when I am without it! It is worth every dollar!"
"What a dream product! I can't live or travel w/o. Reduces so much excess fluids from my face, I need this every day," a fan of the product wrote.
Another insisted, "You see results! Helps so much with de-puffing! A little goes a long way, so it lasts me a while too."
A shopper admitted, "I was pleasantly surprised at how well this worked to firm up my 60-year-old sagging skin around lower cheeks and neck. Will definitely buy again."
Looking for more great skincare? Get $150 worth of Sunday Riley products for just $74.