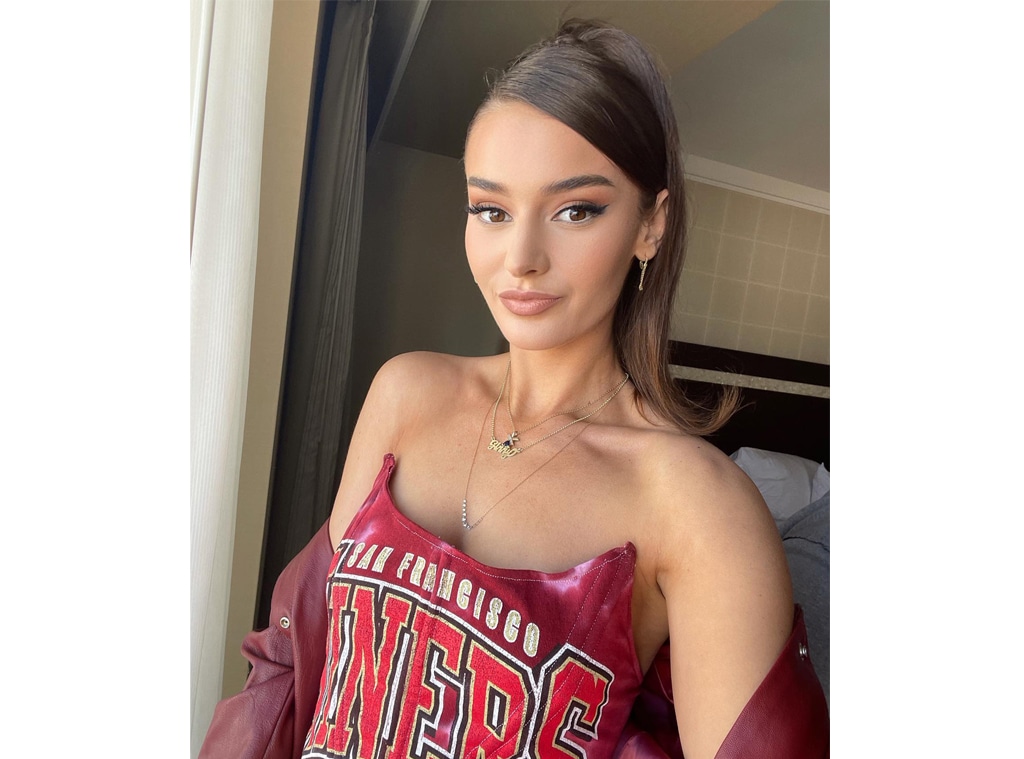 Kristin Juszczyk/Instagram
We interviewed Kristin Juszczyk because we think you'll like her picks. E! has affiliate relationships, so we may get a commission if you purchase something through our links. Items are sold by the retailer, not E!. Prices are accurate as of publish time.
There are so many reasons to enjoy football season— games, tailgating, snacks, and, of course, the fashion. If you want to step up your game day apparel, Kristin Juszczyk is here to guide you. Every week, she dresses to impress at the San Francisco 49ers games to support her husband Kyle Juszczyk. She always serves a unique look, reworking jerseys, t-shirts, vintage jeans, and even a football to create completely customized outfits, which you can check out on her Instagram and TikTok.
In an exclusive E! interview, Kristin explained, "My husband has been playing in the NFL for ten years. After about year six, I started getting bored of wearing the same three t-shirts on rotation. I remembered that I had my sewing machine in the garage that would only get used when Halloween rolled around. I started playing around with a few ideas that I had and quickly realized that I had a knack for it."
She elaborated, "It felt incredibly rewarding transforming something that was heading to the donation pile, into something that felt completely new. From there, I began to watch hours of YouTube tutorials on the basics of sewing. I definitely still have a long way to go, but I have really enjoyed every step of learning this new skill of mine." 
Kristin's reworked fashions are next-level. No matter who you're rooting for, you can use Kristin's tips and insights to create game day looks to celebrate your favorite team and showcase your personality. Keep on reading to learn more about creating your own looks and to find out Kristin's game day must-haves. 
E!: For people who want to personalize their game day looks, but don't know how to sew, what are some suggestions on how to get started?
KJ: You would be amazed with how much you can do with just a scissor! When I first started altering my game day looks I would go on Youtube and Pinterest and search "t-shirt cutting." I swear you can completely transform a simple oversized t-shirt with just a few snips. There are also so many amazing brands that sell custom game day apparel. My personal favorite is Good Sport Apparel.
E!: What's your favorite look that you've created so far?
KJ: I have really loved every look that I created this football season, but I would have to say my all-time favorite would be the corset that I made out of footballs. My husband thought I was losing my mind when I told him my idea! I remember staring at a football that was sitting on our counter and thinking to myself, "footballs are made out of leather, I can definitely make some type of garment out of this." I am really proud of how seamless the football corset came together and even how comfortable it was to wear. I did wish I saved the football corset for a little bit later in the season, because I felt like I set the bar a little too high for myself!
E!: What are some sewing/crafting essentials that you recommend to rework game day outfits?
KJ: If you want to start reworking your own game day outfits or even just your everyday clothes I would recommend heading to Joann. I swear I am in that store every other day. They have everything you would need, from sewing machines to a large variety of different fabrics to choose from. It can definitely be overwhelming if you are a first timer, but I am here to help!
Brother CS6000i Computerized Sewing Machine
"The first sewing machine I bought was a Brother CS6000i Computerized Sewing Machine. I promise the name sounds a lot more intimidating than it actually is. This machine is super user-friendly and there are a ton of videos online that will give you a step by step tutorial on how step it up."
Gingher Knife Edge Dressmaker Shears With Molded Nylon Sheath
"I would also buy a pair of Gingher Scissors. These babies cut through fabric so smoothly, I could not recommend them more. While you are there don't forget to pick up a seam ripper, pins, thread, measuring tape, and some extra bobbins."
Kristin's pick has 9,900+ 5-star Amazon reviews.
Dritz Deluxe Seam Ripper, Heavy Duty Blade
Kristin uses this seam ripper to create her reworked outfits. It has 4,000+ 5-star Amazon reviews.
Dritz Long Pearlized Pins- 120 Pieces
Kristin recommends these lightweight, yet sturdy pins for sewing and craft projects.
Kristin Juszczyk Game Day Q&A
HotHands Hand Warmers- Long Lasting Safe Natural Odorless Air Activated Warmers; Up to 10 Hours of Heat- 40 Pair
E!: Share a must-have for a cold weather game.
KJ: Hand warmers are essential! I don't go to any cold games without them. I always bring extra and throw them in the back of my boots to keep my feet warm too.
Kristin's pick has 36,400+ 5-star Amazon reviews.
Civpower Portable Neck Fan
E!: Share a must-have for a warm weather game.
KJ: For those extra hot games, I always make sure to bring my neck fan! You may think people are looking at you strange when you wear it, but trust me they just wish they had one! 
Kristin's pick comes in 9 colors and it has 3,900+ 5-star Amazon reviews.
Apple MagSafe Battery Pack- Portable Charger with Fast Charging Capability
E!: Do you have a go-to portable charger for game day?
KJ: I am actually notorious for my phone always being dead, so Kyle just bought me a portable charger for Christmas. I have been using it every week and so far, it's a complete game changer.
Kristin's pick has 6,700+ 5-star Amazon reviews. The Bachelor alum Hannah Ann Sluss recommended this charger and Too Hot to Handle's Harry Jowsey did too.
Charlotte Tilbury Airbrush Flawless Setting Spray
E!: What are some beauty product essentials for game day?
KJ: The most necessary beauty product essential for me on game day is definitely Charlotte Tilbury Airbrush Flawless Setting Spray. Game days can turn into a long day, and this setting spray makes it so your makeup doesn't budge.
Kristin's pick has 244.3K+ Sephora Loves. Summer House star Paige DeSorbo recommended this setting spray to E! shoppers.
Wet Brush Mini Detangling Brush
"I also always make sure to carry a mini brush and travel size perfume with me in my purse."
This mini brush comes in 33 colors and it has 11,000+ 5-star Amazon reviews.
TUNES2GO CA-E065A KoolMAX Bluetooth 350-Watt Portable PA Speaker
E!:Do you have any tailgate essentials?
KJ: A portable speaker is key to a good tailgate. You can't get the crowd going until you put on a pregame playlist. Recently, I have seen so many coolers that have built-in speakers and chargers. It doesn't get better than that!
Sheer Gear Bags
E!: Share a stadium approved bag for game day.
KJ: Any clear bag will be approved by security for game day. Nowadays so many brands sell clear bags with a little bit of a twist. My personal favorite and go to store for stadium approved bags is Sheer Gear. They have so many different options, and you even customize your bag with your favorite player's name or number.