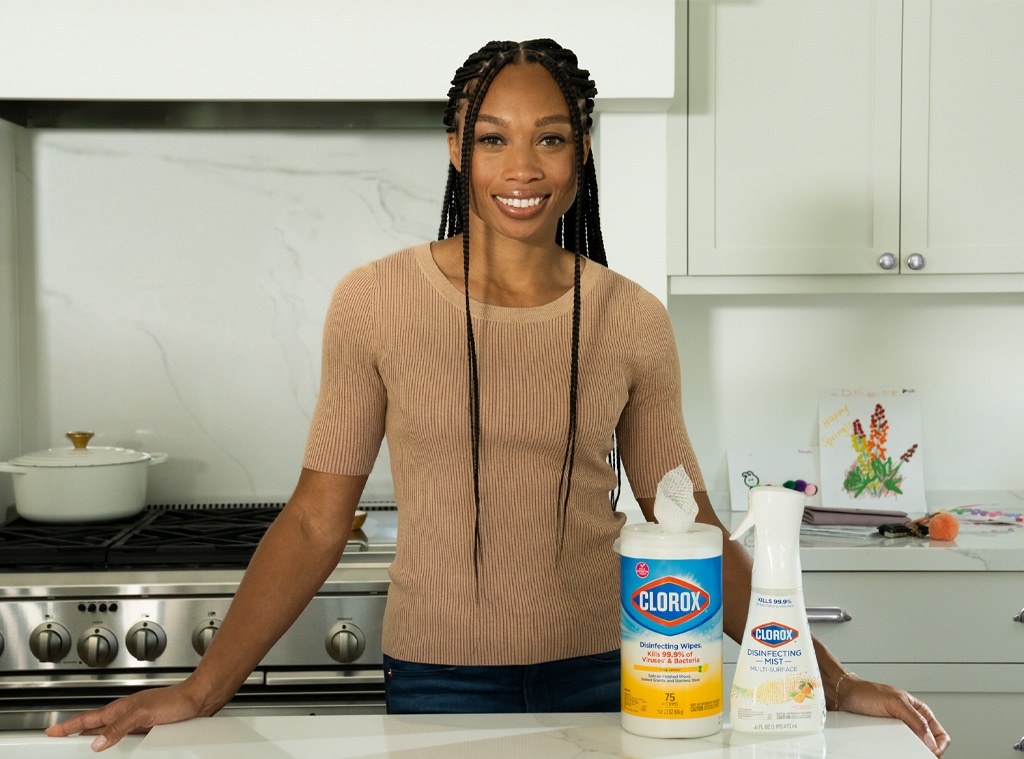 Courtesy of Clorox
We interviewed Allyson Felix because we think you'll like her picks at these prices. Allyson is a paid spokesperson for Clorox and Athleta. E! has affiliate relationships, so we may get a commission if you purchase something through our links. Items are sold by the retailer, not E!. Prices are accurate as of publish time.
Of course, heading back to school can be super busy for the students, but the same can also be said for the parents. There is a lot of preparation, shopping, and occasional worrying that goes into a new school year. Olympian Allyson Felix's daughter Camryn is starting Pre-K this year and Allyson is doing her best to stay on top of things. She explained to E!, "There's so much time when they're at school where they're out of your care. I want to do everything I can to send her off and to make sure everything is taken care of at home too." 
That's why Allyson relies on Clorox products, a brand that she has used for years, but has a much greater appreciation for as a parent. She shared, "None of us moms can afford to go down with a cold or flu and all of my cleaning habits have been amplified with my daughter going into pre-K this year. She's been to preschool already and I just feel like the kids always have something. So, I'm always thinking about what I can to do combat that."
Allyson elaborated, "It's about making sure we're disinfecting everything, all of the things, things I never thought about before." The athlete teamed up with Clorox for the brand's Unstoppable Moms campaign, encouraging parents to use Clorox products and resources to maintain a clean, safe environment and set an example for their kids.
Allyson shared, "I think that over the past couple of years that my daughter has just picked up on the importance of cleaning and sanitizing without us actively trying to teach her. She's gotten into it. She has a little play brooms and vacuums. Now, that we're at back-to-school season, we're definitely talking to her more about things that she could control, including washing her hands and just thinking about the things that she's touching. She even knows about disinfecting and all of that as well. So, it's a family thing."
Juggling it all is much easier said than done. If you're striving to be an Unstoppable Mom, Allyson's product recommendations are gold medal-worthy and budget-friendly, including a $5 must-have.
Allyson Felix's Back-to-School Must-Haves for Moms and Kids
Clorox Disinfecting Mist
"As we go back to school it's a time period that overlaps with cold and flu season, so I'm loving using the Clorox Disinfecting Mist on my daughter's backpack. I love that you can use it on the soft surfaces. I also use it around the house on the couch, which is an area we may not think about too much, but we spend so much time there."
This product has 2,300+ 5-star Amazon reviews.
Clorox Disinfecting Wipes- 225 Wipes Total
"Of course, the disinfecting wipes are just so useful to put into your everyday routine. I use them a lot in the kitchen wiping things down. And then I also use them a lot when we're like doing art projects and things like that."
These wipes have 51,600+ 5-star Amazon reviews.
Lovevery Play Kits
"We definitely try to do educational things at home. I love the Lovevery subscription boxes. That's something we've been into since very early on. It's nice that I don't have to be the one looking for all of these educational games. The research is done for me and the picks go with your child's age. My daughter loves playing with these toys."
Fire HD 8 Kids Tablet, Ages 3-7, 32 GB- Includes 1-Year Subscription to Amazon Kids+ Content, Blue Kid-Proof Case
"We talk so much about screen time in a negative way, but there's also a positive. Every time I see some of the educational things that are happening on the tablet, I think it's incredible, even the programs like ClassDojo. Those are tools that teachers are using now. I think it's a great thing to have this technology in the classroom and how parents are able to be involved and we can see what's happening. There are so many great apps that my daughter's school uses where we can get notes from the teacher, photos, and other updates on what they are learning about. I know that my parents would have loved having that access."
This tablet has 101,000+ 5-star Amazon reviews and the case comes in purple, pink, and blue.
Nefeeko Collapsible Water Bottle
"I feel like my daughter goes through water bottles so often. She has reusable ones, but they're just getting lost somehow. We have just misplaced them. I have seen some really cool collapsible ones that I want to get for her this year, so she could just throw it in her backpack easily."
It comes in a bunch of colors and it has 1,900+ 5-star Amazon reviews. E! Shopping Editors included this in our US Open Packing Guide.
The One-Minute Gratitude Journal by Brenda Nathan
"During this busy time, I end up thinking about myself the least. I love a gratitude journal. It's something I'm using in the morning. I love that you can just jot down what you're grateful for and also keep track of things in a journal."
This journal has 5,000+ 5-star Amazon reviews.
Chesapeake Bay Candle Scented Candle
"I also love self-care products like candles and bath bombs, things like that. That's my little piece of back-to-school shopping for myself."
These candles come in 28 scents and 7 sizes. They have 36,400+ 5-star Amazon reviews.
LifeAround2Angels Bath Bombs Gift Set- 12 Pieces
Use one of these handcrafted bath bombs in your tub for a relaxing, moisturizing experience. These bath bombs come in soothing scents, including lavender, vanilla, strawberry, coconut, mango, rose, and melon. They also fizz with color to add some fun to your bath, but there's no need to worry because these do not stain your tub. These bath bombs have 35,700+ 5-star Amazon reviews.
Athleta Girl Backpacks
"My daughter was definitely the most excited to get her backpack. Athleta Girl has very cute ones, so we got one from there. She loves all of the supplies, but I would say she especially likes crayons at this point. She's really into those. They have these empowering messages in the clothes and I'm all about that. I just want my daughter to be very confident."
Bentgo® Kids Prints Leak-Proof, 5-Compartment Bento-Style Kids Lunch Box
"For my daughter's lunch,I love anything with compartments. I like something where I can organize everything nicely."
This comes in 24 colors and it has 32,900+ 5-star Amazon reviews.