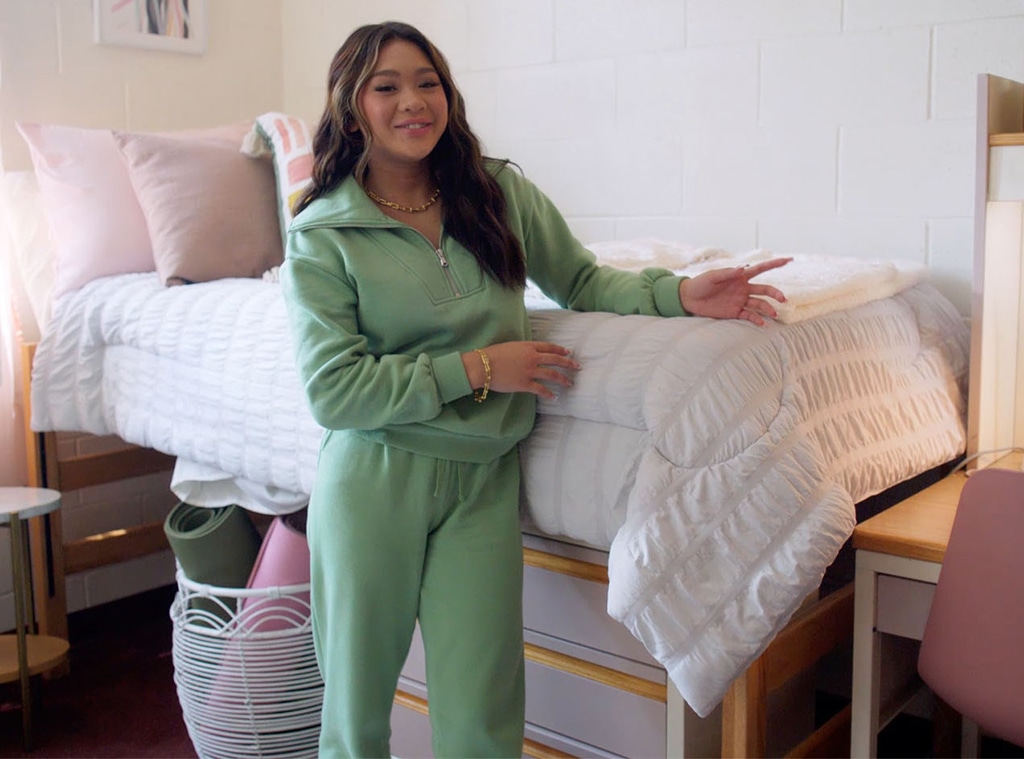 Courtesy of Amazon
We interviewed Suni Lee because we think you'll like her picks at these prices. Suni is a paid spokesperson for Amazon. E! has affiliate relationships, so we may get a commission if you purchase something through our links. Items are sold by the retailer, not E!. Prices are accurate as of publish time.
Preparing for a new semester is no joke. There is so much to do (and buy) before a school year even starts. And, of course, there's the often-dreaded back-to-college packing. You want to be prepared for every situation, but you can only fit so much in small apartment or dorm room. If the mere thought of packing has you feeling anxious, stop your worrying being Suni Lee is here to share her guidance. The Olympian is a student at Auburn University and an avid Amazon shopper who knows all about making the most of a small space.
Suni teamed up with Amazon to share her back-to-college picks. She told E! News, "One of my favorite things about college is being able to design my dorm and make it my own. That's why I'm so excited to team up with Amazon to share my college must-haves in their fun series Dorm Roomz."
The Dancing With the Stars alum said, "I want to remind students who are gearing up for college this fall that making a small space work for you can be a fun and creative process! So, I worked with Amazon to curate my Dorm Roomz shopping guide to share all my favorites for you to check out too."
Check out Suni's gold medal-worthy recommendations for back to college shopping, including a very convincing explanation that proves a cotton candy machine is a dorm room essential. 
Suni Lee's Back-to-College Amazon Picks
Home Brilliant Pillow Covers
"I always find myself stocking up on more pillows throughout the year to match my style, like this striped velvet design."
These pillow covers come in 7 sizes and there are 30 colors to choose from. They have 22,000+ 5-star Amazon reviews.
Ashler Home Deco Pack of 2 Decorative Luxury Style Pink Faux Fur Throw Pillow Case
"I think you can never have enough pillows."
This 2-case set comes in 4 sizes and 15 colorways. These pillow covers have 3,800+ 5-star Amazon reviews.
Kurala Coffee Mugs Set of 5
"These Kurala coffee mugs are easy to clean and store– perfect for a dorm room or apartment. Plus, I love the cute pastel colors!"
Keurig K-Mini Plus Coffee Maker, Single Serve K-Cup Pod Coffee Brewer
Suni also had this Keurig single-serving coffeemaker in her list of recommendations. Amazon has this in seven colors. This product has 23,200+ 5-star Amazon reviews.
Mario Badescu the Facial Spray Collection
"I'm a big fan of skincare. It's important to me that I maintain my morning and evening routines, even with a hectic schedule. The Mario Badescu face mists are a key part of my routine to make sure my skin stays hydrated. And, they're good for all skin types!"
This three-piece set has 13,00+ 5-star Amazon reviews.
Nostalgia Retro Hard and Sugar Free Countertop Original Cotton Candy Maker, Includes 2 Reusable Cones and Scoop
"I had to include the cotton candy maker in my picks, it's a must-have for easy snacking! It's the perfect pick-me-up in between study sessions."
This cotton candy maker has 1,100+ 5-star Amazon reviews.
Cotton Candy Express 5 Flavor Floss Sugar and Cones
Suni recommends this set with cones and 5 cotton candy flavors, including Pina Colada, Pink Vanilla, Lime, Watermelon, and Blue Raspberry. This set has 2,000+ 5-star Amazon reviews.
Luxfurni Vanity Mirror With Makeup Lights
"This vanity mirror is great because it gives me amazing lighting to do my makeup, so I'm always ready for class or competition."
This mirror comes in 2 sizes and 4 colors. It has 1,400+ 5-star Amazon reviews.
Linmopm Super Soft Fluffy Faux Fur Sheepskin Rugs
"This sheepskin rug is an easy way to elevate a small space while keeping it comfortable– and it is super fuzzy!"
This rug comes in 4 colors and 3 shapes.
Vinkor Flameless Candles- Battery Operated 9-Piece Set
Suni recommended these flameless candles, which are remote-operated and have 5-star Amazon reviews.
Amazon Basics Shaggy Long Fur Faux Fur Sherpa Throw Blanket
"The Amazon Basics sherpa throw is really cozy– it's ideal for a power nap between classes."
There are 11 colorways to choose from. This blanket has 2,000+ 5-star Amazon reviews.
Kaileyouxiangongsi Jewelry Organizer
"Staying organized in a small space is key, and this organizer helps me keep all of my pieces in one place, and it adds a decorative flair to my dresser."
This organizer also comes in gold, black, and white.