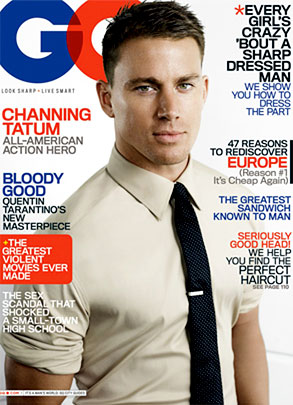 Mario Testino/ GQ
Channing Tatum is on the August cover of GQ, where he's tasked with promoting next month's G.I. Joe (oof).
All he has to say about that is "I hope it does OK." Costar Sienna Miller chimes in with "You know, G.I. Joe, it's not going to be the best acting work we've ever done." Well, these two certainly know how to make us want to see a movie.
Fortunately, his profile is less about figuring what a mess G.I. Joe might be and more about promoting Chan (that's what they call him) as a good ol' Southern boy. Oh yeah, and he has abs and stuff that are trying to burst through that button-down shirt. Oh, oops, they just did...