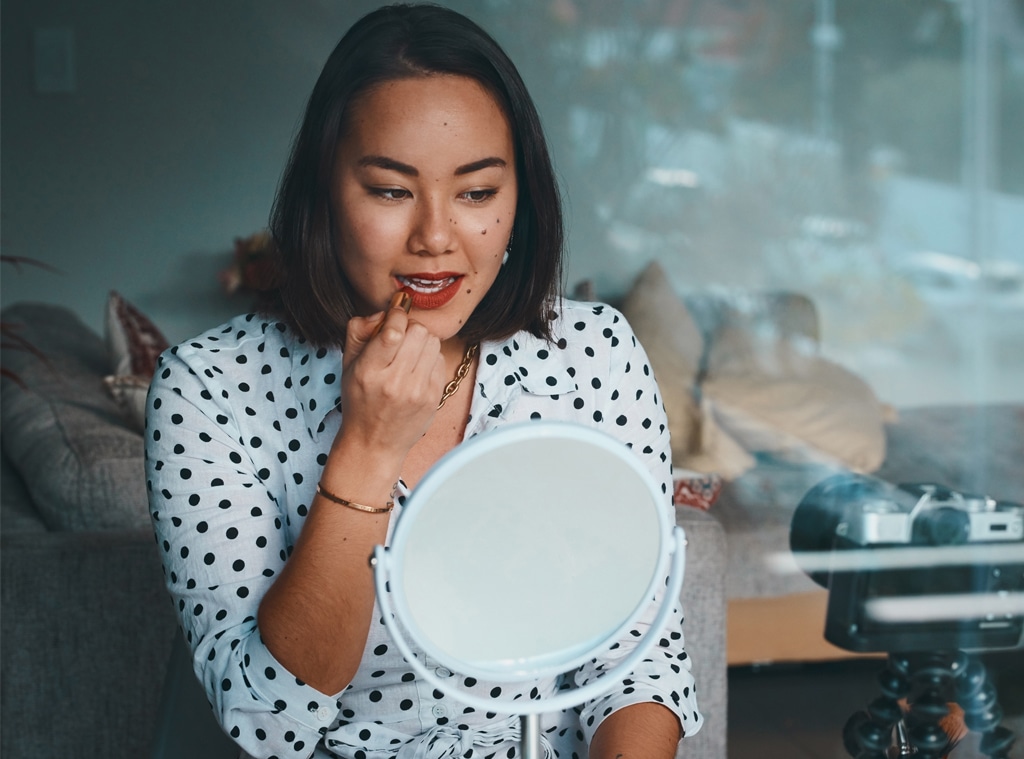 Getty Images
We independently selected these products because we love them, and we think you might like them at these prices. E! has affiliate relationships, so we may get a commission if you purchase something through our links. Items are sold by the retailer, not E!. Prices are accurate as of publish time.
If you're anything like me, all roads lead to shopping. You may think you're innocently watching videos TikTok, Instagram, or YouTube, but before your know it, you have an Amazon cart full of internet-famous beauty products that will be on your doorstep tomorrow. I know I'm not the only one who has shopped because TikTok "made me" buy it. When millions of people share their results and beauty tips online, I'm taking screenshots and clicking "add to cart."
It's fun to be a part of a community with other people who love trying out new beauty products as much as I do. Even so, there are so many viral beauty products popping up all the time and it can be tough to keep up. Thankfully, Amazon has a landing page with so many internet-famous beauty finds in one place. It doesn't get any easier than that, right?
Here are some of my favorite products that went viral on TikTok, Instagram, and YouTube.
Internet-Famous Skincare Products
Nooni Marshmallow Whip Maker Foam Cleanser
A $7 cleanser that's actually amazing sounds so far-fetched, but this marshmallow foam cleanser is everything. A little bit goes a long way with this foamy formula. It cleans my skin without stripping it. My skin always feels super soft when I use this, plus it's a super fun process. You put a pearl-size amount of cleanser in the whip maker, put in a little water, and pump to get the perfect amount of foam.  
This product has 4,300+ 5-star Amazon reviews.
Mighty Patch Original from Hero Cosmetics- Hydrocolloid Acne Pimple Patch for Covering Zits and Blemishes (36 Count)
We all need these pimple patches on hand. They are my go-to for skincare "emergencies." I stick these on overnight or during a work-from-home day of audio-only calls. After 6-8 hours, take the patch off to see all of the gunk that was absorbed. These are amazing because they clear out those pimples without drying out my skin and causing further irritation. 
These patches have 68,500+ 5-star Amazon reviews. 
Aztec Secret Healing Clay Deep Pore Cleansing Facial & Body Mask
The Aztec Secret Indian Healing Clay gives my pores a powerful, deep clean. Sure, you've already tried a million face masks, but this one is truly unique. You mix the Aztec Secret Indian Healing Clay with equal parts apple cider vinegar or water. Stir the mixture until it becomes a smooth paste, adding more clay or liquid as you see fit. Then apply a layer to the skin for just 5 to 10 minutes. There's no need for more time than that. You'll feel a tightening sensation as the clay dries. Then you just have to wash it out and watch the gunk coming out of your clogged pores.... sorry for the TMI, but it's a truly satisfying experience. 
This mask has 48,300+ 5-star Amazon reviews.
Revlon Oil-Absorbing Volcanic Face Roller,
When I sweat, I want to blot my face, but sometimes that messes up my makeup. Plus, it can add up to quite a pretty penny if you have to keep replacing your blotting sheets to dab a sweaty forehead. The Revlon Volcanic Face Roller is amazing. E! shoppers know how much we adore this. Oh and it has 25,100+ five-star reviews on Amazon.
It's reusable and it is just so simple to use. Simply roll over any greasy areas and you'll be shine-free. If you really want to see how good this product is, just roll one side of your face at first so you can compare and contrast it with the other. You will absolutely see the difference. 
Sunday Riley Luna Retinol Sleeping Anti Aging Night Face Oil
I have been obsessed with this product since the first time I used it. I have never been more impressed with a skincare product after just one application. The Luna Sleeping Oil is a gentle introduction to retinoids, reducing redness, boosting plumpness, and improving the appearance of pores and wrinkles. This is such a game-changer, but it's so gentle on my easily-irritated skin.
Embryolisse Lait-Crème Concentré, Face Cream & Makeup Primer
Use this multi-tasking cream as a moisturizer, an overnight mask, and a makeup primer. It absorbs very quickly, it doesn't irritate my skin, and it's an affordable find. It has 10,900+ 5-star Amazon reviews. It has been recommended by Euphoria star Sydney Sweeney, The Bachelor alum Catherine Lowe, and Real Housewives stars Porsha Williams, Teresa Giudice, and Margaret Josephs.
CeraVe Hydrating Facial Cleanser
My skin doesn't need the same thing every day. Sometimes, I just need to use a super gentle cleanser. This one is great to take off my makeup, sunscreen, and excess oils. It leaves my skin feeling hydrated and soft. I initially tried this because it is certified by the National Eczema Association. It's great to have on hand for those flare-ups when my skin is feeling especially sensitive.
This cleanser has 61,500+ 5-star Amazon reviews.
Internet-Famous Hair Products
Heeta Hair Shampoo Brush- Scalp Care Hair Brush with Soft Silicone Scalp Massager
Olaplex No. 3 Hair Perfector
I am obsessed with this product! I recommend it to anyone who has ever given me a hair-related compliment. Restore damaged hair to get that healthy, shiny hair you've always desired with this truly miraculous hair treatment. It is a complete game changer for my routine. 
Just apply the treatment to wet hair, leave it on for ten minutes (or longer if you want), then rinse it out, and shampoo and condition as usual. You will see and feel a difference the first time you use it, but if you want major results, work it into your routine by using it 2-3 times per week. This product has 62,900+ 5-star Amazon reviews.
Revlon One-Step Volumizer Original 1.0 Hair Dryer and Hot Air Brush
I would love to get my hair done every day, but, it is sadly not in my budget. However, I love the Revlon One-Step Volumizer. Get a salon-level blowout from home. This heated brush will save you time and money since you can dry and style your hair at the same time. There's even a cool option to set your style. This is great to smooth out your hair and lift your hair at the roots. 
This brush has 233,800+ 5-star Amazon reviews.
YoulerTex Microfiber Hair Towel Wrap: 2 Pack