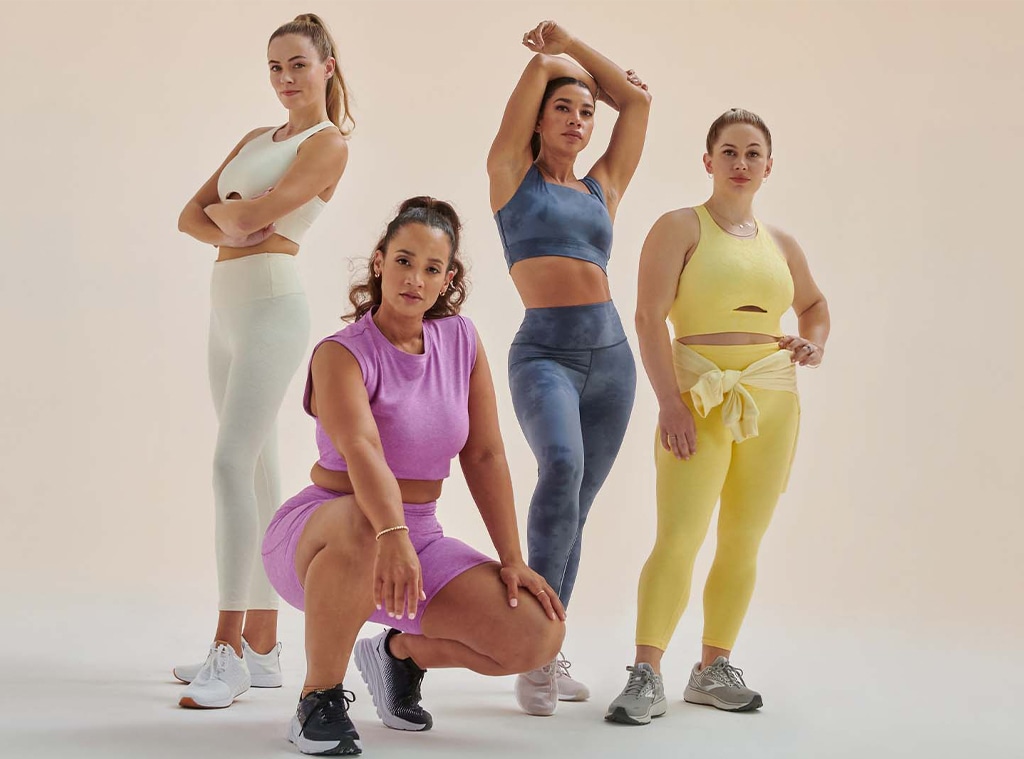 Courtesy of Calia
We interviewed Shawn Johnson East, Hannah Bronfman, Dascha Polanco, and Alexandra O'Laughlin because we think you'll like their picks at these prices. The products shown are from a brand that they endorse. E! has affiliate relationships, so we may get a commission if you purchase something through our links. Items are sold by the retailer, not E!. Prices are accurate as of publish time.
A new era in activewear is upon us. Calia just introduced the brand's first ever Calia Collective for its new Choose What Fits campaign. This group is led by Olympic gymnast  Shawn Johnson East, actress Dascha Polanco, wellness entrepreneur Hannah Bronfman, and golf journalist Alexandra O'Laughlin. The four of them came together with a unified goal to help inspire and motivate all women. 
In an exclusive interview with E!, Dascha said, "Wearing activewear, or just clothes in general, that you feel good in really adds to your day. It just gives you that little push you may need to accomplish your goals." Hannah explained, "Sometimes, showing up can be the hardest part. If you can feel good in the clothes that you're wearing, it's easier to have that confidence to show up and put yourself out there."
Calia has fashionable and functional sports bras, leggings, tops, outwear, and more in sizes ranging from XS to 3X. Check out some of the pieces from Shawn, Dascha, Hannah, and Alexandra's campaign below.
E!: What differentiates the Calia Collective from other activewear brands:
DP: For me, it's having flexibility throughout my day to be able to have options and still feel comfortable and confident to get my goals done. For me, it's important that everything functions with my curves. This is not a clothing line for one set type of body. These pieces adapt to your body, which is important to all of us across the board. You adapt to me, not me to you. That is something that Calia does in such a chic, empowered, and functional way that it just works. 
AO: For me, it's about the versatility of the pieces. You can style them in so many ways. You can wear the styles with heels or sneakers, you can dress the pieces up or down. The textures of the products are very elevated too. You can wear these pieces anywhere, to the gym and anywhere else.
HB: I feel like the pieces individually are so versatile. Of course, everything works well together, but they're also easy to pair with pieces I already have. The pieces really stand out to be functional pieces in your wardrobe that don't necessarily have to be paired with the athletic side of things. This really cute, cropped, zipped hoodie would look really cute with an oversized pair of jeans and a loafer. That's versatility that I love.
SJE: Everything from Calia is cute, comfortable, and it's made to move with your body.
E!: What are some of your favorite Calia pieces right now (or some upcoming styles that have yet to be released)?
HB: There is a beautiful swim set with these beautiful color blocking moments that I am obsessed with. 
DP: Yes, I think we are all into the swim line. We were all talking about it. We've gone through winter and now we're in spring, it's time for swim. I want to feel sexy at the beach and that I can still jump around in the water while feeling secure without anything popping out. 
AO: I just love all of the different colors. I think you can pair the pieces together for a monochromatic look, which looks so upscale. Or you can mix up the colors to create a different outfit. I love the flexibility of the pieces.
SJE: I enjoy the flexibility as well. Up until Calia released these pieces, the look of "function" was so specific. Items were completely function-forward with the fashion side not featured as a priority. These pieces are so interchangeable that you can wear your "functional" pieces with jeans and heels without anyone ever knowing.
Shop Shawn, Dascha, Hannah, and Alexandra's looks below.
Calia Women's Ribbed Racerback Tank, Double Layer Hem Shorts & Essentials Crossbody Bag
This is a great everyday look for running errands or lounging around the house. You can even elevate this style with a dressy jacket and the right pair of shoes. The top and shorts are available in four colors.
Calia Women's Journey Open Front Poncho Cardigan, Cozy Essential Sports Bra & Cozy Essential Bike Shorts
It doesn't get more comfortable than this trio. You will want to live in this cardigan, and who doesn't love a matching set? This sports bra provides support for medium impact workouts and the shorts have a fitted silhouette that stay put when you work out. And, of course, all of these pieces are available in multiple colors.
E!: Tell me about being a group of brand ambassadors vs. just representing the brand individually.
DP: We are not only a group. We are a collective. Calia Collective. Something that I've really enjoyed about working with Calia is that I get to be surrounded by women that inspire me. We didn't know each other before. We knew of each other publicly, but we didn't know each other well. To be able to experience this together has been exciting, fun, and unexpected. It just works. When you're in a position of leadership and you pull together a team, it creates success and it also allows for others to fall into that line and do the same.
HB: I think it just also represents what the brand is all about, being something for every single type of woman. I think that the four of us really appeal to so many different types of women. I have felt validated in what the three of them have said. Whether it's mantras or how to take care of yourself, I have just felt seen. I think that is really important, especially as a consumer. To feel represented is really special.