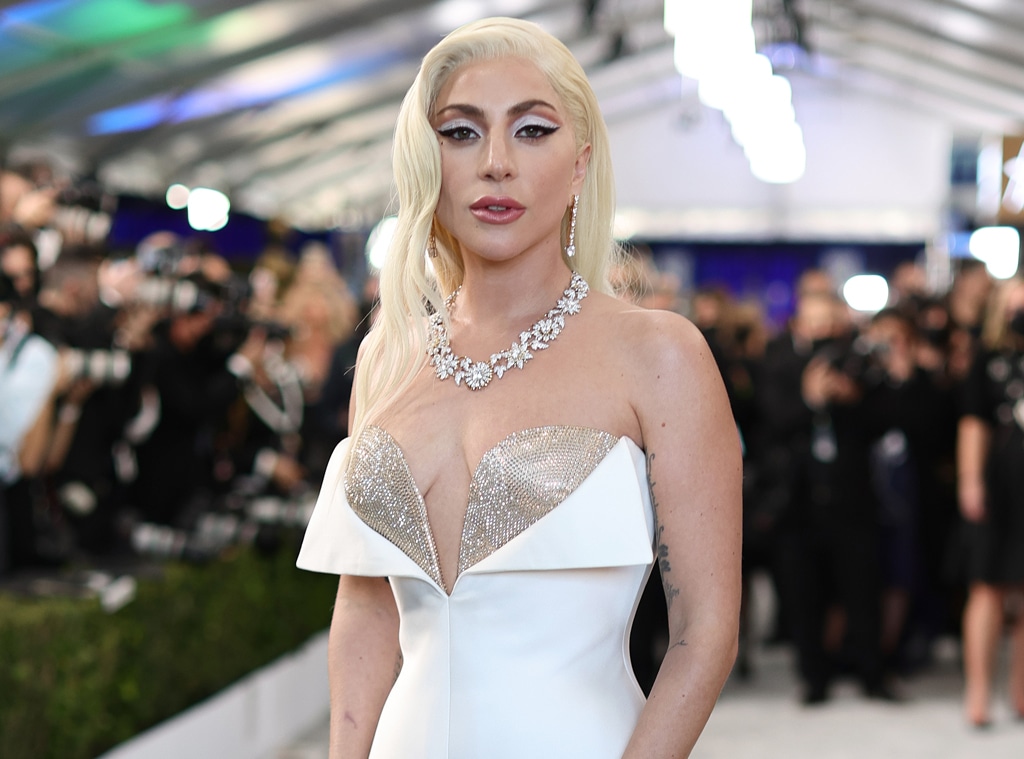 Dimitrios Kambouris/Getty Images
We independently selected these deals and products because we love them, and we think you might like them at these prices. E! has affiliate relationships, so we may get a commission if you purchase something through our links. Items are sold by the retailer, not E!. Prices are accurate as of publish time.
There are so many celebrity beauty lines out there, but Lady Gaga's brand Haus Labs is in a league of its own. The superstar has really come through with some revolutionary products. Plus, they are vegan and cruelty-free.
If you want an all-out glam look, these are the products you need. If you prefer a more subtle vibe, these are the long-lasting products that you need to survive a long day. No matter what you're going for, Haus Labs by Lady Gaga comes through with high-quality products that you will buy on repeat. Here are some of the most-loved items from the brand along with some super-enticing reviews from fans.
Haus Labs by Lady Gaga Must-Haves
Haus Labs by Lady Gaga Bio-Blurring Loose Setting Powder
I just had to buy this after watching so many beauty tutorials. This powder blends seamlessly into the skin without looking ghostly or giving flash back on camera. This is amazing to set makeup and control shine. It gives this "filt in real life" blurred finish that I can't get enough of. It comes in five colors.
A shopper said, "This powder is so soft and blurs so well. I don't even feel like I am wearing makeup. It is my favorite powder."
Haus Labs by Lady Gaga Triclone Skin Tech Medium Coverage Foundation
If you've struggled to find a foundation that matches your complexion, this one comes in 51 shades. It has a medium coverage that you can build up without a heavy feeling. It has a clean formula and it's made with ingredients that reduce redness, according to the brand.
A shopper raved, "My new favorite foundation. I love how this makes my skin feel. I started wearing this foundation right before a trip to Vegas. I had a long day of travel and my foundation didn't rub off or cake or irritate my sensitive skin. I actually think it complimented my skin. I used to only use Estée Lauder but now I can't imagine using anything besides this current bottle. Im sold on Haus labs for everything."
Haus Labs by Lady Gaga Color Fuse Blush
This talc-free blush has ingredients that reduce your skin's redness. The formula is super hydrating and it easily melts into your skin, so it doesn't feel heavy. There are five, versatile shades to choose from.
Haus Labs by Lady Gaga Atomic Shake Lip Lacquer
When you think of liquid lipsticks, you probably picture a matte finish, but this one is all about the shine! It delivers a transfer-proof, super glossy finish that lasts all day without the need to reapply. It comes in six gorgeous shades.
A shopper reviewed, "I love a good lip stain/long lasting lip color, but so many of them don't live up to the hype. This one does! The shades are gorgeous, the formula is lightweight, soft and comfortable and it just lasts and lasts! I'm in love!"
Haus Laboratories by Lady Gaga Le Monster Matte Lip Crayon
A long-lasting, matte lipstick that actually feels comfortable!? Yes, it does exist! This one feels creamy on the lips, but it dries down to a matte color. It feels incredibly lightweight and the color is super buildable. It's available in 22 shades. This one has 3,800+ 5-star Amazon reviews.
A shopper divulged, "This is my first HAUS Labs purchase and I am floored. I am a die hard liquid matte lipstick user, but I am being converted by this lip crayon. The texture is out of this world. I feel like I could wear it all night and not need to touch it up. I appreciate the crayon form as it allows me to line my lips before filling. Photos were taken with no filter applied in front of a white led vanity mirror light. I am wearing the shade 1950, a classic red. Now I need to buy them all!!!"
Another declared, "This is a revolutionary makeup product that everyone needs! Easy application that feels hydrating on the lips for HOURS and the color payoff is amazing. I feel like this will make liquid lipstick a thing of the past!" A third shopper said, "Smooth application and endless color! I love this lip crayon.. I have had so many others and this one tops them all! Smooth on the lips and pure pigment!"
Haus Laboratories by Lady Gaga RIP Lip Liner
Yes, this is technically a lip liner, but you can also fill in the lip completely for all-over color. It is waterproof, long-lasting, and highly-pigmented with a demi-matte finish. This comes in 16 shades. It has 4,700+ 5-star Amazon reviews.
A shopper said, "This lip liner was the first "expensive" lip liner I have ever purchased. Being a lady Gaga fan I have been searching for an opportunity to try her products and I needed a good brown lip liner! This is the best I have ever tried. It did not smear and stayed perfect through me chugging a protein shake, patting my lips to remove the protein and then even wearing a mask! My lip liner is still in place and looking great! This is a must buy and if your contemplating it because of the price. Just do it!"
Another raved, "The Haus of Gaga liner (I started with Myth) goes on smoothly, stays all day, and basically is a Boyz II Men song in a lip liner. It's gonna be with you all day, all night, and it's gonna make you feel so good."
A third shopper shared, "Purchased one and went back for three more. They go on super smooth, great rich color and lasts a long time. Work from home and on video calls all day so I wanted something well defined but not over the top. These are really great."
Haus Laboratories by Lady Gaga Glam Room Palette No. 1
This eyeshadow palette has 10 buildable and blendable shadows in matte, metallic, shimmer, and sparkle finishes with colors ranging from pale peach to a deep black. This palette has 2,600+ 5-star Amazon reviews.
"I put my eyeshadow on at 6am and 12 hours later...it has not moved! Really looking forward to using this more and more.
It has a mirror, and is a great size to put in a purse for a touch up if needed and appears to travel well," a fan of the palette shared.
A shopper gushed, "This eyeshadow palette has changed my life. In the past, I've relied on a mix of drug store This pallette + the liner has converted me to Haus for life. Honestly, I don't have time to spend on make-up everyday, but this little palette gives me a pick-me-up whenever I put it on. You can tell a lot of effort went in to getting the pigments and materials just right, and the packaging is nicely done too."
Haus Labs by Lady Gaga Le Monster Lip Crayon Lipstick
A long-lasting, matte lipstick that actually feels comfortable!? Yes, it does exist! This one feels creamy on the lips, but it dries down to a matte color. It feels incredibly lightweight and the color is super buildable. It's available in 11 shades. It has 59.8K Sephora Loves.
Haus Laboratories by Lady Gaga Four-Way Shadow Palette
These eyeshadow quads are available in 9 color combinations. The set includes shadows with matte, metallic, and shimmer finishes that are easy to build and blend.
"I love how easy it is to apply and to layer these shadows. Very smooth application, very long lasting, but very gentle on my fragile eye area skin! High quality for a good price," a customer shared.
Another raved, "Absolutely LOVE these shadow quads by HAUS! They are so smooth and creamy with little fallout and the color scheme is just beautiful. Perfect for yourself or as a gift!"
Haus Laboratories by Lady Gaga Head Rush Blush Duo
Instead of searching for complementary blush and highlighter shades, get this duo. These powders melt into your skin for a soft, creamy finish. These duos come in 14 color combinations.
A happy shopper raved, "I LOVE this!! I have about a dozen blushes and bronzers and since receiving this one ... the rest have been abandoned. Lady Gaga and Haus Labs have IT!!!! Great pigmentation with just the right amount of sheerness, super flattering, lasting wear (ahem: longevity) beautiful shimmer and plenty of product. F-A-V-E!!! Get some."
Another said, "This duo is amazing! The shades are very pigmented and they are long lasting. I love that I can carry these essentials with me without having to look for a mirror because is already attached too."
Haus Laboratories by Lady Gaga The Edge Precision Brow Pencil
Use this precise brow pencil to create natural hair-like strokes. Just brush up the brows with an attached spoolie, then fill in the brow with the pencil and blend it with the spoolie. This eyebrow pencil comes in 13 shades ranging from blonde to dark. 
An enthusiastic shopper raved, "I have been looking for a good eyebrow pencil for years. I was fairly happy with Chanel, but this pencil knocks it out of the park. The color is perfect and the pencil tip is fine enough to create a natural looking brow. There is a brush on the other end to even it all out. Who knew you could get so excited about an eyebrow pencil?!
Another said, "Best brow pencil I've ever used. It's thin enough to create detail, but sturdy enough that it won't break when pressure is applied. I will continue to purchase it."
Haus Laboratories by Lady Gaga Glam Attack Liquid Eyeshadow
This is a fallout-free, smear-proof, multidimensional liquid eyeshadow that is incredibly long-lasting. There are 13 shimmer shadows and 4 metallic colors. Just shake to activate the pigment before directly applying to the eyelid. Layer on more shadow to amplify the pigment.
"Absolutely love this product. Super easy to apply for days when you want to look glamorous but not actually put much effort into it. The wand is perfectly shaped so that you can even place it on after mascara so long as you're careful! This shade in particular, starlight is the perfect no makeup makeup look that I was going for. This with a tinted moisturizer and mascara makes you look put together but takes practically no effort. I haven't noticed any creasing on me and it dries quickly down to a powder so it stays on comfortably all day," a customer said. 
Another shopper shared, "This is easily the best liquid glitter eyeshadow I've ever tried and I've tried A LOT. honestly I think this is even better than STILA because for me stila seemed way thicker and would crease on me but this product never does. also there's never any fallout. I wear this everyyyyday because it's sooo easy and i get sooo many compliments. definitely buy one if you're thinking about it because it's great."
—Originally published Mar. 28, 2022 at 4 AM PT.