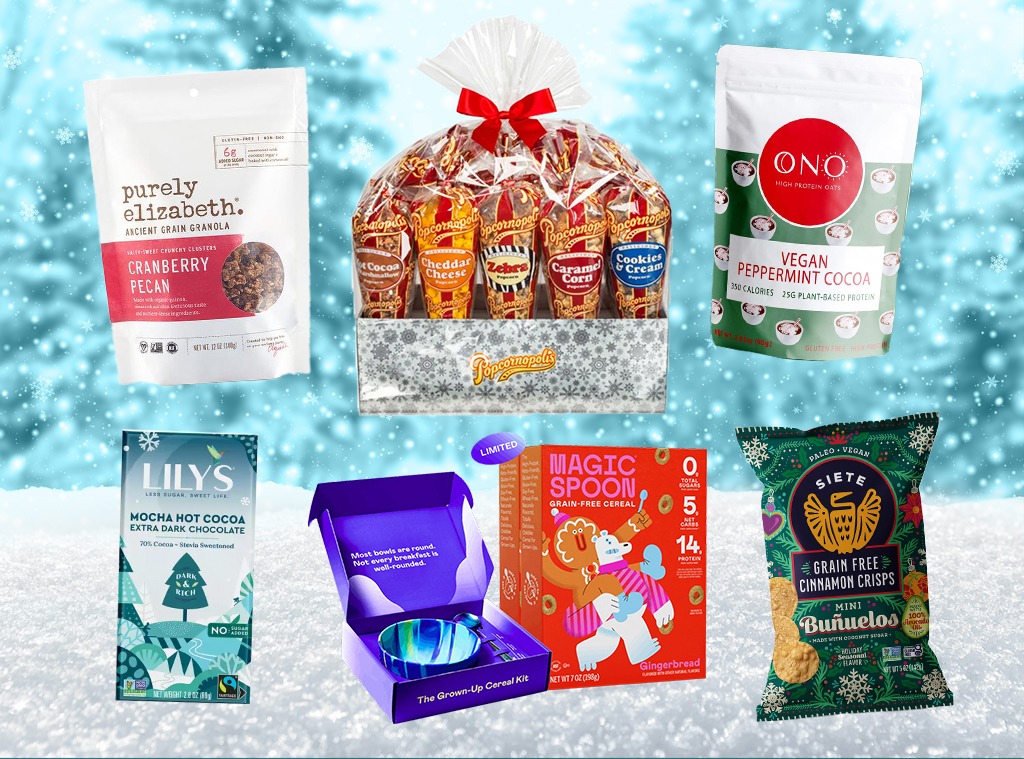 We love these products, and we hope you do too. E! has affiliate relationships, so we may get a small share of the revenue from your purchases. Items are sold by the retailer, not E!
Run, run as fast as you can because it's officially gingerbread season. Yes, it's the most wonderful time of the year, and we have earned the right to go all out when it comes to our snacks. Snickerdoodle, peppermint, hot cocoa: Nothing is off-limits. So to help you fulfill your full festive potential, we've rounded up 18 of our favorite limited edition offerings from beloved brands like Lesser Evil, Siete and Sakara Life that should definitely deck your halls pantries.
Whether you're looking for a breakfast option, such as gingerbread cereal, or craving a mid-day snack—think popcorn and protein bars—or just want to eat a damn cookie without having a mess to clean up afterwards, we're here for you. Not all heroes wear red suits. 
So check out our round-up of healthy snacks to try and/or gift this holiday season. And gifting them to yourself totally counts.(P.S. We also did a peppermint-themed collection, too, if you are feeling a minty-fresh moment. We love that journey for you.)
Sakara Holiday Popcorn Trio
Once you pop the fun doesn't have to stop, thanks to Sakara's superfood take on a beloved snack. Their chic container is filled with three options, 
sweet, salty, and "cheezy," which are as functional as they are flavorful. You know what they say: Healthy metabolism, happy holidays!
Purely Elizabeth Holiday Host Bundle
Prepare to become everyone's favorite house guest when you show up with three bags of granola goodness, including cozy flavors like cranberry pecan, pumpkin cinnamon and vanilla chocolate chip. Apologies to cereal, but this topped with milk and some banana slices is our new go-to breakfast bowl. Can you blame us when this female-founded brand swaps out the artificial crap for coconut sugar and ancient grains? 
Magic Spoon Gingerbread Bunny Bowl Bundle
Think of it as a gingerbread cookie cereal, with just 5g net carbs, 14g complete protein and nothing artificial in their DNA. And if you have a cereal lover in your life or just want to level up your own breakfast game, you can gift them with the bundle that includes two boxes of the grain-free cereal and a one-of-kind bowl and spoon set. If only 10-year-old you who sat in front of the TV slurping down cereal while watching Saturday morning cartoons could see you now.
Lesser Evil Dark Chocolate & Himalayan Pink Salt Popcorn
PSA: You will finish the entire bag in one sitting. For a subtly sweet yet still decadent take on popcorn, dig into Lesser Evil's indulgent flavor that includes cocoa powder and only has 110 calories per serving. Feel free to spend the entire season eating this one.
Siete Mini Bunuelos Cinnamon Crisps (6-Pack)
Shake up your snack game with these grain-free crisps of cinnamon goodness that were inspired by the family business' own traditions. Sweetened with coconut sugar and a great option for people with dietary restrictions, you can eat these on their own or top them with berries, chocolate and whipped cream for a sweet take on nachos.
Larabar Gingerbread Nutrition Bars
For a taste of the season on the go, stock up on Larabar's limited edition offerings, including their gingerbread flavor, which has just eight ingredients. Spiced with vanilla, ginger, cinnamon and allspice, they are the perfect substitute for your favorite holiday cookie that you don't have to feel bad about biting the head off of.
Bougie Bakes 'Tis The Season to Eat Bougie Bundle
Make this year's cookie exchange your b--ch by bringing this tin filled with peppermint brownie bites, red velvet chocolate chip cookies, vegan ginger spice cookies and vegan red velvet chocolate chip muffins. Plus, all 64 treats are gluten-free, dairy-free and sugar-free. Bougie, indeed.
Sweet Laurel Bakery Gingerbread Cookie Dough Bundle
Rejoice, vegan, gluten-free and lactose-intolerant friends, we found the sweet treat for you! Sweet Laurel makes healthy baking easy with this chic bundle that includes a roll of their better-for-you dough and a gingerbread-shaped cookie cutter. Oh, and to answer the obvious question: You can just eat it raw, too. 
Primal Kitchen Snickerdoodle Collagen Fuel Drink Mix
Your smoothie-making process just got a whole lot more festive, thanks to one of our go-to brands for all things healthy. With creamy coconut milk powder, cinnamon and vanilla extract, this mix is the perfect addition to spice up your post-workout drinks and you can even add a scoop into your baking adventures. Did we mention it's also keto- and paleo-friendly?  
Ono Peppermint Mocha Overnight Oats (6-Pack)
Keep your spirits high and belly full this busy time of year by starting off your day with Ono's take on your favorite seasonal coffee flavor. Packed with 25g of plant-based protein and 8g of fiber, their vegan offering has the perfect balance of crisp peppermint flavor and rich chocolate and is topped with chocolate chips. Yes, you and these easy-to-prep oats are definitely mint to be. 
Lakanto Keto Candied Nuts
Truly one of the most underrated seasonal snacks is just a bowl of candied mixed nuts. But Lakanto's version, which finds almonds, cashews and walnuts sweetened with monk fruit, is sure to change that. Their three flavor options include simple, cinnamon or maple glazed and we would never forgive ourselves if we didn't tell you to top your pancakes, waffles, toast or salads with these for a candied crunch.
Dylan's Candy Bar Classic Christmas Tackle Box
A candy charcuterie board is the very definition of adulthood dreams realized. There's something for everyone in this box of goodies, including gummy gingerbread men, milk chocolate caramel Santas, sour gummy toy chests and more. Buddy the Elf is overwhelmed!
Popcornopolis10-Cone Silver Snowflake Gift Basket
Just read these flavors included in the gourmet popcorn company's basket and then tell us you probably won't end up gifting this to yourself: Caramel Corn, Kettle Corn, Cheddar Cheese, Cookies & Cream, Red Velvet, Cinnamon Toast, Zebra Popcorn, Holiday Cookie, Snickerdoodle and Hot Cocoa & Marshmallow.