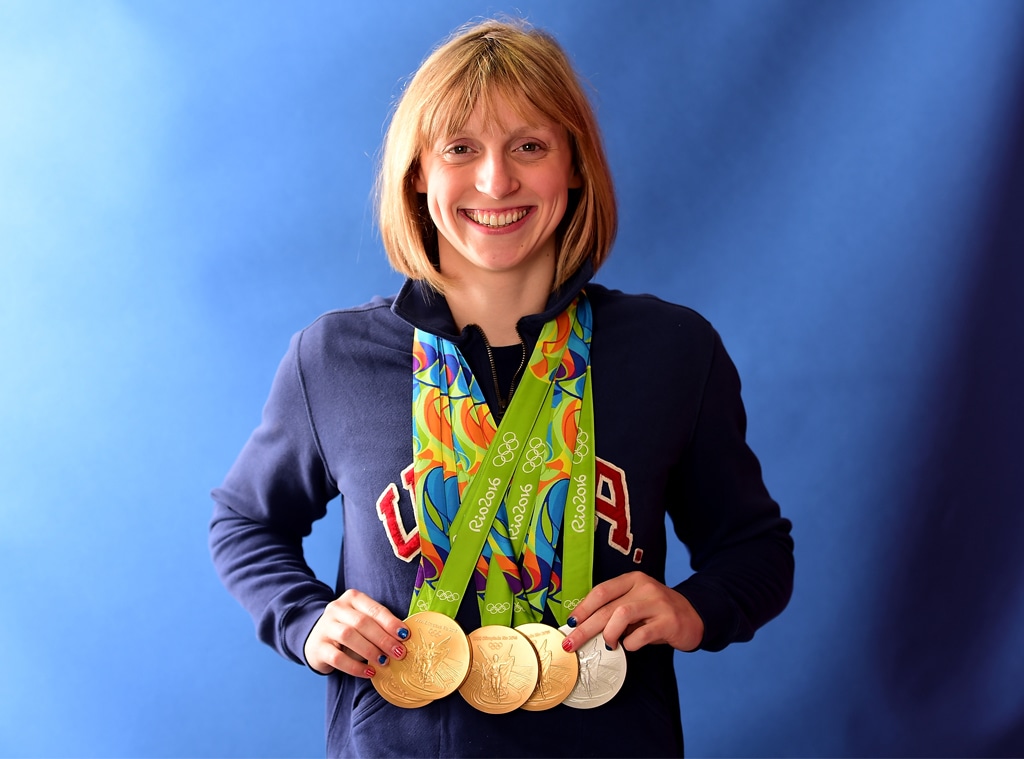 Harry How/Getty Images
You'd be forgiven for mistaking Katie Ledecky for a machine. Dive into pool, swim faster than everybody else, receive gold medal, rinse, repeat.
That's pretty much been her routine for a decade since making her Summer Olympics debut in 2012 at 15, when she propelled her way to a surprise win in the 800-meter freestyle, the first of her six career Olympic medals, five of them gold and one silver. Plus there are her 15 gold medals from the World Championships (more than any other female swimmer) and eight first-place showings at the Pan Pacific Swimming Championships, making for quite the gallery wall.
But laser focus aside—and the fact that she could add five more medals to her collection at the pandemic-delayed 2020 Tokyo Olympics kicking off July 23—Katie is quite human, with the very relatable feeling known as relief coursing through her veins.
"I thought I was a lot faster than that, so I was a little surprised by the time," she told NBC Sports after qualifying for her third Olympics by winning the 400m freestyle at the U.S. Olympic Swimming Trials last month—but with a time more than four seconds shy of her world record of 3:56.46, set when she won the event in Rio in 2016.
Watch:
Why Kim Kardashian's U.S. Olympics SKIMS Collab Is a BIG Deal
Well, they can't all be record-smashers and sometimes simply being the best during those few minutes is enough. Two nights later, on June 16, she won the 200m and 1500m (the latter making its Olympic-event debut for women this year, with Ledecky the early favorite) and on June 19 she won the 800m, the event that started it all and in which she holds the top 23 fastest times in history.
"I've always enjoyed the distance training," Ledecky said matter-of-factly, keeping her energy up and her mind calm in the barely 85 minutes between races by eating a banana, drinking her longtime preferred beverage of chocolate milk, and walking around the venue—after a 15-minute warm-down swim.
Maddie Meyer/Getty Images
"I haven't been super happy with my times," the now 24-year-old veteran, admitted, "but I still feel like I'm in a good spot. I'm not comparing myself to my past."
If she were to take a trip down memory lane, though, she might find herself skipping jauntily along the path.
Born in Washington, D.C., Ledecky grew up in Bethesda, Md., with lawyer dad David, mom Mary (a swimmer in college) and big brother Michael.
She took to the pool at a tender age and started competing at 6—she got Michael Phelps' autograph when she was 9, a mere six years before they became teammates—and, though she was pretty adept in all of them, freestyle became her stroke of choice.
Leading up to qualifying for the London Olympics in 2012, she trained at the Nation's Capital Swim Club and at 15 years, four months and 10 days old was the youngest athlete at the Games that summer. She graduated from Stone Ridge School of the Sacred Heart in 2015 holding every school swimming event record except the 100-meter breaststroke.
At the 2016 Summer Olympics in Rio de Janeiro, Ledecky—by then her full height of 6-feet-tall—tied with gymnast Simone Biles for most decorated female American to emerge from the Games, with five medals apiece. Phelps had six, the most of the entire U.S. team.
After becoming a household name in Rio, Ledecky enrolled at Stanford, turning down millions of dollars in endorsement deals to swim for the Cardinal. 
"People throw numbers around, but I don't really pay attention to any of that," she told Washington, D.C.'s WTOP before her freshman year began, having just picked out her bedding for her dorm room. "And I'm just going to do what I want to do. And that's compete [in college] and be with a really great team, be with a lot of my friends, go to class with them, learn a lot. And I think that this is what's going to help me moving forward and I'm excited for what Stanford holds."
As a freshman, she set 12 NCAA records and nine American records and in 2017 led Stanford to its first NCAA Championship since 1998. They repeated the following year, Ledecky swimming a mile and Stanford winning the title on March 17, 2018, her 21st birthday.
Which was probably celebrated pretty moderately by the young lady who said no to Olympic-ring tattoos ("I did not get one in 2012 and I do not plan on getting one," she told WTOP after Rio in 2016) and eschews music pounding in her earbuds for a chat with friends or quiet contemplation before a race.
Dave Marsh, former coach of the U.S. Olympic women's team, called Ledecky "a mystery," telling Sports Illustrated in 2016, "She has a wonderful family, has everything, really, that she wants; she's a beautiful person with seemingly no dark sides. But she has this energy stirring in her, not just at meets but at practice. What is she pursuing? Her personal best, but she's doing it with fury. Where's the fury coming from? We don't know, but the stove is running hot."
Ledecky surprised her family when, after winning the 1500m freestyle at the World Championships in Kazan, Russia, in 2015, she told reporters that midway through the race she had "dug deep" and started thinking about her deceased grandfathers.
"I always admired both my grandpas," she explained that moment to Sports Illustrated. "They died when I was fairly young, but I still got a lot of time with them. My Grandpa Hagan loved that we were swimming, and he would read the heat sheets and always wait for the results, even after summer league meets. The thing I remember most—I can still hear him saying it—is whenever we would be on the phone with my grandma, we would hear him yell, 'Kath-leen!' [which is Ledecky's actual first name as well]. Just this clear voice calling to my grandma to ask something or say, 'Can I get on the phone too? Kath-LEEN!'"
Meanwhile, after winning the 200m, 400m, 800m and 1500m freestyle in Kazan, her sweep was dubbed "the Ledecky Slam."
Grandma Kathleen told the magazine of her granddaughter, "She's just so nonchalant. We're all trying to figure out where it comes from."
Michael Sohn/AP/Shutterstock
In fact, it sounded as if the last time something fazed her, according to her family's account to SI, was when she was 6 years old and a doctor told her she had swimmer's ear and therefore couldn't swim in the last race of the summer (when her goal was still to make it all the way down the lane without stopping). She cried so hysterically, the doctor relented, advising her parents to stuff the kid's ears with cotton and hope for the best.
She was "just miserable," mom Mary told the magazine. "But she swims the 25 free, doesn't stop, and she felt so good about herself. I said, 'Should we go over to Panera and get a hot chocolate?' She was so excited."
Barely a decade later she was throwing out the first pitch at a Washington Nationals game ("I've swum in front of 14,000 people. Once the ball leaves the hand, you can't really control it") and after Rio she didn't blink when talking about how she was one of 38 people Bruce Springsteen was following on Twitter.
"Yeah, I found that out a couple of days ago. It was cool," she told WTOP. "My dad is a big Bruce Springsteen fan. He's been to 30, 40 concerts, maybe less, I don't know. Big fan. I have probably 400 Bruce Springsteen songs on my iPod just from different shows and everything, so I became a fan pretty early on."
FRANCOIS-XAVIER MARIT/AFP via Getty Images
Glory days, indeed.
Ledecky went pro after her sophomore year, signing her first endorsement deal with swimwear company TYR, which proudly called it "the most lucrative partnership in the history of the swim industry."
She's since partnered with brands including Bic, Reese's and Polo Ralph Lauren (the official outfitter of Team USA) and you can bet she's positively swimming in chocolate milk, but we're not sure what could be more exciting, money aside, than having her own American Girl doll. Ledecky—still the proud owner of a Molly—showed off the red, white and blue swimsuit-clad toy in June.
And after only five years (she had predicted it would take much longer because she lightened her course load in some quarters to focus on swimming), Ledecky graduated from Stanford with her BA in psychology last month. Already in Omaha for the Olympic trials, she fittingly posed in her cap and gown by the pool.
"I'm telling the freshmen on the Stanford team right now, 'I'll probably be at your graduation, walking with you,'" Ledecky joked in 2019 on ESPN's Laughter Permitted With Julie Foudy podcast, "but I wouldn't want it any other way. If I can spend seven years at Stanford I'm going to spend seven years at Stanford. I'm going to take as long as I can."
So she actually beat her estimate by two whole years, using her unexpected break from competition during the pandemic to take a full load of courses last spring, summer and fall and finish up.
Remaining in Palo Alto, like countless others she moved her life onto her laptop, taking classes online, talking to kids' swim clubs around the country over Zoom and making virtual visits to Children's National Hospital back in Maryland, one of her regular activities during normal times. "I connected with my family a lot, my friends, we would do cousin trivia nights every Saturday," she said on The SwimSwam Podcast in March. "I enjoyed doing that and feel like we were all keeping each other sane and moving forward, and focused on all of our different goals."
She worked out in her living room and, of course, she found someone's backyard pool to swim around in for a few months while Stanford's facilities were closed.
Her U.S. teammate, fellow Stanford grad and longtime pal Simone Manuel recalled first meeting Ledecky at the 2012 Olympic trials and then rooming with her the following year during training camp in Barcelona. 
"I felt like Katie was pretty quiet and I don't know what her impression was of me," Manuel, who's headed to the Tokyo Olympics as well, told Foudy, both swimmers appearing on the soccer great's podcast as part of Stanford's Gender & Equity series. But jet lag led to lots of middle-of-the-night laughing, snacking on Cheez-Its and playing cards. 
"That was the first time I saw that Katie can be really loud because she's so competitive, like we were playing [the card game] Speed or something," Manuel shared. "She finally understood it and was beating me. But we were kind of like going back and forth, so when she would win she'd get really excited!"
Bruce Gemmell, who coached Ledecky through her first two Olympics, told WTOP, "She certainly is so down-to-earth and so normal. But she's also competitive in about every single way, in every single thing she does every single day. And that's a pleasure to work with."
Ledecky and Manuel were roommates again at the 2016 Olympics in Rio, where Manuel became the first Black woman to win an individual Olympic event when she dominated in the 100m freestyle. She earned another gold medal as part of the women's 4x100m medley relay and finished second in the 50m freestyle. Manuel and Ledecky both swam on the silver-earning 4x100m freestyle team—and Ledecky took home gold in the 200m, 400m, 800m and 4x200m freestyle.
And both are still improving as athletes, according to Greg Meehan, who recruited Ledecky to Stanford and is now coach of the U.S. Olympic women's team. She and Manuel "love representing Team USA on the world stage," he said on Australian Olympic swimmer Brett Hawke's podcast in December. "They take so much pride in that...and when you look at someone like Katie, who was on the Olympic team at 15 and won a gold medal, that's her intro into big-time international swimming, like holy cow, of course!"
Talking to Insider in March, Ledecky said of competing in five Olympic events in Tokyo, "I know it's going to be a challenge. In all those races, not every swimmer that I'm competing against has that kind of a schedule. There are some that are focused in on just one or two events. It's gonna be a challenge, and it's why I love the sport—I love the challenge."
But though she would become the first American woman to win five gold medals in one Olympics should she triumph in all of her events and is heading to Tokyo as the most decorated female swimmer ever, Ledecky has insisted that she's part of a team, full stop.
"I think I'm not the face of USA Swimming," she told reporters in Omaha, Neb., before the U.S. Olympic swimming trials got underway at CHI Health Center. "I think Simone is as well. I think Caeleb [Dressel]. I think of Lilly [King]. I think of Ryan [Murphy]. I could just rattle off about 10 or 15 names and I think that just shows the depth we have as a team."
When 15-year-old Katie Grimes qualified in the 800m as well, Ledecky declared, "Katie squared is going to crush it in Tokyo."
But only one Katie can tap that wall first.
After not seeing a single family member in person for a whole year, doing a Zoom Thanksgiving and decorating a very miniature Christmas tree on her own, "I want to make that worth it," Ledecky told Insider about her motivation heading into the 2020 Olympic trials strangely taking place in 2021. "And I really wanna make them proud. I want to make everyone in the States proud when I compete."