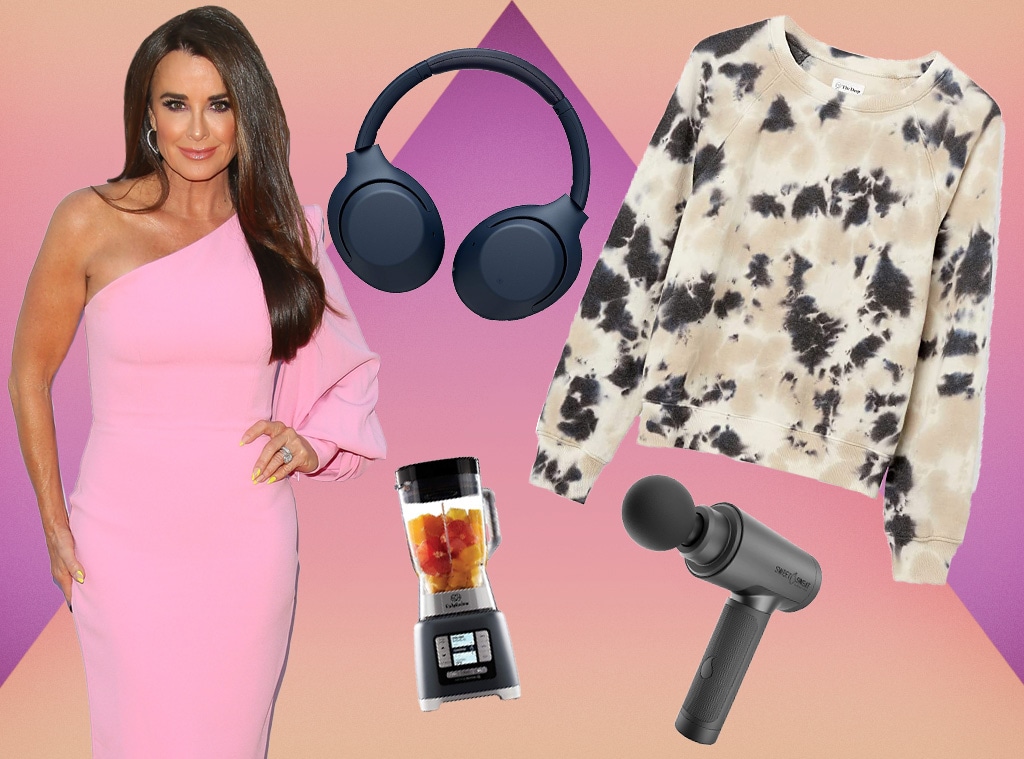 Jean Baptiste Lacroix/Getty Images/E! Illustration
We love these products, and we hope you do too. E! has affiliate relationships, so we may get a small share of the revenue from your purchases. Items are sold by the retailer, not E!.
The Real Housewives of Beverly Hills stars are just like the rest of us. Well, not in every single aspect, but even the Beverly Hills Housewives love the convenience of shopping on Amazon. That includes reading product reviews and sharing some of her own.
Recently, Kyle Richards went live on Amazon to dish on the products that she insists are "game-changing" and "amazing" in her home, including one item that reminds her of sister Kathy Hilton, gadget recommendations from her daughters, the kitchen appliances that help her live a healthy lifestyle, an item she has been using since childhood, and the product that helps her stay calm and relaxed during flights. RHOBH viewers know that Kyle can get uneasy on a plane, so she's definitely a reliable source on the topic.
Keep on scrolling to see Kyle's must-have Amazon products.
Sweet Sweat Therapy Massage Gun
"This is one of my favorite things. It's a massage therapy gun. My husband [Mauricio Umansky] and I use this all the time. After I work out really hard, I use it down my legs [and] my back. If you don't have time to get a massage, and I'm not really a fan of a foam roller. I mean, I like them, but they're not really as effective [as this]. My husband and I really enjoy this a lot. It's a game-changer for tight muscles."
"It's a great gift. People will love you and thank you for this gift. I will promise you."
Sony WHXB900N Noise Cancelling Headphones, Wireless Bluetooth Over the Ear Headset
"These Sony Headphones, which I love, are so comfortable and they sound so great. I like traveling with these because I like to cancel out all the noise and only listen to meditation when I'm flying. It helps me sleep and rest for my whole flight, which is very important."
Sweet Sweat Waist Trimmer
"This Sweet Sweat Waist Trimmer, I have it on right now. I love putting this on because it gets rid of any water weight and I do work out every single day. I'm always trying hard to look my best and this makes me feel better about my waist and it makes me very aware of my posture, which I love. I just try to keep this on, especially if I have a bathing suit day coming up, it makes me feel better in my bathing suit."
Kyle isn't the only one who's a fan of this waist trimmer. It has 29,000+ 5-star reviews on Amazon.
The Drop Women's Caroline Raglan Long-Sleeve Fleece Sweatshirt
"Do you remember when we [in] prime quarantine and everybody wanted sweatpants and sweatshirts and tie-dye was the thing? I wanted it so badly and I could no get my hands on it. It was like the hottest thing out there. You just could not find them. Now, we have here this sweatshirt. It's so soft, so cozy. I love the tie-dye and my girls are just gonna be stealing this from me, but that's OK. I'm used to that."
There are six different tie-dye colors to choose from.
Ninja DT251 Foodi 10-in-1 Smart XL Air Fry Oven
"I was like 'Why have I never had an air fryer before'? This Ninja Air Fryer is amazing. It takes about 70% of the fat out of the food that you're making. For me, making French fries [and] sweet potato fries is unbelievable. I'm always trying to be healthier and teach my kids how to cook healthier. This is amazing."
Calphalon Activesense Blender with Blend-N-Go Cup
"This blender is key, key, key. I love this blender. It's really smooth and you can do anything with this. You can make smoothies. You can make soups. I'm thinking more like a margarita, you know? I spend a lot of time in the kitchen, but I feel like I use the blender more for margaritas. Honestly, it's really really great for everything, tomato sauces I make, soups, everything. It's a really really great one. What I like about this is that it's not extra heavy. This is light and it just works really great."
Amazon Basics Oscillating Dual Blade Standing Pedestal Fan with Remote - 16-Inch
"This fan has really come in handy today. My sisters and I did grow up using a fan in our room. My mom, apparently, ruined it for my sister Kathy because now, apparently, she cannot sleep without the sound of a fan. It's very peaceful, it's amazing, and it's actually covering the whole room right now."
This fan has 13,000+ 5-star reviews on Amazon.
Ninja FD401 Deluxe Pressure Cooker, 8-Quart, Stainless Steel
"I had never had a pressure cooker before, but my friend had one, so I was like 'I need to get one too.' I like to think of myself as a very good cook, which I am, but there are a few things that do intimidate me. For example, cooking chicken does, for some reason."
"You can stick anything in there and it takes the guesswork out of cooking. If you have a big family, like I do, you can fit so much stuff in there and make a huge meal. I can click it on, I can leave, and it's just perfect every single time."
GE Profile Opal Countertop Nugget Ice Maker
"I love an ice machine. Having an ice machine in your house or when you have parties is amazing. I actually got two of these. One I have for inside and one I got to put outside. We do a lot of entertaining at my house. I love having an ice maker. It just makes it feel more professional when you're making drinks. It just makes the party great. It's good. It's fun." This ice machine has 7,700+ 5-star reviews from Amazon shoppers.
Waterpik WP-660 Water Flosser Electric Dental Countertop Professional Oral Irrigator For Teeth
"I grew up with my mom always having us use this. What I love about this Waterpik is for kids [daughter] Portia [Umansky]'s age, telling them to floss is not that much fun, but this is amazing. It makes me want to floss too. Portia has braces, so for her, this is even better than floss."
"When I was a kid, my mom would put mouth wash in these so I started doing that with all my girls too. We put mouth wash in here and your teeth feel so clean and fresh. I love these so now we all have these in all the bathrooms in our house. They really are a game-changer."
Furbo Dog Camera: Treat Tossing, Full HD Wifi Pet Camera and 2-Way Audio, Designed for Dogs, Compatible with Alexa
"This is so fun. I love this so much. You guys know I have a lot of dogs and they are my other children. The Furbo has a camera on here so you can watch your dogs while you're gone. You can also talk to your dogs and they can get treats out of this. If they're home alone, they can feel less lonely. One of my dogs has really bad separation anxiety." The Furbo Dog Camera has 17,900+ 5-star Amazon reviews.
Kasa Smart Plug HS103P3, Smart Home Wi-Fi Outlet Works with Alexa, Echo, Google Home & IFTTT- 3 Pack
"This thing is really cool. It's called the Kasa Smart. If you download the app this little outlet turns any item you want into a smart item. If you want to turn on the air fryer or the pressure cooker, all you do is download the app and turn it on."
"This is a great gift, especially for kids in college. It turns everything into a smart device. It's pretty miraculous. You can turn your lights on from the app." These smart outlets have 58,800+ 5-star reviews on Amazon.
SAMSUNG Electronics Wireless Charger Convertible Qi Certified (Pad/Stand), for Galaxy Buds, Galaxy Phones, and Apple iPhone Devices
"Here is the Samsung Wireless Charger. When you have these ready to go and you can just plop these anywhere and charge it, that's when you're like 'I feel good about myself. I'm organized.' I always have to have a full battery. When I have my phone fully charged and a car full of gas, I feel like I can conquer the world." These wireless chargers are compatible with Galaxy and Apple devices. They've received 12,700+ 5-star Amazon reviews.
SAMSUNG HW-T650 3.1Ch Soundbar with 3D Surround Sound (2020)
"My daughters were like, 'You need a soundbar. You can't have a TV without a soundbar.' And I was like 'What is a sound bar?' It's a game-hanger. It gives your room surround sound. Your enveloped in the sound. Thank you to my daughter Alexia [Umansky] for teaching me about the soundbar. You have to check it out and you're gonna love it." In addition to Kyle, 8,000+ Amazon customers left 5-star reviews.
If you're looking for more product recommendations from Beverly Hills Housewives, the "anxiety roller" Sutton Stracke used on the show is actually a game-changing skincare tool.