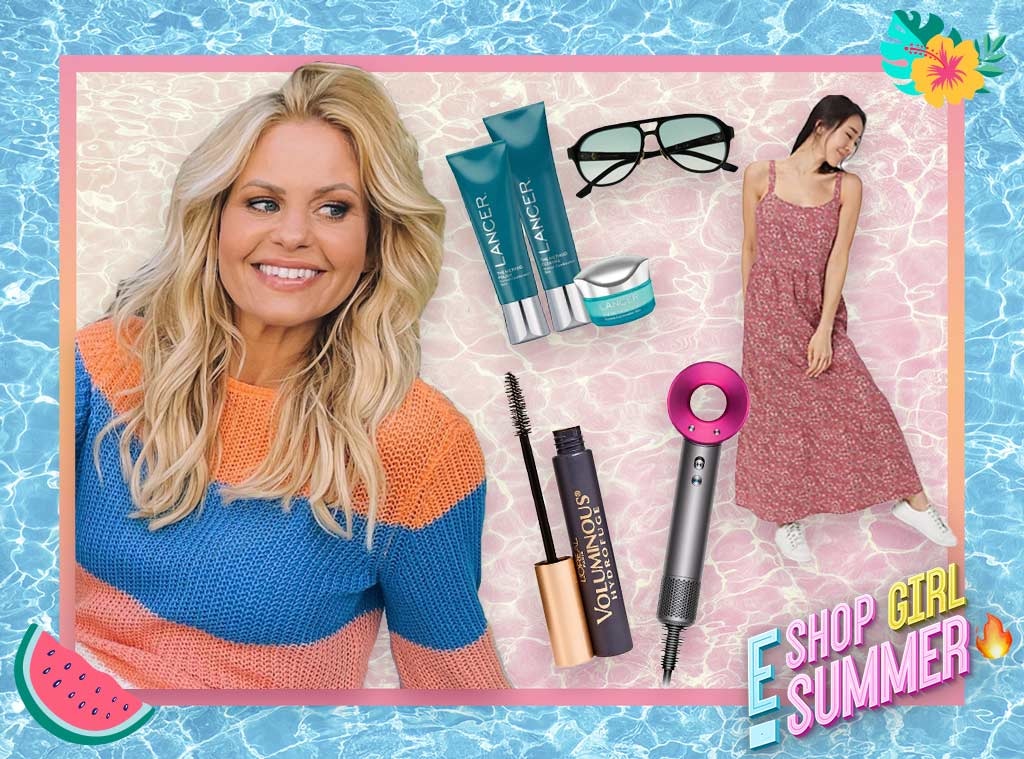 E! Illustration
We interviewed Candace Cameron Bure because we think you'll like her picks. Some of the products shown are from Candace's own product line or a brand she is paid to endorse. E! has affiliate relationships, so we may get a commission if you purchase something through our links. Items are sold by the retailer, not E!.
Summer is in full swing! In addition to hitting the beach and hanging out with friends and family, we've been searching high and low for cute fits, accessories and beauty products to help us have the ultimate Hot Girl Summer. Luckily, we don't have to look much further because Candace Cameron Bure is sharing her summer essentials.
From transformative skincare and makeup hacks to chic sunglasses and clothes she designed herself, Candace's must-haves have us feeling compelled to ditch our sweats and venture outside in style.
To shop her must-haves, scroll below!
Lancer Volume Enhancing Lip Serum
"When it comes to skincare routines, a common area that is neglected is our lips! This lip serum not only provides hydration but it also has a sheen that highlights your natural lip color. It is a win-win!" (This product is from a brand Candace is paid to promote.)
Warby Parker Glasses
"I love this brand of eyeglasses. They are fashion-forward with a wide variety of colors, styles, and frames. You can also customize these to serve as blue-light-filtering only!"
Japonesque Eyelash Curler
"Don't use an eyelash curler? Well, start! I didn't include an eyelash curler in my makeup routine for a long time, but once I started I will never go back. This specific product makes curling eyelashes effortless for beginners and it is easy to take with you wherever you go!"
L'Oréal Voluminous Waterproof Mascara
Candace Cameron Bure Printed Tiered Tank Dress
"Dresses, Dresses and Dresses are going to be what I am wearing this summer. I designed this dress to not only be comfortable, but also versatile. This dress is great to wear for any occasion. Dresses are the best because they do not require much planning. They are instantly a complete outfit!! Throw on some sandals or wedges and Voila! - you are ready to go. All of my clothing with QVC has inclusive sizing and this dress has a petite option as well."
Lancer The Method Polish, Cleanse & Nourish Discovery Kit
"Dr. Lancer's 3-Step Method has been my skincare routine for over a decade. It not only transformed my skin, but is also preserving it like nothing else on the market. It is like having a facial in bottles that I get to use everyday." (This product is from a brand Candace is paid to promote.)
Jacques Marie Mage Sunglasses
"Grab your sunnies! Summer is right around the corner. I love Jacques Marie for a higher-end option for sunglasses. Living in sunny Los Angeles, these are always in my bag."
Mason Pearson Pocket Hair Brush
"A quality hair brush is often underestimated and not high on most people's beauty product list, but it should be! Having a nice hair brush is a game changer. Plus, this one is small enough to travel with!"
Lancer Skincare Dani Glowing Skin Perfector
"I love the way that this product goes on silky smooth and gives me just enough glow and coverage to go about my day. It is light and I love the texture. Most days I only wear this with mascara and I feel beautiful and bright!" (This product is from a brand Candace is paid to promote.)
Candace Cameron Bure Breezy Cotton Flutter Sleeve Tee
"This tee is from my clothing line with QVC. I designed it to be perfect for summer. It is a light material and comfortable fit. You can dress it up or down depending on the occasion, and the sleeve detail is just enough to add a pop of fun!"
Dyson Supersonic Hair Dryer
"I don't like using any other hair dryer. It dries my fine hair so fast and is gentle at the same time. It's lightweight, the attachments are easy to get on and off and it works in my hand so well. It's worth every penny."