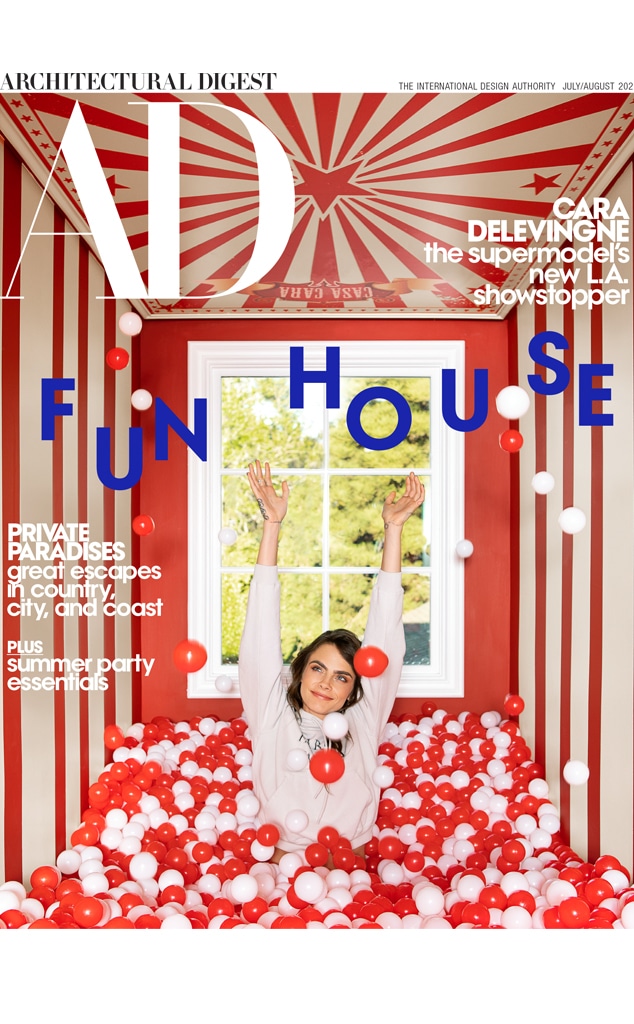 Laure Joliet/AD
You've probably never seen a home like Cara Delevingne's Los Angeles pad.
While the white brick abode may seem like a traditional residence from the outside, once visitors step inside they'll see it's anything but.
"My work requires me to put on many different hats and costumes," the 28-year-old model told Architectural Digest for its July/August issue. "I love slipping into these various characters, so I wanted my home to reflect lots of different themes and moods." 
Every room in Delevingne's house has a different theme. There's the nature motif that comes through her Gucci heron wallpaper, array of plants and staircase carpet showing leopards climbing up the steps, as well as her fun-and-games inspiration seen through her costume cupboard, poker tent, arcade machines and giant ball pit. 
"The meaning I have from this house is just never grow up, you know?" the actress continued. "Always kind of maintain some sort of childlike innocence or joy or just the need for fun. They're really great for stress. You can't cry in a ball pit. I've tried."
Delevingne's "adult playhouse" also has a "pink p---y palace" featuring a swing and stripper pole, as well as a "vagina tunnel" secret passageway. As AD's Mayer Rus writes, "One enters the so-called rebirth canal through a vulval soft sculpture (think Judy Chicago on acid) and then proceeds to crawl out of a round washing-machine door suggestive of a rectum."
But that's not all. Her mansion also had tons of one-of-a-kind touches, including a Chanel surfboard and David Bowie-signed guitar. And her backyard offers a true outdoor oasis with its massive pool and two trampolines. 
All in all, the house has quickly become one of Delevingne's "favorite" places to be.