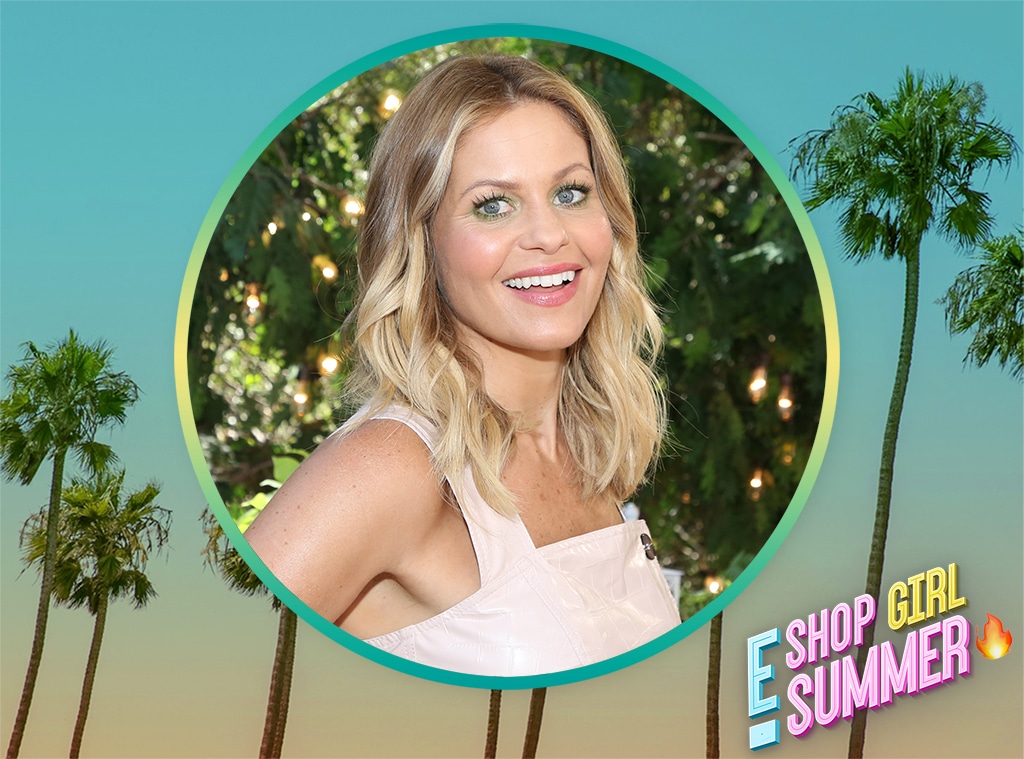 E! Illustration; Getty Images
Some of the products shown are from the celebrity's own product line or a brand they are paid to endorse. E! has affiliate relationships, so we may get a commission if you purchase something through our links. Items are sold by the retailer, not E!.
There are so many reasons to enjoy Summer 2021. The world is opening up, postponed events have been rescheduled, and to us that means we have another reason to shop. That's why we've reinvented this season as E! Shop Girl Summer, with plans to share out must-have summer products, exclusive deals, and insights from celebrity guest editors. Our first guest editor is the one and only Candace Cameron Bure.
Sure, we all feel like we know Candace because she has been a part of our lives through Full House (and Fuller House, of course), Hallmark movies, The View, her fashion line and other projects. She's even written books. And, obviously, she shares aspects of her life on social media. But, even with all of her openness throughout her years in the spotlight, there are still so many things we want to know about the actress. Keep on scrolling to see her responses to the 20 questions we've been curious about. 
1. What song is your all-time summer anthem? 
"Good Vibrations" by The Beach Boys.
2. What would your Real Housewives tagline be?
I don't know what this means. I've never seen Real Housewives.
3. If you could have super-power, what would it be and why?
Teleportation. I hate sitting in traffic. I'd save so much time and I could visit different eras. 
4. When was the best summer you can remember and why?
1994. [My husband] Val [Bure] and I traveled to Europe- France, Switzerland and Italy. We ate, we laid in the sun, we went sightseeing and got engaged. 
5. Do you have a spirit animal—if so, what and why?
A panther. They are stealthy, quiet, sleek, quick and strong. 
6. Do you have a favorite curse word? What is it and when did you last use it?
No. I RARELY curse. I don't like to use words that aren't honoring to God or tear someone down. 
7. What was the last thing you Googled?
A Bible verse.
8. What emoji do you use the most?
The red heart emoji.
9. What is your go to karaoke song?
"Baby Got Back" by Sir Mix-A-Lot.
10. What is your go-to sunscreen?
Dr. Lancer Sheer Fluid Sunscreen.
11. What person makes you laugh the most?
My husband, Val.
12. Favorite ice cream flavor?
Jeni's Brambleberry Crisp.
13. What is the one beauty product you keep repurchasing? And why? 
Dr. Lancer's The Method. I've been using it over 13 years. It's the foundation of my daily skincare routine. I know I'm aging pretty well because of it. It's the best. 
14. What's something from your childhood that you wish would be brought back (e.g. a specific style, accessory, TV show, etc)?
Full House. Again. We need another iteration like Fullest House… Because it's my FAVORITE job ever!! 
15. What city in the world best represents you?
Los Angeles!!! Born and raised… specifically Malibu. I'm a beach girl. I love the mountains and the ocean together and its west coast ease is all me. Casual, easy going, cool - but keep it classy. 
16. What's your favorite fast food/restaurant chain and why?
In-N-Out. Do I really need to explain? Hamburger with onions, animal-style fries and a chocolate milkshake. 
17. Be honest: Are you a Carrie, Miranda, Samantha or Charlotte?
I've never seen Sex and the City either.
18. What's one thing fans may be surprised to find in your home?
A walk in wine cellar? Maybe that's not a surprise. A garden in my backyard? A putting green? 
19. What is your favorite thing to do to unwind?
Watch TV. Netflix, Hulu, Amazon… I like to zone out on shows and movies. 
20. What is your favorite thing about summer?
Tank tops, cut off denim, bathing suits, the sand, the ocean, the pool, rrosé, BBQ's, friends, the sunshine, the heat, air dried hair, watermelon, peaches and cherries. 
If you're looking for more from Candace, check out her clothing collection. And catch her on Daily Pop June 30!