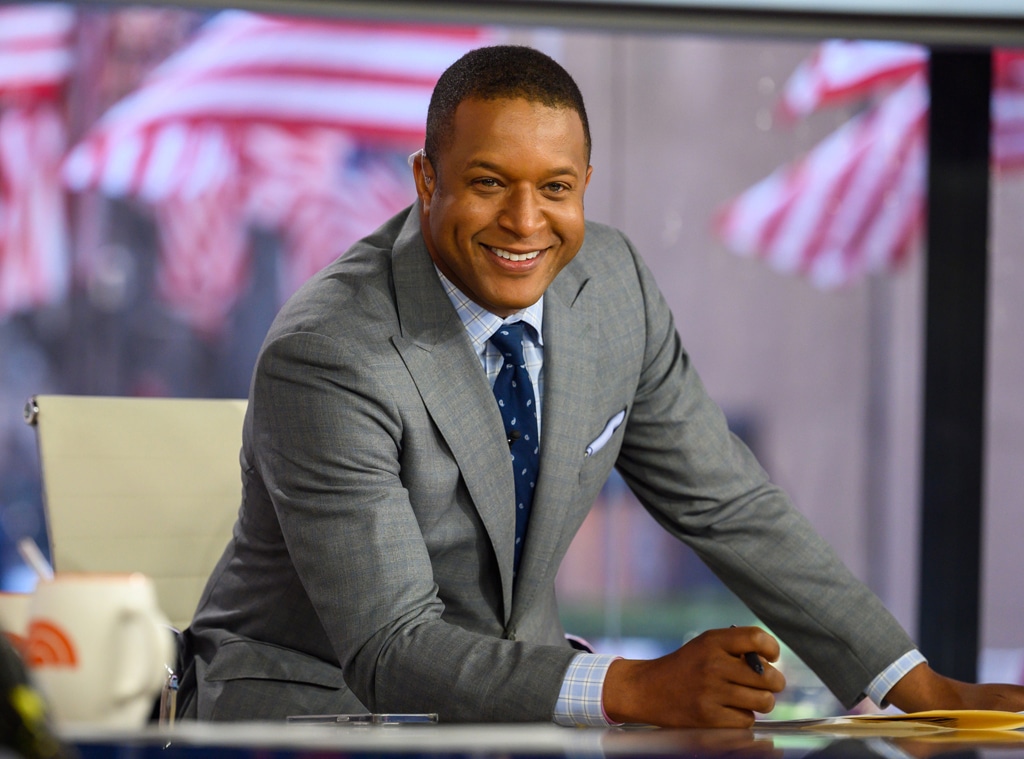 Nathan Congleton/NBC/NBCU Photo Bank via Getty Images
We interviewed this celebrity because we think you'll like their picks. Some of the products shown are from the celebrity's own product line. E! has affiliate relationships, so we may get a commission if you purchase something through our links. Items are sold by the retailer, not E!.
Craig Melvin is the first to admit that he's one curious guy.
For starters, the NBC News journalist starts his morning by asking questions to a wide range of celebrities, newsmakers and ordinary people on Today.
But ever since he was a child, there was one man in Craig's life that always had him inquiring for more. Growing up in Columbia, South Carolina, the MSNBC host had a complicated relationship with his father, Lawrence Melvin.
"My dad was such an enigma to me growing up," Craig exclusively shared with E! News. "I think it cultivated that curiosity. There was just so much I didn't know about him and so much I was afraid to ask."
But in his new book titled Pops: Learning to Be a Son and a Father, Craig was able to connect with his dad on a whole new level and receive answers to some of his most burning questions. What came next was a unique story of love and resilience just in time for Father's Day.
In Pops, Craig recalls his father's battle with multiple addictions and the pain it caused his family. While teachers and extended relatives stepped up in more ways than one, Craig says his mom, Betty Melvin, deserves a whole lot of credit for keeping her children on the right track.
"For a number of years, my mom was playing the role of mom and dad," he explained. "I write in the book about her picking up a second job at a pharmacy to help make ends meet because dad was losing his battle with gambling addiction." 
Craig also gives thanks to his mom for exposing him to the power of faith, especially when things became uncertain at home. While he would often question why church was three hours long, the sense of community proved to be beneficial in Craig's early years.
"For our family, we've had some dark times, but it's always been our faith that we can lean on, and we've had to lean on it probably more than we would have liked," he recalled. "Whether it was my niece who died unexpectedly at the age of 3 or my older brother who died a few months ago from late-stage colon cancer at 43, our faith has shaped and molded us in a myriad of ways."
Pops: Learning to Be a Son and a Father
"I wanted to celebrate fatherhood because it's not something that is celebrated as often as it probably should be," Craig shared when discussing the inspiration of his book. "Part of it was also the result of me just exploring the relationship that I have with my dad...I also do a series for Today called 'Guys Got This' and I get the opportunity to meet and interact with lots of really cool dads and so it was a natural progression." 
According to Craig, his family would try time and time again to get Lawrence on a better path. Interventions, rehab and even something as casual as reaching out proved to be unsuccessful.
But in Pops, Craig recalled his father's decision to completely change his life in his late 60s. As a result, Lawrence now has a front-row seat to his grandchildren's lives as Craig raises a son and a daughter with wife Lindsay Czarniak.
Thanks to his new book, Craig hopes readers will enjoy a story of redemption in a time when fathers deserve to be celebrated. And as the book hits shelves this week, the 42-year-old anchor is proud to say Lawrence signed off on the finished product and had no changes.
"This book is for people who have ever loved someone in their family or even in their circle of friends and they've loved someone, but they've chosen for whatever reason to sort of distance themselves from that person because that person struggles with various addictions," Craig shared. "A lot of those folks get written off by their loved ones because people feel like they've done all they can, all they can do and that's where we were with my dad."
Watch:
Savannah Guthrie Talks Baby Boom at "Today" Show
He continued, "The book is for people who have ever come close to giving up on someone they care about. It's for fathers, it's for sons, it's for moms. It's a book about relationships. It's also that classic American tale of overcoming insurmountable odds."
Pops: Learning to Be a Son and a Father is available wherever books are sold starting June 15. And watch Craig on Today weekday mornings at 7 a.m. on NBC.
(E! and NBC are part of the NBCUniversal family)