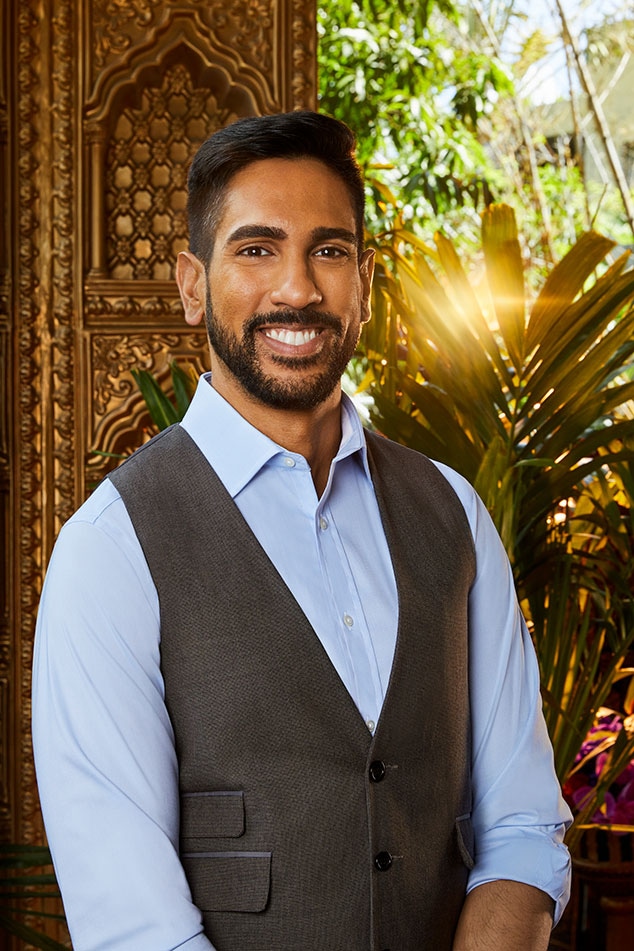 Karolina Wojtasik/Bravo
Out and proud.
Family Karma star Amrit Kapai is opening up about a deeply personal storyline featured on season two of the hit Bravo series, which premieres tonight, June 2.
While the lawyer and reality star has been openly gay around his parents and friends on the show, the season two trailer previewed an emotional conversation where Amrit comes out to his grandmother for the very first time.
"It was intense," the Bravolebrity told E! News exclusively. "Without giving away too much story because I want you to be able to be excited and watch it, it was really, really intense. I think I mentioned this in the supertease, it's terrifying. And no matter how many times you've come out, and no matter for how many years you've been doing it, that feeling inside of you when you're trying to explain, when you're trying to say the words, is just as terrifying as the first time you did it."
He continued, "I just reached a point in my life where I just needed to be honest with her. You'll see a lot more of my reasoning and the story develop later in the season but I just reached a point in my life where this is what I had to do and I had to do it."
Amrit says he can't imagine what it would have been like to see a gay Indian man coming out on TV when he was growing up.
"If I could have [had] someone on TV to watch do all this, I think I would have come out way sooner and I would have been way more confident about it," he revealed. "It's incredible and it's crazy that I've been given this opportunity and I'm able to help people with their struggle and with their coming out."
Season two of Family Karma will follow Amrit and his boyfriend Nick moving into their own apartment together, but Amrit says they aren't quite ready for an engagement just yet.
"We're still trying to figure things out," he laughed. "We're moving in the right direction I think and we'll just have to see what happens."
The new season also introduces fans to new cast member Dillon Patel, 26, who is also opening gay.
"It's fantastic. There's so much exposure with having two gay Indian guys on Family Karma. There's so much representation," Amrit gushed. "The thing I love about us is that we're both gay, we're both Indian, but we're sort of very different in terms of our personalities. He's younger than me, obviously, so I'm older, and he's in a much different point in his life than I am. So I think it will be very cool for viewers to see both sides of that. Just because you come out and you're gay, you still don't have to fit in a box. Some people feel like you have to fit in a box, you have to act a certain way and wear certain clothing and certain things."
Despite being almost 10 years younger, Amrit says Dillon "came out in a much more confident and public manner than I did."
"When I heard his story, I had come out to a few people but I wasn't like publicly out yet so I was definitely inspired by how he did it," he shared, adding of their friendship, "After he came out, I was way more excited to see him at holiday events and summer breaks and stuff like that, so I think we both sort of gravitated towards each other obviously because we were both the only gay Indian guys in the community and we could support each other and rely on each other. But again, it goes back to we still have very different stories and we sort of still personify very different traits and attributes. So I think that will be very cool for people to see."
Family Karma returns with a supersized season two premiere episode tonight, June 2 at 9 p.m. on Bravo. Catch up on season one any time on Peacock.
(E!, Bravo and Peacock are all part of the NBCUniversal family)