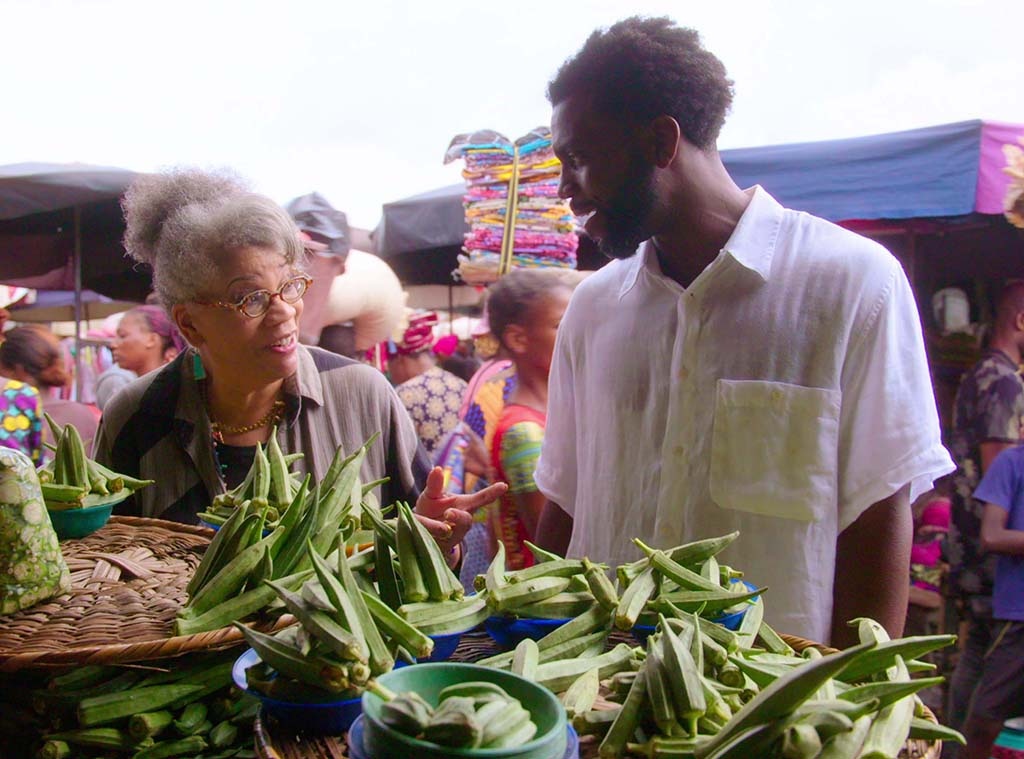 Courtesy of Netflix
There's a moment in the new Netflix docuseries High on the Hog that absolutely left me speechless.
It comes toward the end of the show's first hour, as host and food writer Stephen Satterfield ends his trek through the West African country of Benin. His travel companion, author and historian Dr. Jessica B. Harris (whose 2011 book of the same name inspired the four-part series), has taken him to the former slave port of Ouidah. As the two stand atop a mass grave where those who perished before their captors could strap them into the hull of a ship destined for the "New World" were buried, we watch as the enormity of this moment sinks in for Satterfield. He thanks his ancestors for their resistance and their survival in the face of such atrocity and lets them know that, through him, they've finally returned home.
And thus begins our journey into, as the show is subtitled, How African American Cuisine Transformed America.
As Satterfield travels the country and traces the ways in which enslaved Africans and their descendants created and preserved a food culture that defines America more than you might think, his response to the stories he hears is often one of quiet awe, with eyes watery, as if on the verge of tears. It's not hard to understand why. This is a history that is both rich in wonders and heavy in tragedy.
When we hear of the advent of macaroni and cheese in America, courtesy of Thomas Jefferson's French-trained and enslaved chef James Hemings, we soon learn that he could only negotiate his freedom from the future president by training his own brother to remain in his place.
When we travel to North Carolina with Satterfield to meet cultural preservationist Gabrielle Etienne and become enamored of her community garden and commitment to both food accessibility and intergenerational connection, we're told that the government is coming for not only her farm, but her family's homes, under the guise of "eminent domain." (Their properties stand where a proposed highway expansion is to take place.)
When we explore the world of the Black rodeo in Texas, we learn not just how erased they've been from popular culture, but that the word "cowboy" itself has ties to slavery.
Across its four hours, High on the Hog is full of moments like these, pieces of past and present that fill in an American history that we all ought to know, but don't. (Wait until you hear about the origins of catering. It'll blow your mind, but also make perfect sense.) And while it's a shame that, in the year 2021, a Netflix docuseries is where most people will learn these things for the first time, there's some solace to be taken in the tender and thoughtful way in which these stories are finally being told.
When watching, I'm reminded of a recent spate of food docuseries that includes Hulu's Taste the Nation with Padma Lakshmi, CNN's Stanley Tucci: Searching for Italy and Netflix's Street Food, Ugly Delicious, and Taco Chronicles—and, to a lesser degree, Chef's Table and Somebody Feed Phil. These shows represent an evolution of the food travelogue, which has moved from "person (usually white and male) travels to foreign place, tries food and tells you if it's tasty or not" to something much richer, sensitive and nuanced.
Through these shows, we see how the world of food is about so much more than just celebrity chefs or the recipes we find in cookbooks. Food is community and connectivity. Food is joy and revolution. Food is sacred and always at risk. And food is living history, sometimes the only tether we have to not just the ancestors who came before us, but the ones still waiting to be born.
Above all, the reminder here is that food is universal. Considering everyone must eat to survive, it's perhaps the one thing that truly connects us all. And after a year wherein we've all been forced to cloister ourselves from the world, I'm so grateful for shows like these that have not only taken me to places far and wide from the safety of my couch, but reminded me of our common humanity.
Whether we're learning about the history of African American cuisine through High on the Hog, exploring indigenous and immigrant food communities across the country, and the challenges facing them with Taste the Nation or treating Asian and Latin American street food vendors like the rock stars they are with Street Food, the message is clear: Language and politics and religion may drive us apart, but it's the food that'll bring us together.
High on the Hog is available now on Netflix.
Watch:
Padma Lakshmi Gushes Over Yummy "Top Chef" Foods