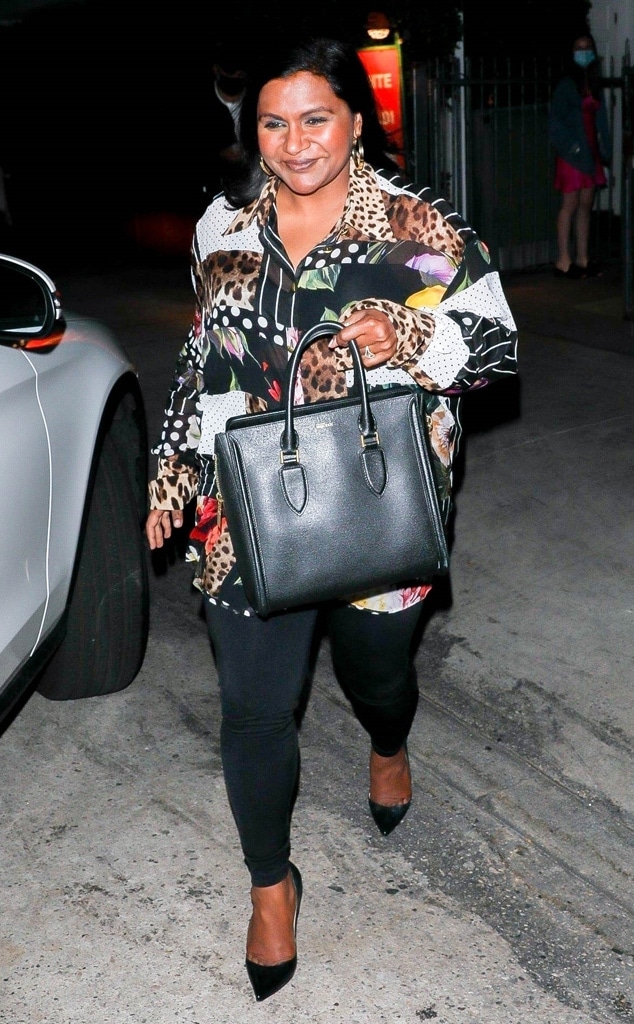 BACKGRID
A new piece of bling doesn't have to mean a thing!
Earlier this week, Mindy Kaling made headlines after she tried to enjoy a peaceful dinner at Giorgio Baldi in Santa Monica.
But when photographers spotted the actress wearing a diamond ring on her ring finger, some began to question if she was engaged or even married. Now, on Friday, May 21, Mindy decided to set the record straight on social media with her own powerful message.
"Normalize unmarried women wearing rings on their ring finger without a hubbub," she proclaimed to her 11.7 million Twitter followers. In other words, Mindy just wanted to accessorize her outfit people. 
Throughout her career, the 41-year-old producer and director has tried to keep her personal life on the private side. In fact, the mother-of-two tries to keep her children out of the spotlight and has yet to reveal their father.
But in recent interviews, Mindy has offered glimpses into her happy family life with 8-month-old son Spencer and 3-year-old daughter Katherine.
"It has been wonderful," Mindy previously shared with Dr. Laura Berman about life as a mom. "I don't know if I recommend everyone having a secret pregnancy during a worldwide pandemic, but I will say I learned a lot from it. Definitely like a once in a lifetime type of thing."
Watch:
What Mindy Kaling Finds "Interesting" About Being a Mother of 2
"I feel my life is so rich," she continued. "If anything, [parenthood] has given me this flooding of memories of my childhood, I feel like I'm able to write even more. That has been one of the most unexpected pleasures of having children, is being able to tap back into my own youth."
While fans may be able to get a taste of Mindy's parenthood journey, her romantic life is kept even more under wraps.
For years, pop culture followers have shipped Mindy and longtime bestie B.J. Novak. But time and time again, The Mindy Project alum has tried to explain their relationship.
"The truth is that B.J. is so much more like family now than a platonic friend," Mindy told Good Housekeeping in May 2019. "He's the godfather to my daughter, he comes over like once a week. Sometimes he'll come over just to hang out with her."