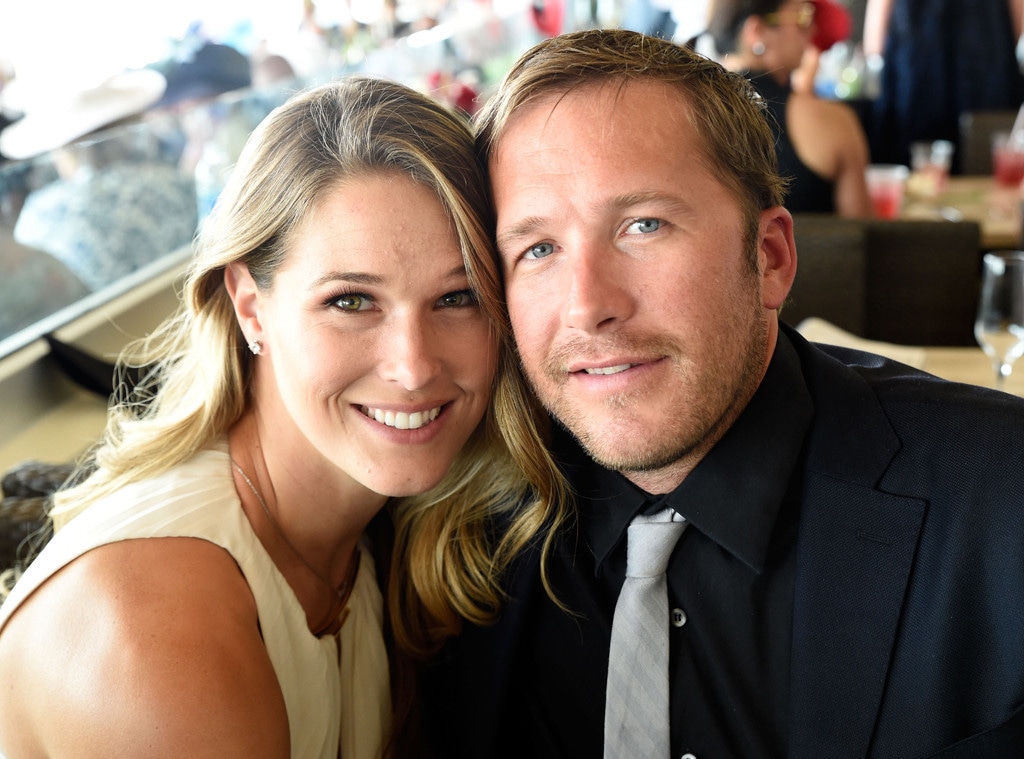 Stephen J. Cohen/WireImage
UPDATE: Morgan and Bode Miller are expecting a baby girl!
The couple revealed the little one's sex during the May 24 episode of Today. The child is the first girl the family has welcomed since Bode and Morgan lost their 19-month-old daughter Emmy in a tragic drowning accident in 2018. 
"It is so special," Morgan told Hoda Kotb and Savannah Guthrie. "I feel like I haven't fully gotten my head wrapped around it because every time I start thinking about it. I just start crying. I mean, to get to experience a relationship with a little girl again Earth-side is going to be unbelievable."
Over the weekend, the parents hosted a party, where they shared the news with their family and friends. After releasing confetti poppers, Bode and Morgan cheered and cried happy tears as they watched pink paper fill the air. "We were just surrounded by such great people, friends who have supported us through everything in our lives," Bode said, "and all our kids who were just fired up either way."
The former pro volleyball player and the Olympic skier also share sons Nash, 6; Easton, 2; and twins Asher and Aksel, 18 months. In addition, Bode is dad to daughter Dace, 13, and son Nate, 8, from previous relationships. During the interview, Morgan recalled how she broke the baby news to the kids with an "elaborate" scavenger hunt on St. Patrick's Day.
"At the end of each clue was their pot of gold. And in their pot of gold, [they] had a little treat plus a word," she said. "And they all had to pull their words out and mix them together to figure out the sentence and the sentence said, 'Another Baby Miller coming November 2021.' They were first completely shocked….They're so excited."
Bode said he and Morgan are planning for a home birth. In addition to getting ready to welcome a daughter, the two continue to advocate for water safety awareness.
---
Morgan and Bode Miller are expecting a baby!
The couple shared the happy news with People on May 19. "We are so excited to share some very big news... We Are Pregnant!" Morgan wrote on Instagram. "Family means everything to us and we are so excited that ours continues to grow!" 
Watch:
Bode & Morgan Miller Are Expecting Twins After Daughter's Death
The retired volleyball player and Olympic skier revealed "Baby Miller Ocho" is expected to arrive in November 2021. As part of the announcement, Bode and Morgan released dozens of butterflies in memory of their late daughter Emmy, who died in a tragic drowning accident when she was 19 months old in 2018. Their sons—Nash, 6, Easton, 2, and twins Asher and Aksel, 18 months—also took part in the tribute. Bode is father to daughter Dace, 13, and son Nate, 8, from previous relationships, as well.
"After losing Emmy, we both felt like we wanted to try for a girl," he said. "You know, there's obviously no replacing kids. All of ours are so unique that it's always a surprise, but then we had the identical twin boys [in 2019] and we were kind of like, 'Whoa, maybe, maybe that's the end for us.'"
But they ultimately knew in their hearts that they wanted to expand their family. "When you lose someone like that, when you lose a child, you really recognize how special [that parent-child relationship] is," Morgan shared. "And not that we were ungrateful for what we had, our kids are absolutely incredible. But we just had so much more love to give and we had so much more love we wanted to give."
(E! and NBC are both part of the NBCUniversal family).
This story was previously published May 19, 2021.