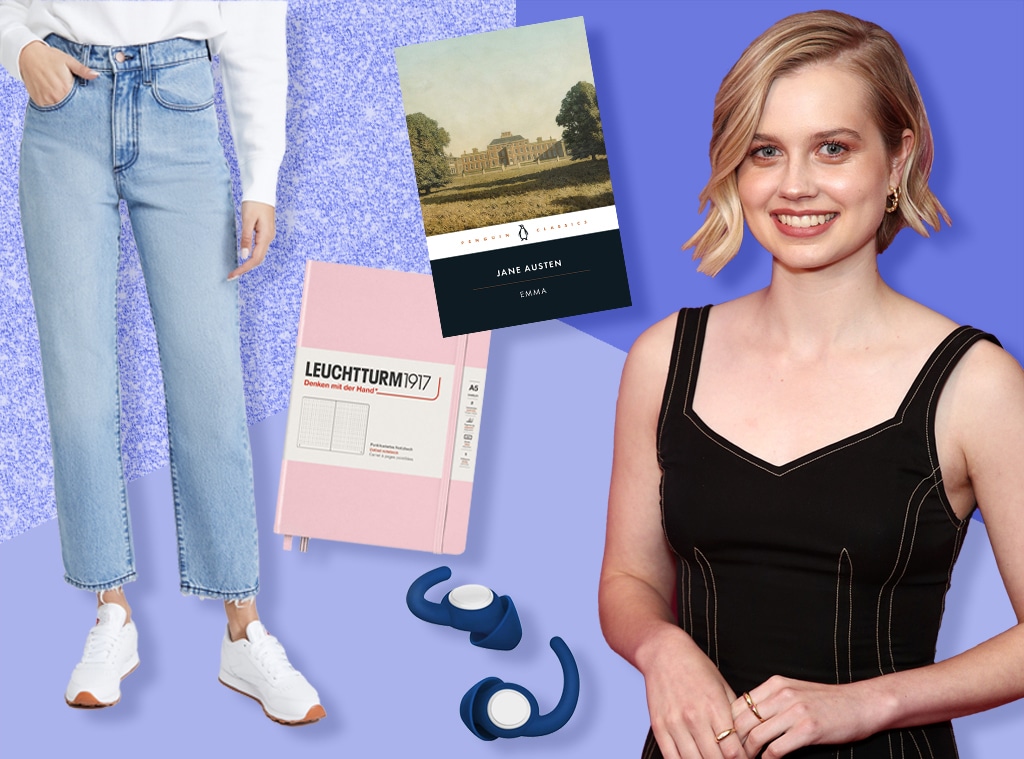 E! Illustration
We interviewed this celebrity because we think you'll like their picks. E! has affiliate relationships, so we may get a commission if you purchase something through our links. Items are sold by the retailer, not E!.
Many people recognize Angourie Rice from playing Betty Brant in Marvel's Spider-Man movies or from her role opposite Miley Cyrus during Season 5 of Black Mirror. Currently, she plays Kate Winslet's daughter in the Emmy Award-nominated HBO miniseries Mare of Easttown. Of course, her fans revere her for those roles, but let's get to know Angourie beyond her work. She shared the ten things that she can't live without, including one item inspired by Siobhan Sheehan. Keep on scrolling to find out more about Angourie's favorites and why adores them so much.
Leuchtturm1917 Special Edition Muted Colors Hardcover A5 Medium Dotted Notebook - Powder
"In a year that felt pretty out of control, I channeled my need for control and organization into bullet journaling. The Leuchtturm1917 notebooks are my favorite because they come with little stickers that you can use to label and file your journals."
LAMY Vista Fountain Pen Demonstrator
"Can you tell I was that stationary-obsessed kid in school? My favorite pen is the LAMY fountain pen, which comes with a refillable cartridge to limit single-use plastic. It's the juiciest, inkiest pen ever – simply divine."
Wren & Ollie Speckled & Variegated Wool
"I started knitting in lockdown, and now I make socks for every friend's birthday. My favorite is the Wren and Ollie sock wool because they come in so many lovely speckled colors, and they're hand-dyed in South Australia!"
Scribd App
"This is an app that lets you access eBooks, audiobooks, sheet music, articles, and magazines for a monthly subscription fee. I really love it for when I travel, so I don't have to bring a whole suitcase full of heavy books with me (I've made that mistake too often)."
Breakfast at Tiffany's Holly Golightly Eye Patch Earplugs with Tassels
"I am a very light sleeper, so I bring earplugs with me whenever I know I won't be sleeping in my own bed. I wish they were super cute like the ones Audrey Hepburn wears in Breakfast At Tiffany's, but they're just plain and practical ones from my local chemist."
Of course, function is paramount when it comes to earplugs, but just, by the way, we did find some that are so reminiscent of the classic movie. We tracked down this set from Amazon and another from Etsy (which includes an Holly Golightly-esque eye mask too).
Huntington GA41PS-BLS Acoustic Guitar
"I learned to play guitar in lockdown on a friend's guitar, and then at the end of 2020 I finally bought my own. Her name is Siobhan, after my character in Mare of Easttown, because she's in a band and that's what inspired me to learn to play!"
Nobody Denim Hutton Jeans
"I genuinely wore these jeans all throughout lockdown, even when I could have been wearing my pajama pants. They're that comfortable. Plus, they're made in Melbourne using sustainable and ethical practices."
Emma by Jane Austen
"One of my favorite books of All Time Ever. Definitely a desert island book for me. Every time I read it I get something new out of it."
A Room of One's Own by Virginia Woolf
"I studied this book in my final year of school, and immediately became obsessed with it. It's dense and took me at least two reads to understand it, but it changed the way I read and understand literature."
Hard Feelings/Loveless by Lorde
"The perfect song to make you cry and then laugh. 16-year-old me listened to this song every single day when it came out. 20-year-old me still listens to this song at least once a week."