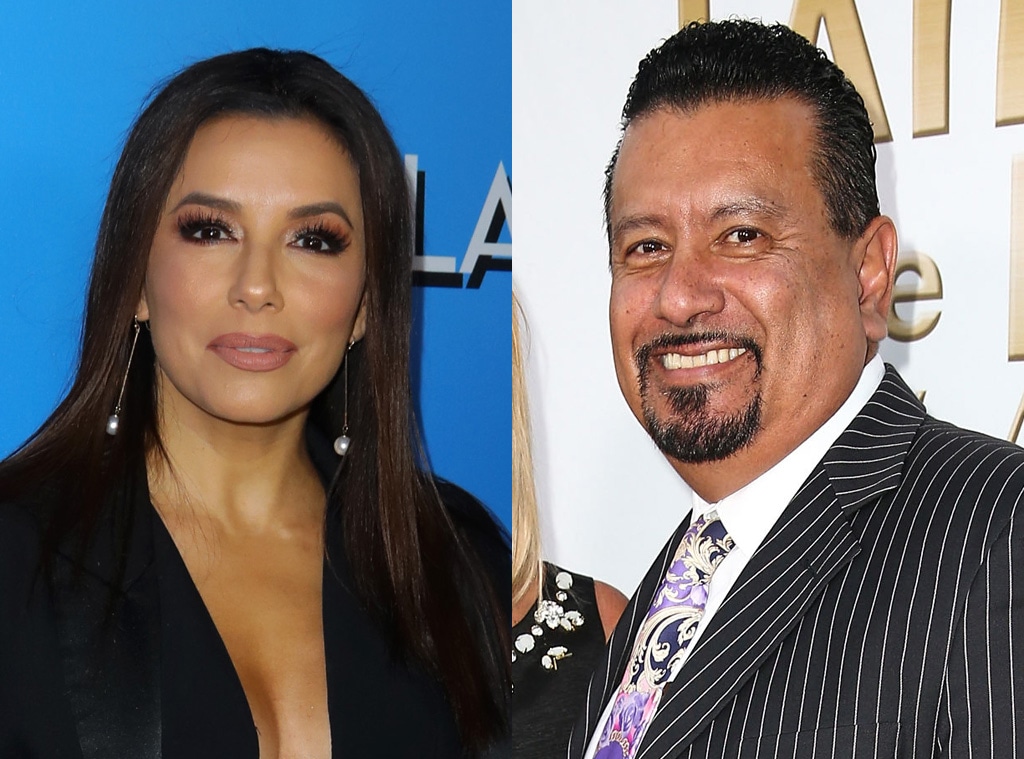 JC Olivera/Getty Images/Imeh Akpanudosen/Getty Images for Los Angeles Times
UPDATE: PepsiCo. is apologizing for any "confusion" surrounding the identity of the inventor of Flamin' Hot Cheetos.
On Friday, May 21, the company, which owns Frito-Lay and the Cheetos brand, issued a statement to E! News voicing their support for Richard Montañez. They shared, "Far from being an urban legend, Richard had a remarkable 40-plus-year career at PepsiCo and made an incredible impact on our business and employees and continues to serve as an inspiration today. His insights and ideas on how to better serve Hispanic consumers were invaluable and directly resulted in the success of Flamin' Hot Cheetos."
"To be clear, we have no reason to doubt the stories he shares about taking the initiative to create new product ideas for the Cheetos brand, and pitching them to past PepsiCo leaders," the statement continued. "Richard is an important part of PepsiCo's history and the success of the company. He is an inspiration and his story cannot be belittled. We regret the confusion that has come from the recent speculation, but most importantly want Richard to know he is valued and cared for among PepsiCo's employees and we only wish him happiness and success."
______
Richard Montañez, the subject of Eva Longoria's upcoming biopic, is facing allegations that he fabricated his story of inventing Flamin' Hot Cheetos.
In a new Los Angeles Times investigation, journalist Sam Dena interviewed a dozen former Frito-Lay employees who claim Richard was not involved in the creation of the company's popular snack.
"None of our records show that Richard was involved in any capacity in the Flamin' Hot test market," Frito-Lay said in a statement to the Times. "We have interviewed multiple personnel who were involved in the test market, and all of them indicate that Richard was not involved in any capacity in the test market." 
"That doesn't mean we don't celebrate Richard," the statement continued, "but the facts do not support the urban legend."
However in a separate statement shared with E! News, Frito-Lay shared in part, "He did important work launching our Hispanic Business Unit and played a key role in accelerating the growth of our Flamin' Hot Brand and other brands particularly through his Hispanic marketing efforts—efforts that helped grow our business and support our communities, especially in Los Angeles."
For years, Richard claimed to have pitched his idea to executives when he was a janitor in a Rancho Cucamonga, Calif., Frito-Lay plant. His account resulted in a memoir set to be released in June titled Flamin' Hot: The Incredible True Story of One Man's Rise from Janitor to Top Executive.
The story even grabbed the attention of Eva, who announced in 2019 that she would be directing a biopic about Richard's life.
Watch:
6 Times the Kardashians Proved They're the Real Food Gods
"It's a beautiful story about the Mexican janitor who worked at the factory and invented the hot Cheeto, and saved people's jobs, and couldn't read or write when he started," she told Entertainment Weekly in January 2020. "His whole life, he was told 'no. That opportunity's not for you, ideas don't come from people like you…' And he was like, 'Why not?' It's a very beautiful story [about] the man and his journey and how he succeeded in a world that tells you no."
According to the Los Angeles Times, Frito-Lay informed producers of the movie about the problems surrounding Richard's version of events in 2019. However, casting ultimately continued.
Despite the new investigation, Richard stands by his story of creating the popular snack. A spokesperson for the businessman told EW that because Richard was a general utility machine operator and janitor at the time, none of his contributions were documented. "Richard is going to continue to stand on his story," his spokesperson said. "After 42 years, he doesn't understand why Frito-Lay's taking the position they're taking."
Ultimately, the Los Angeles Times isn't the only outlet exploring Richard's claims. Before the newspaper released their reporting, NPR's Planet Money podcast did an episode dedicated to Flamin' Hot Cheetos.
According to host Sarah Gonzalez, Frito-Lay confirmed that "a Richard Montañez product" was developed in the Rancho Cucamonga plant in Southern California.
And in a Twitter thread, Sarah recalled asking the company to clarify if Richard was involved with the creation of Flamin' Hot Cheetos. Their answer may surprise you. 
"At first they told me: '…We do not credit the product creation to him and him alone,'" she wrote on Twitter. "On May 6th, by phone, the response was: 'He was a part of it. Yes. Sure.'"
E! News has reached out to Richard and Eva's team for comment.
This story was originally published on Tuesday, May 18, 2021 at 2:08 p.m. PST.