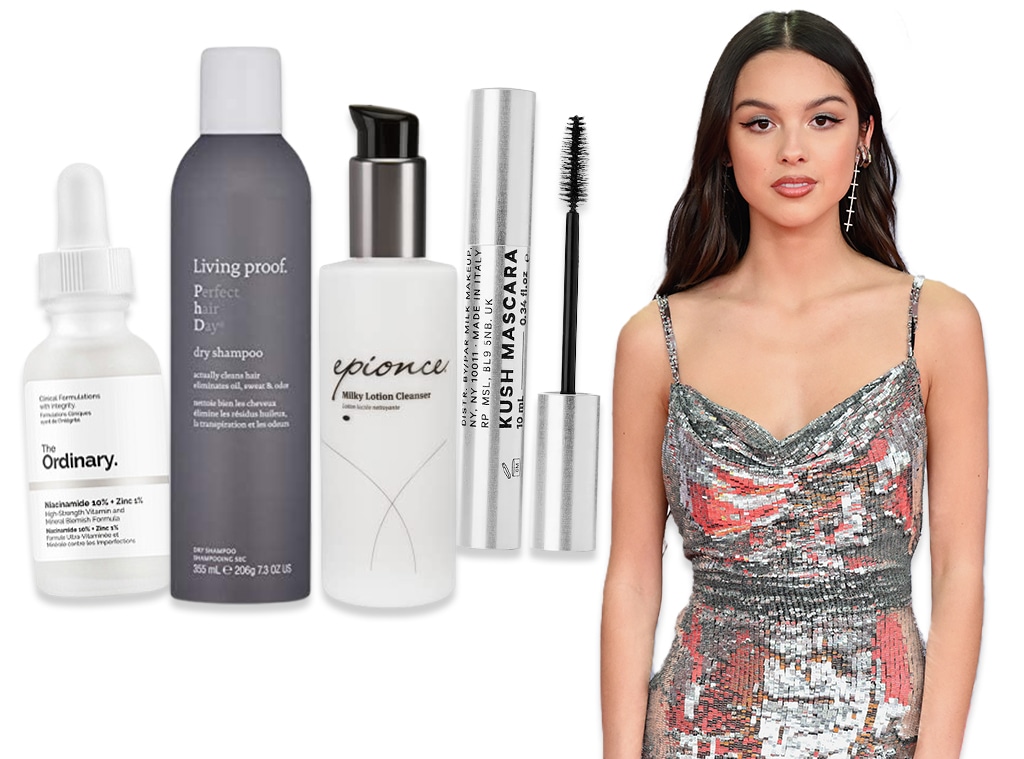 Karwai Tang/WireImage
We included these products chosen by Olivia Rodrigo because we think you'll like her picks at these prices. E! has affiliate relationships, so we may get a commission if you purchase something through our links. Items are sold by the retailer, not E!. Prices are accurate as of publish time.
An elaborate beauty routine is a fool-proof strategy in theory, but it can be overwhelming in real life. Just ask Olivia Rodrigo, who said, "I think less is more with skincare a lot of the time" in her Vogue beauty routine video. The "Driver's License" singer/songwriter continued, "My skin is alright. I am a teenager. I am 18 and so I cannot expect to have perfect skin all the time. It's pretty good, all things considered, but I definitely have my moments." Don't we all?
Specifically, the Grammy Awards nominee said, "My skin loves breaking out on my chin and on my nose. The masks definitely don't help with the acne." Again, a sentiment many of us can relate to, teenagers or not. In regard to makeup, Olivia shared, "I think the biggest thing I've learned in makeup is less is more, especially with me. Just accentuating your natural features is always the move and always when I feel the most confident."
"I think that the root of your beauty routine should just be for enjoyment and for your own self-confidence," Olivia remarked before sharing her favorite skin, makeup, and hair products. Check out her routine, in order, below, along with some insightful commentary. 
Epionce Milky Lotion Cleanser
Before she started using the Epionce Milky Lotion Cleanser, Olivia had "the worst case of dermatitis." She added, "I just broke out all around my mouth. It was awful. I think I was just wearing masks a lot and also I was using a bunch of products that irritated my skin." Now, she has her routine down pat.
Glossier The Beauty Bag
Olivia keeps her beauty essentials in her "cute, little Glossier bag."
The Ordinary Niacinamide 10% + Zinc 1%
In her beauty bag, Olivia has The Ordinary Serum, which she applies right after cleansing. It has Niacinamide and Zinc to reduce skin congestion. Then, she used a Gua Sha on her face, which she said was "pretty relaxing." She didn't mention which Gua Sha she uses, but we adore this set. Olivia shared, "Self-care has become super important to me lately."
Burt's Bees Moisturizing Lip Balm
The Disney star admitted, "I have the most peely lips. My lips aren't like chapped, but they'll just peel all the time. And, so, lip scrubs really help." She didn't share which she scrub she uses, but she did apply Burt's Bees Moisturizing Lip Balm."
First Aid Beauty Ultra Repair Tinted Moisturizer Broad Spectrum SPF 30
"This is the BB cream that I always use. And I always put it on with my fingers. I used to put it on with beauty blenders and stuff, but I never washed them or actually took care of them. So, they would just harbor bacteria and my skin would freak out, so I just use my fingers most of the time." Olivia explained, "I just sort of like to keep it really natural and glowy, like Billie Eilish's makeup. She just always looks like she's glowing and perfect."
Glossier Stretch Concealer
"The next thing I'm going to use is the Glossier Stretch Concealer. This is in the shade G10. I'm obsessed with this stuff. It goes on like butter." The singer elaborated, "One of my friends uses this and I was at her house. We were doing makeup and she put this on me and I was like 'What is this!? This is the greatest. It's just super subtle. That's what Glossier does best."
Stila Cosmetics Heaven's Hue Highlighter
After putting on unnamed blush and bronzer, Olivia shared her tips for highlighter application. She puts on "just a little on the apples of [her] cheeks," adding, "Sometimes, I'll put it in the corner of my eye."
Glossier Boy Brow
Olivia shared, "I'm going to do the Glossier Boy Brow. This is the most iconic Glossier product, in my opinion. I love this stuff." She admitted that she previously used hairspray to keep her brows in place, but she doesn't need that thanks to this grooming pomade. She explained, "It does that job, but it also doesn't flake and get all white and crusty. It makes my brows look so thick. Love that. This is one of my favorite products."
Glossier Pro Tip Eyeliner
"I use the Glossier Pro Tip liquid eyeliner. I love doing liquid eyeliner. It's my favorite. I love elongating my eyes. I usually start by doing the wing first and everything else comes after."
Specifically, Olivia shared, "What I like about this liquid lip liner is that it doesn't drop and it doesn't smudge. It also has a really great applicator. The wings are not super perfect, but that's OK. When we do the mascara, that makes it better. Eye lines are sisters, not twins. I always tell myself this when I'm doing this. It doesn't have to be perfect. That's fine. Nobody's face is actually symmetrical."
Milk Makeup KUSH High Volumizing Mascara
Glossier Ultralip
Olivia said, "I'm gonna use this Glossier Ultra Lip. The Ultralip has hyaluronic acid in it, which is great. It keeps your lips moisturized, which is very important to me. I love how it's buildable. I love the natural color of my lips. This just sort of accentuates that. It doesn't cover it up or try to put a new color on top of it. It just emphasizes what you got. The shade is Ember. I love the shade."
Living Proof Perfect Hair Day (PhD) Dry Shampoo
Olivia sprays Living Proof Dry Shampoo "from far away because it gets white" when she sprays it from a close distance. The "Driver's License" singer advised, "Just rub it in so it's not all white on your scalp." She went on to share, "Dry shampoo is very important to me because I have the most oily hair and especially with the [face] masks. Sometimes, I'll have a mask and sunglasses on and the only thing that you can see is the hair."
Kérastase Mini Elixir Ultime Oil Serum
"Something that I really love also is hair oil. I put a little bit on my fingertips." And then she worked it into her hair for some hydration and frizz prevention.
-Originally published May 18 11:30 AM PT.