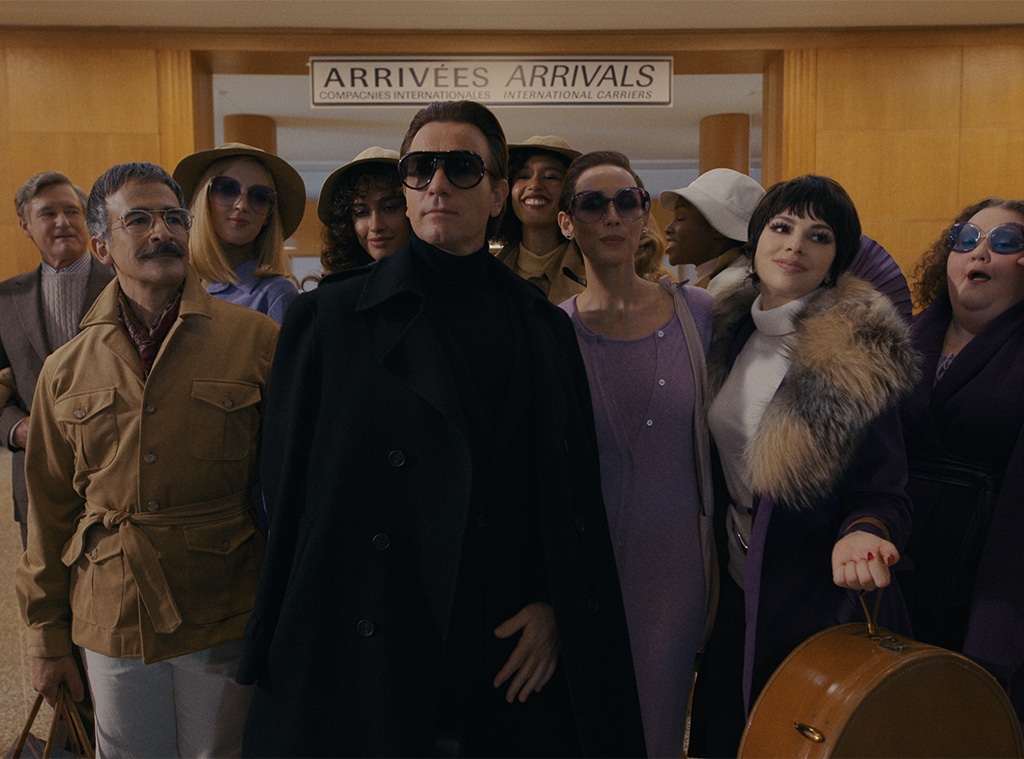 ATSUSHI NISHIJIMA/NETFLIX
If you were at Studio 54 in the 1970s, you were probably wearing Halston. Or at least wanted to look like you were wearing Halston.
The designer's aesthetic ruled the disco-glam era, his name synonymous with an effortless style adopted by the decade's tastemakers who looked like they rolled out of bed ready to be photographed. That group included Halston himself—born Roy Halston Frowick in Des Moines, Iowa, but destined to be the toast of New York—and an inner circle populated by the likes of Liza Minnelli, Bianca Jagger, Joel Schumacher and Andy Warhol.
Netflix's new limited series Halston stars Ewan McGregor as the designer, an exacting visionary who curated himself as carefully as any fall line. Created by Sharr White and counting Ryan Murphy among its executive producers, the five-episode drama tells the story of Halston's heady rise from boutique milliner who made the pillbox hat that Jacqueline Kennedy wore to her husband's inauguration in 1961 to creator of the go-to brand for New York's chicest women—and everyone who wanted to dress like them.
So while a show's clothing and accessories always play a key supporting role, especially in a period piece, the fashion-centric Halston led to an especially symbiotic relationship between costume designer Jeriana San Juan and McGregor. Each focused on different aspects of Halston's life in their respective research—and then joined forces to complete the character inside and out. 
"I cannot tell you how lucky I felt to be doing the show Halston with Ewan McGregor playing Halston," San Juan told E! News in a recent interview. "He is—I hate to say 'consummate professional' because it's so overused—but like just a grade-A human being. He is so lovely and this was a project where my relationship to this character...it sort of lived on dual levels. I was not only designing him as a character but on some level I was advising with him on design."
In addition to immersing herself in all aspects of the clothes, she consumed everything she could about Halston's own inspirations, from the music he liked to the creative people he always surrounded himself with to the designers who inspired him in his formative years, learning sewing from his grandmother as a boy growing up in the Midwest and as a student at the School of the Art Institute of Chicago.
"Because it's more than the documented fabulous entrances to Studio 54 moments," San Juan explained, "and there's a lot of parts about who he was as a person that I learned in my research of him." She looked to Halston's influences as well as the man himself because "I wanted to understand, really intimately, sort of the DNA of his creativity. And then Ewan of course is exploring him on a different level as well. He's learning about his life influences, his cultural influences and [has] his own process in inhabiting the character and learning his cadence and the way he stands."
As McGregor, who's also an executive producer on the series, recently explained Halston to The Hollywood Reporter, "It's about a man, a creative person, who believes absolutely in what they are and who they are."
ATSUSHI NISHIJIMA/NETFLIX
Of course this series isn't all just fittings, dancing and buckets of champagne. There was a downside to all that excess and it's on full display as well, both the more stereotypical vices of the '70s and the personal issues particular to Halston, who while obsessed with work above all else also had a famously tumultuous decade-long relationship with artist Victor Hugo (played by Gian Franco Rodriguez) and saw certain people come and go from his life like flash-in-the-pan fashion trends. 
But as the designer himself would have demanded, no detail was left unchecked when it came to dressing the cast for every occasion, be it a moment of inspiration or of desperation.
San Juan took E! News through her process as she helped bring Halston to life:
San Juan also explained how, as an artist herself, she connected personally with Halston's choice to surround himself with a tight-knit group of fellow creative people who would get together for laughs and camaraderie, but also to inevitably inspire each other's work.
Which doesn't sound too different from what happened on the set of Halston.
At the end of the day, "the group on this show, the actors, the department heads, our director—really, everyone had such a bond in this show, because I think everyone was coming to the table with, if not an adoration for Halston and his work, with a fascination or with a kind of curious energy," San Juan said. "You know, everybody was sort of attracted to this project, so we were all there for the same common reason, we built a little tribe in making this show. And we're still family, I'm still texting with Ewan, and Mark Ricker our production designer and Dan Minahan. We kind of just made a little family."
Halston is streaming now on Netflix.