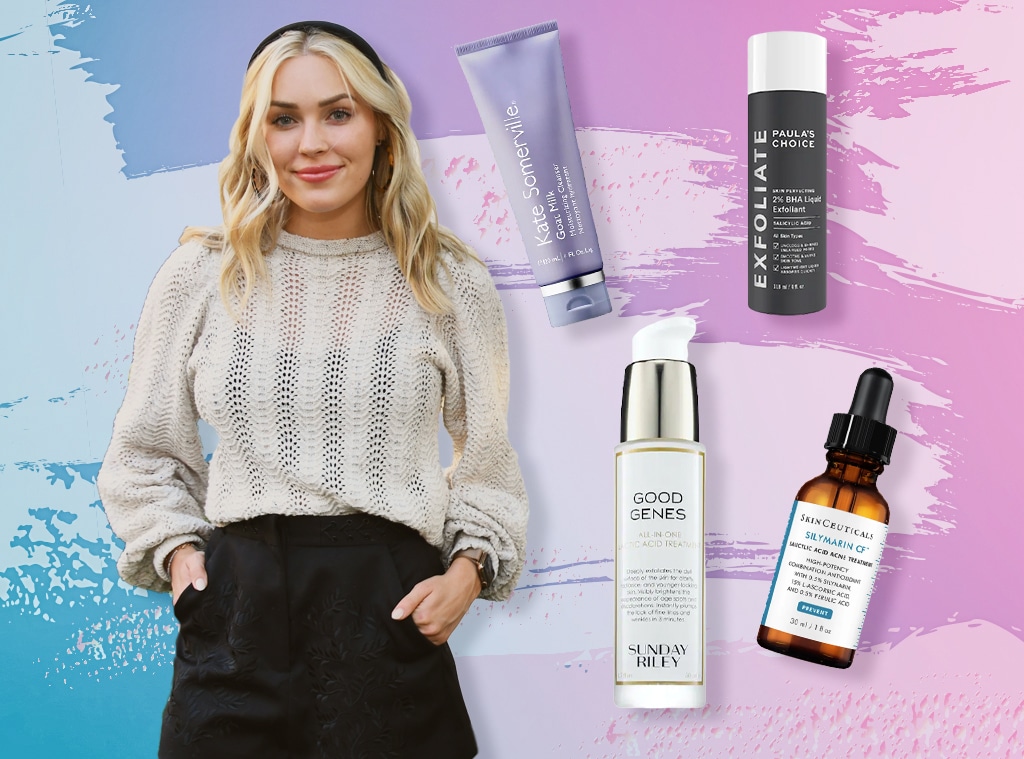 Getty Images. E! Illustration
We independently selected these products because we love them, and we hope you do too. Shop with E! has affiliate relationships, so we may get a commission if you purchase something through our links. Items are sold by the retailer, not E!.
Even in her filter-free, makeup-free social media content, The Bachelor alum Cassie Randolph seemingly has perfect skin. Well, no one actually has "perfect skin," but Cassie sure has her routine down pat. Even so, in a recent YouTube video, she acknowledged, "I am not an expert at all in skincare. I just do what works for me and I've been using these same products for a long time now, emphasizing, "they may not work for everyone." That's always a good disclaimer, but it's just also great to hear from someone who has been using the same products consistently. For instance, Cassie has been using the same tinted sunscreen since junior high school. It doesn't get more consistent than that.
Aside from that tried and true favorite, she shared a product that protects the skin from the blue light exposure we encounter via our phones and computers, which is so necessary for many of us.
Cassie's morning skincare routine consists of nine products that she usually layers "from thinnest to thickest" in terms of consistency. Keep on scrolling to find out the products she uses every morning (in order) along with her application tips for the face, neck, chest, hands, and ears. Yes, even the ears. She is very thorough with her skincare regime and it's definitely working for her.
Kate Somerville Goat Milk Moisturizing Cleanser
Paulas Choice Skin Perfecting 2% BHA Liquid Salicylic Acid Exfoliant
"The next step is usually a BHA or an AHA and they're both exfoliants for your skin," Cassie shared. She went on to explain, "I am using Paula's Choice Liquid BHA because BHA is more for blemish-prone, acne-prone, oily-prone skin, for pores. AHA is for visible signs of sun damage, wrinkles [to] smooth skin's texture. And right now I'm in need of [BHA] for blemishes. I'm almost 26, but I still struggle with breakouts often and it's really frustrating."
Cassie applied the BHA solution with a cotton pad to her face, neck, and chest.
SkinCeuticals Silymarin CF Serum
Cassie emphasized, "If I were to tell you to invest in one product, it would be Vitamin C. And sunscreen, obviously. It's one of the key things in my routine. It's just so good for so many different things." She said, "It's also good for oily, blemish-prone skin. It's good for skin tone and texture, and fine lines. Part of me just kind of thinks that Vitamin C just does it all."
She advised, "It does oxidize really quickly, so I make sure to screw the lid back on really fast [to prevent that]." She applied leftover serum to her hands, neck, and chest, emphasizing that we should "never leave product wasted."
Paula's Choice 10% Niacinamide Booster
After mentioning that Niacinamide is Vitamin B3, Cassie said, "It's good for uneven skin tone, fine lines, weak skin, and large pores.
Sunday Riley Good Genes All-in-One Lactic Acid Exfoliating Face Treatment
Dermalogica Biolumin-C Eye Serum
Cassie shared, "[the area] around my eyes get so dry. I feel like half my face is dry and half my face is oily and breaks out. I just gotta do what works for it." The grad student said, "I always make sure to extra moisturize around my eyes. This is the thinnest skin on your face. You want to make sure it's extra hydrated because when your skin's dry, it will more easily produce fine lines and wrinkles."
SkinCeuticals Tripeptide-R Neck Repair
"This is actually a retinol," Cassie said before warning, "Make sure put a lot of sunscreen on if you use a retinol. It makes your skin really sensitive." The product " helps firm up your neck and chest. Your neck, chest, and hands are some of the first spots that show signs of aging, so I always make sure to show extra attention to those and not neglect them."
BioClarity SunFilter SPF 30 Mineral Face Sunscreen + 12 Hour Moisture
The former reality star said, "Make sure you put sunscreen on your ears." She likes this one because "it's reef-safe, so it doesn't harm our oceans. It protects not only from sun rays, but from blue light, which I'm surrounded by all the time [from the] phone and computer." Blue light protection is something we can all use these days.
Cassie concluded, "I put sunscreen on every day, even if I'm not going outside. The rays can get you through windows, car windows, reflective surfaces, and it's better to be safe than sorry. The sun is the most damaging thing to your skin. Make sure you never neglect your eyelids. Your ears are also really exposed to the sun."
Colorscience Sunforgettable Brush-On Sunscreen SPF 30
Cassie adores this brush-on sunscreen because it "doubles as makeup." She revealed, "My mom got one one of these in junior high, I think." She explained, "I don't want to reapply my thick sunscreen cream. These are so convenient because there's just a thin powder that [can] go over makeup or under makeup. So, I just keep this in my purse at all times."