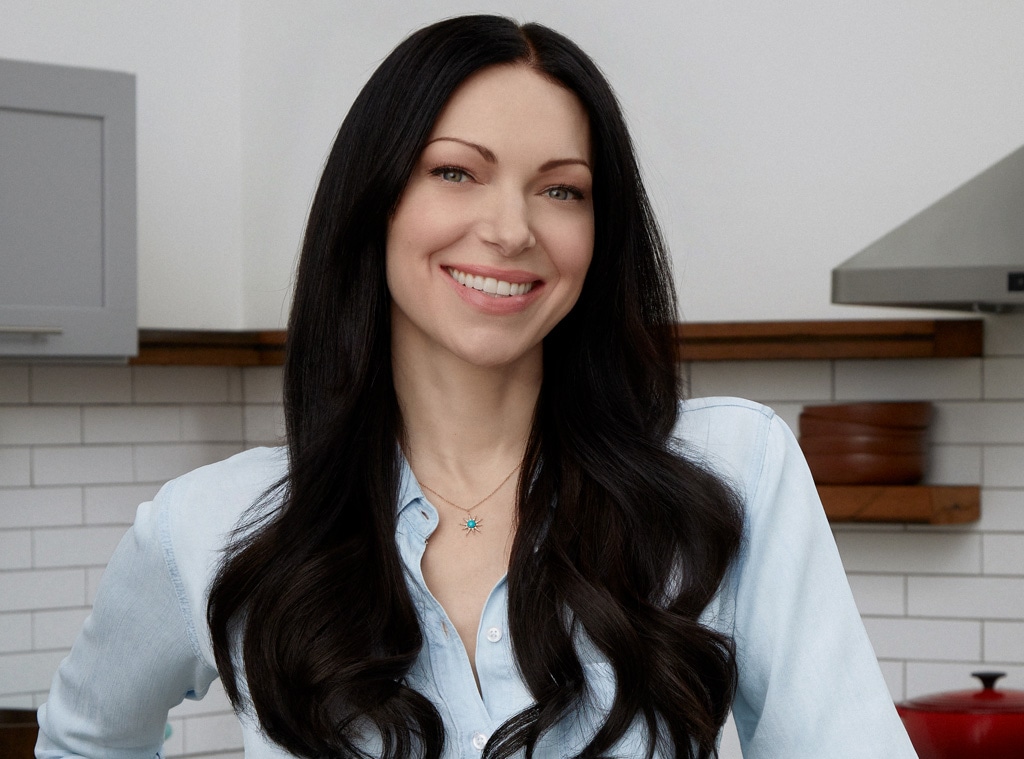 HSN
We interviewed this celebrity because we think you'll like their picks. Some of the products shown are from the celebrity's own product line or a brand they are paid to endorse. E! has affiliate relationships, so we may get a commission if you purchase something through our links. Items are sold by the retailer, not E!.
You may know Laura Prepon for her iconic roles in shows like That '70s Show or Orange is the New Black but did you know she is an incredible cook, too?
This week, the actress unveiled her first-ever cookware collection, PrepOn Kitchen, with HSN designed to help you spend less time slaving over homecooked meals and more time enjoying your gourmet creations with family and friends. 
"I grew up in the kitchen cooking. My mom was this wonderful, eccentric gourmet chef and I learned so much from her as a youngster in the kitchen," the mom of two revealed. "My mother like me, we share our love through making food for our friends and family. But when I was a kid, I don't have a single memory of actually enjoying those meals with her. Ever since I've been thinking about ways to streamline time in the kitchen."
And her eight-piece cookware collection does just that. From 4-piece nesting food prep bowls to a sleek Prep & Chop to prep boards and silicone food lids, the colorful lineup of kitchen must-haves will help you get a head start on cooking healthy meals for the whole family.
"As a mother of two, I'm just trying to make our time in the kitchen less stressful, more attainable, and hopefully, more fun, because I love cooking," the That '70s Show star explained. "But I also want that precious time with my family, and that's what I'm trying to do with PrepOn Kitchen; Streamline our time, so we have more time to do what we love."
And if you've ever binge-watched Laura's YouTube channel like us, you know how essential food prep is to her mouthwatering creations. "To get nourishing homemade meals on the table, the key for me is food prep, or else it just becomes stressful," Laura told E!.
"I want to help people know that they can cook. Nobody should ever be intimidated to get into the kitchen. It lends itself to so many wonderful things. But I would love to break the stigma of cooking is hard or that you can't do it. Not to quote Ratatouille, but anybody can cook!"
PrepOn Kitchen Prep and Chop
The Prep and Chop is a must with three interchangeable stainless steel blades, a 1.5 quart glass container and silicone non-slip mat. You can prep your veggies for the week and use the glass container to store them. Plus, the container is microwave, freezer and oven safe up to 750º F.
PrepOn Kitchen Prep Board with Prep Bags
This prep board is pure genius! It will help streamline your time in the kitchen with food waste bags at the end of the board to catch your food waste. After you're done chopping and prepping, you can easily transfer your scraps to your compost bin.
PrepOn Kitchen 6-piece Silicone Food Prep Lids
"My daughter is obsessed with my food lids, she puts all sorts of little crackers and different things in them, and she puts her crayons in the food lids. My kids love playing with my products, they're obsessed," Laura revealed to E!. You can use these genius silicone lids for leftover fruits, veggies, sodas, and even to store office supplies.
For those of you who feel like food prep requires a ton of work and time, Laura is here to help you get out of your head and into the kitchen!
"Food prep doesn't have to be some big extravagant thing. Food prep could be you go to the market, you grab one cauliflower, you come home and you cut it down into its florets, stick it into a container and put it in your fridge. And the next time you want to make a stir fry, it's already there; washed, dried, trimmed and ready to go right into a pan. That's a form of food prep."
PrepOn Kitchen 4-piece Nesting Food Prep Bowls with Colander
Everyone needs a set of nesting bowls for their kitchen, but do you have ones that feature a pour spout, colander and vented storage lid? Probably not, which is why you need to add these quintessential bowls to your cart asap! And you can choose from three bold hues for the lids.
PrepOn Kitchen 12" Carbon Steel Frypan
If you're looking to upgrade your pan collection, try out this carbon steel frypan! We love how it's a cast iron skillet and stainless-steel frying pan hybrid.
PrepOn Kitchen 4-piece Silicone Tool Set
Not only will these dishwasher safe tools look super chic in a utensil holder on your kitchen counter, but you'll use them everyday when you're whipping up delish meals.
PrepOn Kitchen 8" German Steel Santoku
If you're feeling inspired to get back in the kitchen but spend less time cooking and more time with family, Laura's PrepOn Kitchen Collection is now available to purchase on HSN.com. And don't forget to tune into Kitchen Prep with Laura Prepon on HSN today at 12 p.m. ET!